Posted on
Mon, Oct 3, 2011 : 5:59 a.m.
Michigan offensive coordinator Al Borges' plan for Denard Robinson proves successful
By Kyle Meinke
Four games into the Brady Hoke era, Denard Robinson was near the bottom of the country's starting quarterbacks in terms of accuracy. He was completing 48 percent of his passes, off his 71-percent clip during last year's non-conference season.
People were asking what the Michigan football team could do to get him on track.
So was Al Borges. And he came up with a solution: Get him easier opportunities early in games, and let him establish a rhythm.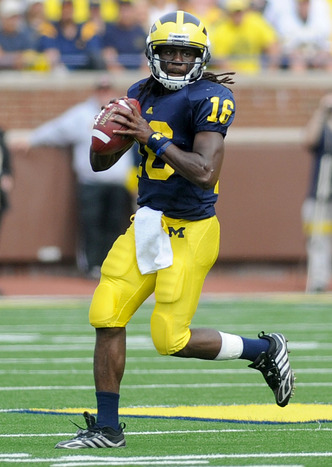 Angela J. Cesere | AnnArbor.com
Michigan's offensive coordinator talked about that philosophy last week, and executed it Saturday in
a 58-0 romp over Minnesota
(1-4, 0-1 Big Ten).
Robinson responded with the most efficient passing day of the year. He completed his first 11 passes, matching his season high for a game. He finished 15-of-19 passing for 169 yards, two touchdowns and no interceptions for the No. 12 Wolverines (5-0) before exiting the game after two second-half drives.
"It was clicking," a relaxed and jovial Robinson said after the game. "We were working on it in practice, and we had to put it forward in games."
Asking him to do less netted a lot more.
Among those first 11 passes, eight were within 5 yards of the line of scrimmage and another was over the top to a leaking fullback.
Those are easy passes to complete. Robinson, who had been struggling with passes of all varieties, did. There also were plenty of yards after catch, including a screen to tailback Vincent Smith that went for a 28-yard touchdown.
"We been practicing on it, I've been getting it down (with) the receivers, and we're just getting on the same page," Robinson said.
It wasn't all rosy. Robinson was pretty accurate, although was late on a couple throws. He still struggled with his mechanics on occasion, especially when under duress.
Robinson didn't set his feet and sailed a pass to Hemingway on his 10th throw, although the incompletion was negated by a pass interference call. His first official misfire came two passes later, when he didn't set his feet and chucked the ball side-armed.
The next pass went to Drew Dileo over the middle. The sophomore caught it, but the throw was poor and he had to go to the ground.
Robinson then missed tight end Kevin Koger and Dileo on consecutive throws.
It's clear just how much of a benefit the gimmes were early: It put Robinson, challenged with his accuracy all year, in a position to succeed. It was a sharp departure from the first couple games, when he was asked to (and struggled to) make longer throws and more progressions.
Say what you will about the offensive game plan so far, and its execution, but Borges and Hoke have been extremely pliant offensively. Five games into the season, and the offense already looks different than it did in the opener.
What will it look like by season's end?

Oh, hey Devin
Another facet of that offensive flexibility has been introducing new wrinkles the past two weeks.
Against San Diego State, it was the speed option. Against Minnesota, it was a peculiar three-back set that featured Robinson in the backfield and backup quarterback Devin Gardner under center.
The formation was run four times with varying degrees of success, but there are a few takeaways from this:
• The play is based on deception and misdirection, and the possibilities are abundant with Robinson as the bait.

• It gets Gardner on the field for meaningful snaps, while having him in a relatively low-pressure situation with Robinson on the field. That's a win-win.

• Although the Wolverines ran the play four times, here's guessing what they unveiled were base plays from the formation. Would they really have shown their hand against a team such as Minnesota? There was no need. They could have scored 58 points without it.

• There's more in store from that formation. Expect to see it again at some juncture.

• Even if they don't employ it again for a while, it at least provides another element for which opposing defensive coordinators must prepare -- on top of the spread looks, pro-style looks and option plays. That's a big advantage for Michigan, which is proving to be multiple in its offensive packages.

Hoke had this to say about the play: "Al and I talked about that package in March, April, and believe me, Al Borges is very, very creative. ... That's not just that package. I'm sure his creativity may turn up again."
Hint, hint?
Melanie Maxwell | AnnArbor.com
Kill endorses Hoke
For anyone concerned about the perception of Michigan running up the score against the Gophers, here's what Minnesota coach
Jerry Kill
had to say while privately congratulating Robinson and Smith in a hallway following their postgame news conference.
"Congrats on the win, guys, and listen to your coach — he's a good man."
No hard feelings after hanging 58 on Minnesota, clearly. It was a nice moment.

Shaw, Hopkins enter fold
Hoke has played his decisions close to the vest in recent weeks, including offering information that has not played out. The ongoing situation with linebacker Cam Gordon, whom Hoke has said repeatedly is available but has yet to play, is one example. Naming Vincent Smith the starting tailback for the San Diego State game, but going with Fitz Toussaint instead, is another.
But his oblique reference on Friday to Michael Shaw and Stephen Hopkins as guys who would contribute at tailback against Minnesota proved very true.
Shaw, who was the leader in fall camp to land the starting job before sliding down the depth chart, had seven carries before Saturday. He eclipsed that total with eight carries for 60 yards.
Meantime, Hopkins, who has struggled with fumbles, got time at fullback with starter John McColgan out with an injury. He got three carries (one of which was negated because of a penalty) and caught a 28-yard pass.
Smith and Toussaint will continue to receive the bulk of the action at tailback, but Hopkins could become more of a contributor if he shows he can hang onto the football.
Shaw? He probably still is a fourth option at this point. Coaches haven't been real high on him, and he's had an ever-diminishing role since the start of camp.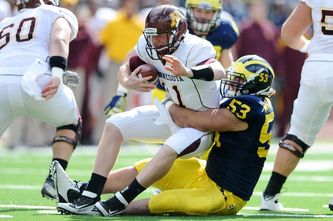 Melanie Maxwell I AnnArbor.com
Sack race
The defense pitched its first shutout since 2007, and has put together a better three-game stretch than it did at any point under former coach
Rich Rodriguez
and his revolving door of defensive coordinators and schemes.
The defensive line is a big reason for that, with Mike Martin, Ryan Van Bergen, Craig Roh and Jibreel Black all coming on strong.
They forced three sacks against Minnesota after getting only four in the first four games.
"They're a bigger, stronger, faster football team right now than we are," Kill said.
When was the last time someone said that about the Michigan defense?

Third down no downer
Another sign of a defensive resurgence? The Wolverines held Minnesota to 0-for-11 on third-down conversions.
Regardless of opponent, that's an impressive feat. Against a Big Ten team, even more so. Minnesota is in fact still in the Big Ten, right?
(Good thing for them there's no relegation in college football.)

Michigan's special-est team
It's hard to find fault in a team after it blasts an opponent by 58 points, but the kickoff coverage does continue to be an issue.
Minnesota looked anemic on its kick return, bobbling several kicks and committing six penalties on returns. Still, it managed to return a kickoff for a touchdown against Michigan (it was called back due to penalty, naturally).
Michigan has shored up most of its glaring weaknesses in its first five games. This can't be far behind. Right?
Brendan, welcome to life off the hot seat
It's strange to be criticizing Michigan's special teams, and leave out its field-goal kicking unit, but there's not much to say after sophomore
Brendan Gibbons
went 3-for-3, making attempts of 25, 32 and 38 yards, despite contending with a substantial wind.
He's now 4-for-5 this year after going 1-for-5 all of last season, and is rewarding the faith Hoke placed in him during fall camp, when many wanted to see talented freshman Matt Wile win the job.
Also, Hoke doesn't have to eat crow -- although he has said crow's not so bad if he has some barbecue sauce to go with it.

Odoms entering fray?
Senior receiver Martavous Odoms, who wore a cast for all of fall camp and into the start of the season, received some early playing time against Minnesota, including as a kick returner. He supplanted Smith, who has had an emerging role in the offensive backfield.
This seems like a good move, as Odoms has a little more vertical speed than Smith.
Odoms also got action at receiver. He did not catch a pass, but blocked nicely.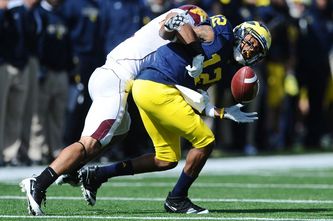 Melanie Maxwell I AnnArbor.com
Roundtree, square hole
Odoms, by the way, caught just as many passes (zero) as starter
Roy Roundtree
.
After catching 72 passes last year, he's now grabbed a combined two passes in his last three games and has only five on the season.
Part of that certainly is a function of Robinson's struggles at quarterback, but could it also be due to his move from the slot to the outside? Perhaps Roundtree is feeling the affects of Darryl Stonum's redshirt more than anyone else at this point.

Countess? You again?
Two weeks in a row, freshman cornerback Blake Countess has made late entrances into games. Two weeks in a row, teams have targeted him upon his entrance.
Two weeks in a row, he's led his team in tackles and played terrific defense.
Countess had five more tackles against Minnesota, and forced a fumble that ended the Gophers' first foray into Michigan territory. He's making a strong case for more playing time at a position that's quickly showing significant strides.
When was the last time reserve cornerbacks have looked competent for Michigan?

No Justice
If it wasn't clear before, it is now: freshman running back Justice Hayes will redshirt this year. Hoke said last week no decision had been made, but if he didn't appear in a 58-0 blowout of the worst team remaining on Michigan's schedule, when will he?
Meantime, fellow freshman Thomas Rawls was the Wolverines' second-leading rusher. He had 10 carries for 74 yards. He looked a little slow, but has a big body that Borges and Hoke love.

Telling stat
The most indicative stat of Michigan's defensive superiority against Minnesota: Starting safeties Jordan Kovacs and Thomas Gordon combined for just one tackle. They weren't missing tackles, either. There just weren't many opportunities that deep in the secondary.
Michigan: Winning.
Kyle Meinke covers Michigan football for AnnArbor.com. He can be reached at 734-623-2588, by email at kylemeinke@annarbor.com and followed on Twitter @kmeinke.