Posted on
Tue, Nov 15, 2011 : 10:28 p.m.
Michigan offensive coordinator Al Borges says 'to hell' with those focused on stats, wins are what matter
By Kyle Meinke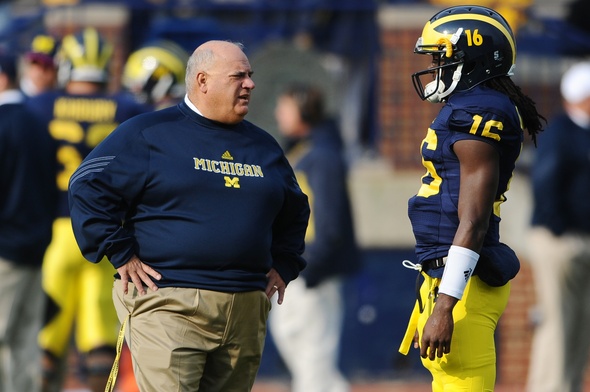 AnnArbor.com file photo
Michigan offensive coordinator Al Borges knows people are unhappy with Denard Robinson's numbers. He knows Michigan football fans are perplexed by Roy Roundtree's declining production.
He knows the Wolverines didn't score as many points as they could have last week against Illinois.
He also knows they won.
And winning, Borges said, sometimes requires "sticking your ego on the shelf" as a playcaller -- which, in turn, means the same for skill players who are affected by such decisions.
"What happens is guys get too enamored with numbers and get away from what's important, which is winning football games," Borges said of coordinators.
"There's going to be games when you have to throw more to win games. That happened against Notre Dame. There's going to be games when you have to run more to win the game. That happened last week.
THURSDAY LIVE CHAT
Come back to AnnArbor.com at noon Thursday for a live chat with Kyle Meinke. He'll recap the Wolverines' win at Illinois, discuss news that emerged this week and preview the game against Nebraska on Saturday.
"If you get too caught up keeping these beautifully balanced numbers, so this guy's happy and that guy's happy -- to hell with that. We don't coach that way. We coach to win the football games and however it falls is however it falls."
The Wolverines' defense was dominant in the team's 31-14 win against Illinois on Saturday, so Borges elected to keep the ball on the ground to keep the clock moving. Sophomore tailback Fitz Toussaint benefited with a career day, turning a career-high 27 carries into a career-high 192 yards.
The flip side, though, is Robinson rushed only 12 times for 30 yards. He also attempted only 10 passes -- completing six -- which also means the receivers suffered statistically.
Roundtree, for example, did not make a single catch against Illinois. He has only 14 through 10 games after leading the team with 72 (for 935 yards) last year.
Borges, though, "doesn't give a damn," as long as Michigan scores more points than the other guys.
"(Illinois) couldn't move the ball on us, and there was only one way to lose that game," Borges said. "You know what it was? Screw it up. Fumble the ball.
"We don't want to pull our horns in, but you don't need to keep your guns a-blazin' either, because now you put your defense in a bad situation.
"As the game goes, just like in war, the battle changes, OK? And as the battle changes, your ability to adjust and make good battlefield decisions, that may be sacrificial in nature, will dictate whether you win football games."
Robinson has received more fire than any other player for his dwindling numbers, which are down across the board between last year and this year. He's also struggled more in recent games than he did earlier in the year.
The junior has averaged 3.7 yards per carry in his past five games. He completed less than 50 percent of his passes twice in that stretch and threw seven interceptions, including at least one in each game. He has 13 on the season, fourth most in the country.
Borges said ball security remains a concern with Robinson, but the rest of his issues are normal growing pains for a quarterback learning a new offensive system, particularly one that is so different from the one he was recruited to run.
He pointed to the example of Cade McNown, the quarterback Borges inherited at UCLA. McNown was last among Pac-10 quarterbacks in passer efficiency in Borges' first season, and first in the country his second.
Robinson's numbers also are down partly because of the emergence of Toussaint, who has led Michigan in carries each of the past three weeks. And that's OK, Borges said.
"Denard's growing in our offense and nobody wants to hear that," he said. "We told him from the beginning he's not going to gain 1,700 yards. We're going to try to get someone else involved, and I think we've done a good job of that.
"There's certain games he's going to get more than in other games and, as long as we're getting productivity from the running game, if it isn't him, that's fine."
Borges said Robinson, even when he is struggling, still is effective because of the threat he poses. Borges pointed out the second play of the Illinois game as an example, when Robinson took three defenders with him on a play-action. Toussaint, meantime, got the handoff and went the other way for an easy 65-yard run.
"People don't always understand the residual effects of Denard," Borges said. "It's not always him running for 200 yards, but him getting someone else to get the big yards and he's helped in that respect."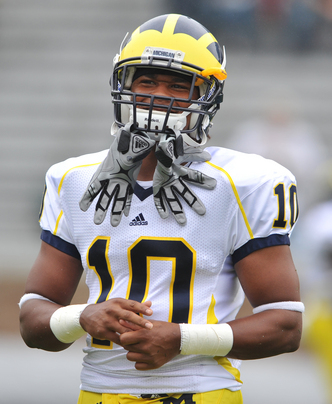 AnnArbor.com file photo
Roundtree's numbers down because of Gallon
Roundtree is not having a great statistical season. After making 72 catches for 935 yards and seven touchdowns a year ago, Roundtree has made just 16 grabs for 291 yards and two scores through 10 games this season.
"He's just splitting time with Jeremy Gallon and Jeremy Gallon's been productive," Borges said. "We're not in four-wides all the time and, when you're splitting time, your numbers aren't going to be as good. That's really it.
"Roy's been good. Roy's done everything we've asked him to do. But he wasn't going to catch 70-some passes (in this offense)."

Staying home a key this week

Michigan defensive coordinator Greg Mattison said it's important his defense gets back to fundamentals this week and plays with gap integrity as it prepares to face Nebraska.
With mobile quarterback Taylor Martinez and downhill runner Rex Burkhead, the Cornhuskers have shown the ability to run the option with success this season. The duo has combined for 1,840 yards and 23 touchdowns this season.
"When you're playing an option team, responsibility and doing your job is critical," Mattison said. "You saw it last week (against Illinois), we had a couple times where we didn't take the quarterback. And the two kids (that struggled with that) went through that probably 70 times in practice and did it perfect.
"Then, all of a sudden there's that moment when the back looks real intriguing and they just want you to bite on that cheese, and they did. We've got to be disciplined playing a game like this."

Kovacs says knee is feeling fine

Michigan junior safety Jordan Kovacs says he's still wearing a brace on his injured left knee, but has not had any lingering problems since returning to action at Iowa two weeks ago.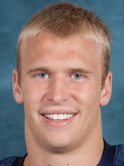 "It feels great," Kovacs said. "The trainers deserve a lot of credit for getting me back on the field quickly."
Kovacs, Michigan's third-leading tackler with 53 stops this season, hasn't been forced to miss any game time due to injury since sitting out a win against Purdue last month.
Mattison said he has not seen a dip in Kovacs' production.
"If you were out there during games hearing him talking, he'd sound like a coach out there," Mattison said. "Some guys might've just now come back this week (from that injury), but he's played a couple weeks already.
"He's a tough kid."
Kyle Meinke covers Michigan football for AnnArbor.com. He can be reached at 734-623-2588, by email at kylemeinke@annarbor.com and followed on Twitter @kmeinke.