Posted on
Tue, Sep 6, 2011 : 5:56 a.m.
Michigan LB Brandon Herron not sure what to make of his record-setting performance
By Nick Baumgardner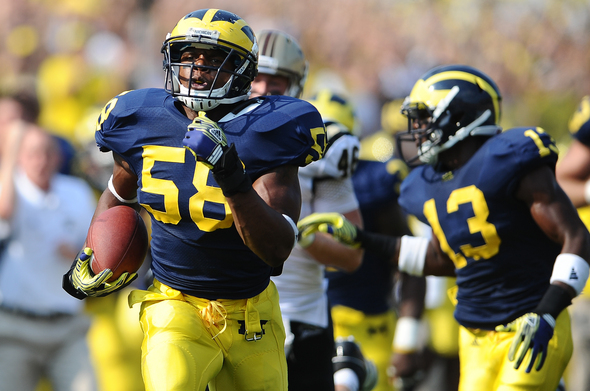 Melanie Maxwell | AnnArbor.com
Moments after a breakout performance that saw his name branded inside the Michigan football record book, fifth-year senior outside linebacker Brandon Herron had one question.
Why him?
Herron formally introduced himself to Wolverine football fans in a big way Saturday -- twice -- becoming the first player in school history to score two defensive touchdowns in one game.
He won the Big Ten Defensive Player of the Week award, earned a nod from the Walter Camp Football Foundation and even saw his name mentioned with a legendary Michigan Heisman Trophy winner when he became the first player since Tom Harmon in 1940 to score on a pair of returns in a single game.



It's been a whirlwind few days for the soft-spoken Texan, and a ride he says he never expected.
So forgive him if he still seems to be in a state of shock.
"When I was out there after the game, I kind of felt like this wasn't supposed to happen to me," Herron said Monday. "Coming into a game, I prayed 'God, show me the way.'
"To come out with the performance I had, I was just really shocked."
Entering Saturday's game, Herron -- who was still getting used to a position switch from middle to weak-side linebacker -- hadn't exactly lit the world on fire statistically.
His career totals before kickoff were 34 tackles, one tackle for loss, one fumble recovery and one pass breakup. He missed four games due to an ankle injury last season and was given a pair of healthy scratches by former head coach Rich Rodriguez against Wisconsin and Ohio State.
A role player at best prior to Saturday's explosion, Herron suddenly found himself as a trending topic on Twitter and says he's seen an unusually large spike in his Facebook friend requests.
A shocking ride, for sure. But an enjoyable one, no doubt.
"I just think it's a blessing that I had the opportunity to do something like that," said Herron, who attended Dulles High School with current Michigan teammates Troy Woolfolk and Darryl Stonum. "I'm just happy that I was able to do that."
One person who wasn't shocked by Herron's big day was his former high school coach Jim Creech -- who still patrols the sidelines at Dulles High School in Sugar Land, Texas.
Creech said that Herron always had the physical tools to make plays as a college linebacker, but seemed to never find the right fit schematically at Michigan.
Until now, that is.
"Brandon's always been a very confident person, but I always thought he'd be a better player if he was in the right system," Creech told AnnArbor.com. "He's a physical specimen as far as the shape he's in. He's always been very athletic, very gifted, and when he first went up there it never really seemed like he was given the opportunity to exhibit those talents.
"And one of the reasons I think he came back for his fifth year was because he felt like he had a chance to play. He visited with the coaches and came away from that feeling like this was a system that he could really do some things in."
Herron's reaction to his big day also came as no surprise to Creech, who said that his former player has never been one to boast - and certainly isn't the type of person that craves or desires the spotlight.
"Brandon's the best," said Creech, who was one of the many people to congratulate Herron via phone after Saturday's game. "When coaches came through during the recruiting process, we'd talk about his skill set and I used say that there's nothing he couldn't do in a combine setting that wouldn't wow people. But if you really sat down and talked with him, you'll find out that he's a very quiet, reserved and spiritual-type kid.
"He's not cocky or arrogant. He's a yes sir, no sir kid - and as good an athlete as he is, I've always said that he was a better person."
Herron may be mild-mannered, but his impact on Saturday's win over Western Michigan was anything but.
His interception return came at a time in the second quarter when the Wolverine defense appeared desperate for anything positive to happen. Bronco quarterback Alex Carder completed his first 10 passes of the contest, led WMU on a game-opening scoring drive and was knocking on the door for another that could have put the Wolverines in a 14-7 hole in head coach Brady Hoke's debut.
But with an assist on a tipped pass from Jake Ryan, Herron changed everything, making an interception and rumbling untouched for a 94-yard score.
And yes, he did get tired.
"Ninety-four yards is a long way," Herron joked.
His third-quarter fumble return came at a good time also. His finish of safety Jordan Kovacs' ball-jarring sack woke up the Wolverine defense, and put an end to another WMU drive that had already gone eight plays and secured two first downs.
"That was really exciting, especially for Brandon," Michigan senior defensive tackle Ryan Van Bergen said. "When you score on defense, it's something that's unexpected and it's such a big bonus for your team.
"When your defense has given you 12 points, you're going to win a lot of football games. We were pretty excited about it."
Herron wasn't just a two-hit wonder Saturday, either. He finished the game tied for second on the team, alongside safety Thomas Gordon, with eight tackles after earning a start.
Entering the week, Herron was listed as a reserve on Michigan's two-deep depth chart, and actually was once again Monday when the school released its new chart leading into this weekend's contest against Notre Dame (8 p.m., ESPN).
But Herron doesn't care -- he's playing now. He doesn't worry about the rest.
"Coach Hoke, he's the head coach now and he's given me an opportunity," Herron said. "It's one of these things that you can't pass up. With me being in my fifth year, it's like, well I want to at least come out this season holding nothing back.
"Knowing I gave it my all."
Herron says he has no immediate plans to top his record-setting performance, explaining that he simply needs to continue to work hard and to "just be you."
Why him? He's still not sure.
But there's one thing Herron isn't doubting, and that's his ability to have an impact beyond those two shining moments that made him a Twitter star and flooded his Facebook account.
"I didn't have any doubt (that I'd be playing) because of my faith," he said. "I just knew that I had to work, and work hard.
"I had no idea that I was going to make plays like that, you know, but I knew in my heart, this is my last year and I knew God was going to work some things out for me."
Nick Baumgardner covers Michigan sports for AnnArbor.com. He can be reached at 734-623-2514, by email at nickbaumgardner@annarbor.com and followed on Twitter @nickbaumgardner.