Posted on
Sat, Dec 10, 2011 : 2 p.m.
Michigan QB Denard Robinson lists his Heisman frontrunner(s), says winning it himself not a goal
By Kyle Meinke
Michigan quarterback Denard Robinson says he likes quarterback Andrew Luck of Stanford or Robert Griffin III or Baylor to win the Heisman Trophy.
"And I like Trent Richardson," he added in the next breath of the Alabama tailback. "He runs the ball really tough."
Then, laughing: "I'm not a defensive guy, but I like (LSU's Tyrann) Mathieu. The Honey Badger, I like him."
For those keeping score at home, Robinson likes every finalist except Wisconsin running back Montee Ball to win the Heisman Trophy (8 tonight, ESPN) — ironically, the one player who hails from his conference.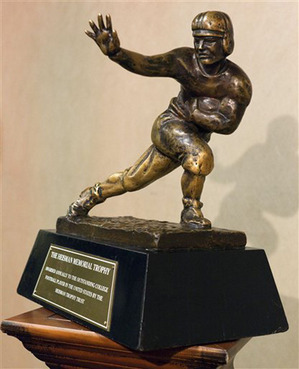 Associated Press
But his coach,
Brady Hoke
, says the junior quarterback should have been among them.
"I can't sit here and rattle off statistics, but in the Big Ten Conference he took a team to 10-2," Hoke said.
Robinson finished 133-for-237 passing (56.1 percent) for 2,056 yards, 18 touchdowns and 14 interceptions. He also rushed 208 times for 1,163 yards and 16 scores.
He finished first in the Big Ten in total offense and third in touchdowns, despite transitioning to offensive coordinator Al Borges' "spread-West Coast" hybrid offense and an assortment of injuries, including a staph infection that was revealed for the first time Friday.
He nearly lost a game because of it, but didn't. Robinson has started at quarterback each of Michigan's 25 games the past two seasons.
Hoke said Robinson deserves to be in New York for the way he led his team to 10 wins, despite the adversity.
"I think the biggest growth was him understanding progression reads and understanding how you move in a pocket without moving 100 mph, how you step up in there a little bit and gain a little more time and scan the field a little better," Hoke said.
"At the end of the year, because he was healthier and because we were able to some degree take a little relief off him running the ball, he was much more physical and decisive in running the football."
Robinson said he is unsurprised by his coach's support of him for the Heisman, but that winning the award will not be a goal of his next year.
"I just want to go out there and rack up some wins," he said. "That's it."
Kyle Meinke covers Michigan football for AnnArbor.com. He can be reached at 734-623-2588, by email at kylemeinke@annarbor.com and followed on Twitter @kmeinke.