Posted on
Sat, Sep 11, 2010 : 10 p.m.
Michigan quarterback Denard Robinson puts on a show for the second week in a row
By Michael Rothstein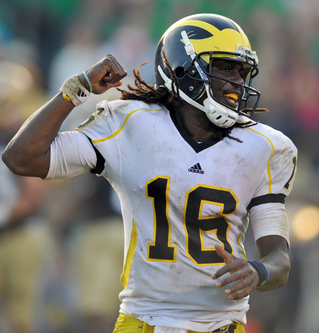 Lon Horwedel | AnnArbor.com
SOUTH BEND, Ind. - Flanked by a media relations representative on one side and a gang of reporters on the other, sophomore quarterback Denard Robinson had almost the exact same formation as he ran for the Michigan football team much of Saturday.
This time was different as he attempted to reach the post-game press conference after a 28-24 Michigan win over Notre Dame.
For the first time all day, Robinson stood still. The problem for Notre Dame? It was the Irish marching band holding him up.
Not much else stopped Denard Robinson in South Bend. Notre Dame's defense saw him run the week before against Connecticut - and then the same type of Denard destruction happened to the Irish a week later.
The Denard Robinson Experience rolled all the way through South Bend. The Irish defense saw what he did against Connecticut. A week later, it didn't matter anyway as his encore was better than the premiere.
"We know he has that athletic ability and can pull it down and run," Notre Dame safety Harrison Smith said. "He is everything that was advertised."
Robinson gained 258 yards on the ground, including an 87-yard touchdown run where he took a small seam in the Notre Dame defense and ran past everyone untouched into the end zone.
His other touchdown was more important. In what may be billed as an early-season Heisman Trophy-esque drive, Robinson moved the ball 72 yards down the field and capped it off with a 2-yard touchdown run with 27 seconds remaining.
Perhaps even more stunning - and what will probably concern Michigan's future opponents - is that Robinson is improving. Michigan quarterbacks coach Rod Smith said Robinson grew tremendously in that final drive as the Wolverines improved to 2-0.
"I've been around some good ones," Smith said. "But I'll tell ya, he's coming man. I'm proud of him. He works his tail off."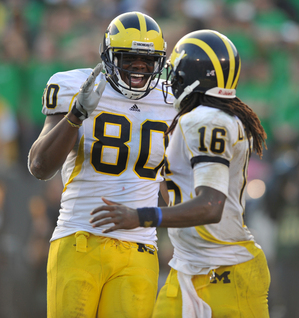 Lon Horwedel | AnnArbor.com
The 258 yards rushing was the fifth-best all-time at Michigan, just behind the 270 yards Ron Johnson gained in 1967 against Navy. It was the best rushing performance for Michigan since Tim Biakabutuka's 313-yard game against Ohio State 15 years ago. It's also established a new standard for Big Ten quarterbacks.
"Man," Robinson said, shocked by the numbers he accumulated. "The offense came together. The offensive line blocked, the receivers catching, everything was clicking. That's what was happening."
That's why, almost to a player, they seem unsurprised by anything Robinson does.
They aren't shocked by his passing ability - he hit Roy Roundtree on a perfect pass for Michigan's first touchdown. They aren't shocked by his ability to run. And they aren't shocked by the calmness he displayed when he drove Michigan down the field for the win, the second straight year a Michigan quarterback tore through Notre Dame with a final-minute drive.
Michigan is used to it. Robinson tears up more than opponents. He also makes the Wolverines' defense look bad on a daily basis.
"About," running backs coach Fred Jackson said. "Every 10 snaps. Every 10 or 11 snaps he breaks one like that.
"When it's there for him, he's going to break it."
The lone concern with Robinson is whether or not he can hold up this pace.
He's averaging 28.5 carries a game and 222.5 yards rushing. But with those runs comes a lot of hitting. For the second straight game, Robinson was forced to the sideline for a play to recover from an injury.
Afterward, even Robinson acknowledged he's "just a little bit" sore.
Both offensive coordinator Calvin Magee and Michigan coach Rich Rodriguez said they'd like to keep him from running it that much.
Lon Horwedel | AnnArbor.com
But Notre Dame (1-1) offered no choice. With the defensive fronts the Irish presented, it was Robinson's ball to carry over and over again, which is how he finished with 502 yards of total offense (258 running, 244 passing), the most ever by a player against Notre Dame.
"A lot of times, his reads tell him to give the ball to the running backs," Jackson said. "But this game, they were forcing him to run it.
"They were probably trying to beat him up. But he's too quick to beat up."
Instead, they watched him run all over Notre Dame Stadium. Few have done it better. While Notre Dame doesn't have a full list of opposing rushing statistics, he came close enough to the all-time record here - a Tony Dorsett 303-yard game in 1975 with Pittsburgh - it needed to be looked up.
And for the first time since 1997, when West Virginia's Amos Zereoue was brought in, an opposing player was brought into the Notre Dame press conference room.
Matt Leinart wasn't. Reggie Bush wasn't. Drew Brees wasn't.
But Denard Robinson, on a day where he placed himself among the best players in college football on a national stage, was.
The Robinson bandwagon is growing. Rodriguez joked he had his shoes untied in honor of Robinson. Random fans yelled support at him as he ran off the Notre Dame Stadium field and up the tunnel.
And the Michigan athletic director, a former football player himself, took notice.
"He's the fastest guy," Michigan athletic director Dave Brandon said, "I've ever seen on a football field."
Michael Rothstein covers University of Michigan basketball for AnnArbor.com. He can be reached at (734) 623-2558, by e-mail at michaelrothstein@annarbor.com or follow along on Twitter @mikerothstein