Posted on
Sat, Nov 6, 2010 : 6:32 p.m.
Michigan receiver Roy Roundtree breaks the single-game receiving yardage mark
By Michael Rothstein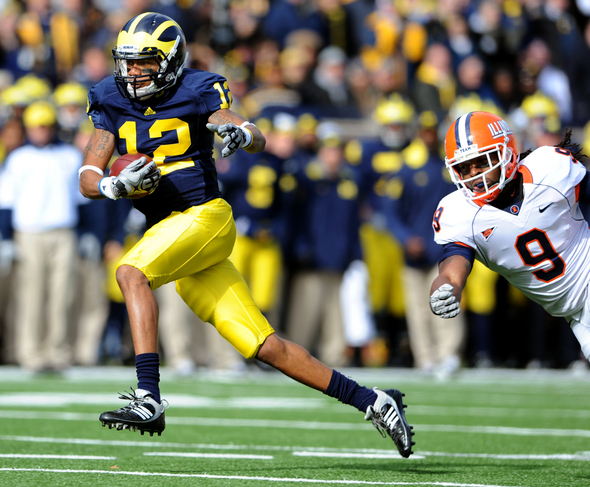 Lon Horwedel | AnnArbor.com
Standing outside Crisler Arena, Sheila Roundtree stood patiently while watching her son, Roy, sign autographs for fans, take pictures with others and talk to a reporter.
As she watched, she wasn't completely sure what Roy Roundtree did the Michigan football team's 67-65 triple overtime victory against Illinois on Saturday. Naturally, she's seen son a redshirt sophomore receiver for Michigan, have big games before.
But this? She had to hear it from her son to really believe it.
"We didn't know he did anything," Sheila said. "I haven't had a chance to talk to him. I heard that he broke a record, but I haven't got a chance to talk to him to say 'What record did you break?'"
Before Saturday, no Michigan receiver ever had a 200-yard day. Then Roy Roundtree obliterated it, catching nine passes for 246 yards and two touchdowns.
The 246 yards receiving smashed the previous record of 197 yards by tight end Jack Clancy on Sept. 17, 1966. It was the oldest standing individual single-game record in Michigan history until Roundtree's day.
A 200-yard day? Braylon Edwards never did that. Neither did Derrick Alexander. David Terrell and Desmond Howard never came close.
Even for Roundtree, this was different. He'd done similar things in high school in Trotwood, Ohio, but never at Michigan. Never on national television with a nation watching and his team needing a big day from him to clinch bowl eligibility for the first time since 2007.
"It's crazy to see what I got today," Roundtree said. "200 yards and more is a lot, and (those) are some great guys, Braylon Edwards. And just to see what I did today, just got to keep making me hungry."
When his day started, hunger was an issue. Roundtree woke up at the team hotel Saturday morning and his first thought was about food.
So he went to the team breakfast. He ate. Then on Michigan's first play, he shook his defender and ran wide open. Quarterback Denard Robinson hit him and 75 yards later, his big day began.
"Last year, when I got hauled down (versus Illinois), I just thought 'Man, I've got the ball, I have to score,'" Roundtree said. "When I saw it wide open like that, I said 'There ain't nobody catching me today.'"
No one did, at least statistically.
By halftime, Roundtree realized he might be having a different type of day. He kept getting open and that he had deep passes coming his way.
"I was like 'Roy, can we get some,'" junior wide receiver Junior Hemingway joked. "But I told him to keep doing that."
It happened, in some ways, because of design. Michigan's outside receivers ran deep routes. It opened the middle of the field for Roundtree to play single coverage. This was something Michigan saw on film earlier in the week.
On Saturday, in the midst of a game unlike any other in Michigan history with its offensive production, it showed.
And even though mom didn't know what her son did, she wasn't surprised it was possible.
"I've been watching him forever," Sheila said. "So I'm used to it.
"One exceptional play after another."
And one record for Roy Roundtree to call his own.
Michael Rothstein covers University of Michigan basketball for AnnArbor.com. He can be reached at (734) 623-2558, by e-mail at michaelrothstein@annarbor.com or follow along on Twitter @mikerothstein