Posted on
Tue, Oct 26, 2010 : 4 p.m.
Michigan running back Vincent Smith says he's 100 percent recovered from ACL injury
By Michael Rothstein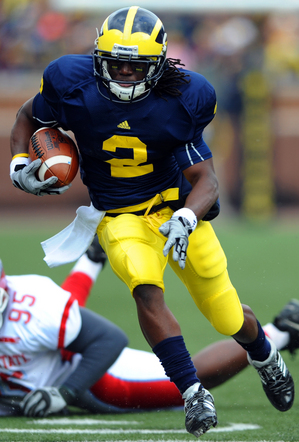 He was hit while on a kick return against Iowa, forcing his helmet down and cutting his nose. Nine days later, the scab was still visible on the bridge of Vincent Smith's nose.
Compared to what Smith went through in the off-season, though, the sophomore running back will deal with that. At least he's seeing plenty of playing time for the Michigan football team (5-2 overall, 1-2 Big Ten).
Smith went from player with potential as a freshman to a sophomore with questions about how healthy he'd be after tearing his ACL against Ohio State in November. He sat out spring practice while nursing the injury.
"It was pretty scary just being on the sidelines and looking at practices and stuff like that," Smith said. "Not knowing when I was going to be ready and just the rehab and stuff like that."
Smith always knew he'd return - going through the pain of working on balance drills and lifting heavy weights as he rebuilt strength in his repaired knee - but the question was when he'd be at full strength.
At the beginning of the season, he wasn't. As late as two weeks ago, before Iowa, he said he was close but not quite there.
Now? After a week in which Michigan was idle entering Saturday's game (8 p.m., ESPN) at Penn State (4-3, 1-2)?
"I'm 100 percent on my knee," Smith said. "When I'm on the field and just in different areas and whatever, I feel pretty confident."
Playing consistently helped that. A season ago, Smith sat behind senior running backs Carlos Brown and Brandon Minor. He played, but didn't receive nearly the carries he was used to at Pahokee (Fla.) High School. He gained 276 yards on 48 touches last year before tearing the knee in the season finale.
This year, while splitting carries with Michael Shaw, Smith has 70 carries, 325 yards and four touchdowns. He also has caught two touchdown passes. His carries and yardage are second only to sophomore quarterback Denard Robinson.
"Last year was like once you get in and make a play because you never know when your number was going to be called," Smith said. "It had never been like that.
"It was frustrating at times, but you have to know what's at stake and know your role again as a freshman."
Now, along with Robinson, he's taken control of the Michigan backfield.
Michael Rothstein covers University of Michigan basketball for AnnArbor.com. He can be reached at (734) 623-2558, by e-mail at michaelrothstein@annarbor.com or follow along on Twitter @mikerothstein