Posted on
Sun, Jan 8, 2012 : 5:59 a.m.
Michigan Team 133 will have tough road to replicating 11-win season
By Kyle Meinke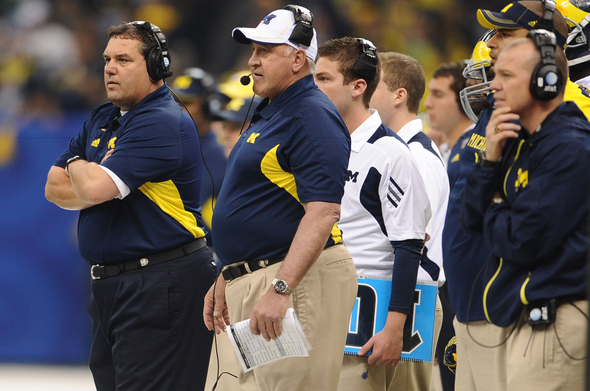 Melanie Maxwell | AnnArbor.com
There was a palpable groan let out by the Michigan contingent of the Superdome when the Wolverines took the field for their first snap of the Sugar Bowl, and All-American center
David Molk
wasn't at center.
Say hello to your future.
The Wolverines had a memorable run this year, breaking in the Brady Hoke era with a 10-victory regular season and the Sugar Bowl title. The Michigan football team is especially proud of winning 11 games, just the fifth time that's happened in the program's modern history.
But the season already has become just that. History.
"We'll start today on Team 133," Hoke said Thursday.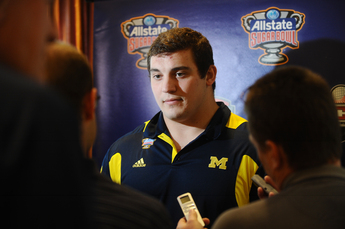 Melanie Maxwell | AnnArbor.com
Michigan is expected to return seven starters on offense and eight on defense, making it one of the most experienced teams in the Big Ten next year. But, where it loses talent is pressing.
The Wolverines graduate three of four starting defensive lineman and two of five starting offensive lineman, including Molk, who won the Rimington Trophy this year as the country's top center.
Hoke said Thursday chief among his concerns in the off-season will be rebuilding the defensive line.
"That, and the offensive line," he quickly added. "To me, that's where the game is played and we have some work to do."
That process begins with finding a replacement for Molk, a first-team All-America selection. He's been a mainstay in the lineup and started 25 consecutive times, a streak that ended after he injured his right foot in pregame warmups for the Sugar Bowl.
Junior Rocko Khoury filled in for a series, providing a snapshot into the future, before Molk returned. Junior Ricky Barnum, who played left guard this year, and freshman Jack Miller also are candidates for the position.
Starting right tackle Mark Huyge is gone. He wasn't a star like Molk, but he was solid throughout the season and one of the team's smartest players. Possible replacements could be Michael Schofield, who started nine times at left guard this year, or incoming freshman Kyle Kalis.
That's two starters departing from a group that fielded just eight scholarship players this year, the worst depth of Hoke's career. Tight end Kevin Koger also is graduating.
The skill positions return relatively intact, except for Sugar Bowl MVP Junior Hemingway. That loss was expected to be mitigated nicely by the return of senior receiver Darryl Stonum, who redshirted this season after picking up a second drunken driving charge, but his status now is uncertain after being jailed Friday for 10 days due to a probation violation.
Quarterback Denard Robinson is having his pro stock evaluated by the NFL Draft advisory board, but is expected to return next year.
All told, the offense should be an experienced group, and could take a step forward in the second year of coordinator Al Borges' system. Michigan will have, for the first time since 2007, a returner at quarterback who hasn't undergone a scheme change.
The biggest uncertainties will be at receiver (if Stonum doesn't return) and on the line.
On defense, it's all about the line.
Michigan returns every starter at linebacker and in the secondary except Troy Woolfolk, and Thomas Gordon was more effective than him at free safety anyway. Gordon started the Sugar Bowl.
But up front, the Wolverines will be crushed by graduation.
They lose starters Mike Martin and Ryan Van Bergen, who were the engines behind the defense's turnaround this year, and fellow starter Will Heininger, who was a steady force.
The defense finished sixth in the country this year in points allowed (17.4 per game), and could be even tougher next year if reserves such as Will Campbell, Quinton Washington and Frank Clark step up to complement returners Craig Roh and Jibreel Black.
An incoming freshman or two also could play a role, especially a tackle such as Ondre Pipkins.
If none of those young guys flourish, though, the defense could regress as quarterbacks get more time to pick apart what otherwise will be a stingy secondary.
Junior corner J.T. Floyd was so improved this year, he went from an ankle injury sabotaging 2010 to filing for the NFL Draft advisory board in 2011. Hoke said he expects Floyd to return and play opposite Blake Countess, who was a star as a true freshman this year. Together, they could form one of the best one-two punches at corner in the country.
And, they'd have steady hand Jordan Kovacs and turnover-machine Gordon playing behind them at safety.
Leading tackle Kenny Demens returns to anchor middle linebacker, and Jake Ryan and Desmond Morgan will be back after stellar freshman seasons at outside linebacker.
In sum, Michigan will be loaded next year in overall talent, but it's difficult to pinpoint how this will play out. The overall breadth of experience is impressive, but the line play could be suspect, especially early.
The Wolverines also won't have a forgiving schedule next year to learn on the job, as they did this year, when they played eight home games and missed the Big Ten's No. 1 and No. 4 teams in the conference season. Its most difficult road game was up the road in East Lansing.
Next year, the Wolverines open against Alabama in Dallas and also visit Notre Dame, Nebraska and Ohio State. They get Michigan State at home, but the Spartans will be one of the Big Ten's best next year.
The road to 11 wins will be much more difficult next year.
Team 133, you're up.
Kyle Meinke covers Michigan football for AnnArbor.com. He can be reached at 734-623-2588, by email at kylemeinke@annarbor.com and followed on Twitter @kmeinke.