Posted on
Sat, Oct 30, 2010 : 7:45 p.m.
Nittany Lions hang on, hold off Denard Robinson, Wolverines
By Jim Knight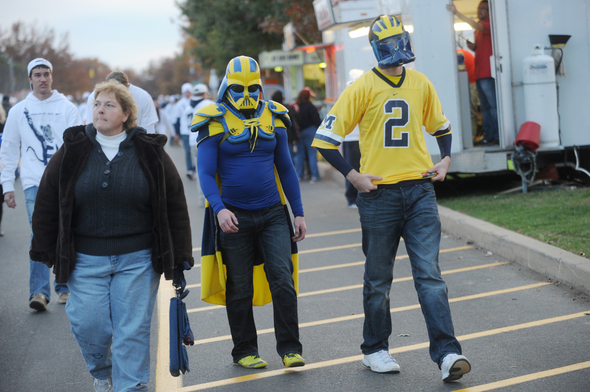 Melanie Maxwell | AnnArbor.com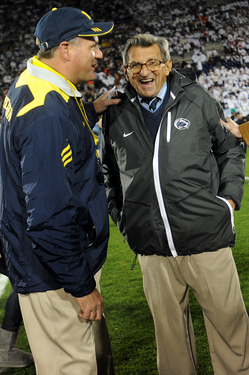 Melanie Maxwell | AnnArbor.com
Fourth quarter Penn State 41, Michigan 31: Collin Wagner's 42-yard field goal gave Penn State a 10-point cushion with 5:43 left in the game.
Penn State 38, Michigan 31: Denard Robinson scored on a 4-yard run as Michigan closed within a touchdown. The Wolverines went 72 yards on 11 plays. Robinson has scored three touchdowns and passed for another. He has 190 yards passing and 189 yards rushing.
Third quarter Penn State 38, Michigan 24: Denard Robinson scored on a 1-yard run as the Wolverines pulled within two touchdowns with 1:36 to play in the third quarter.
Penn State 38, Michigan 17: Michael Zordich scored on a 5-yard run as Penn State went 80 yards in seven plays. The big play: A Matt McGloin 34-yard pass to Devon Smith.
Penn State 31, Michigan 17: Kevin Koger was wide open on a 60-yard pass play from Denard Robinson. Robinson has 130 yards passing and 132 yard rushing.
Penn State 31, Michigan 10: Collin Wagner kicked a 31-yard field goal.
Second quarter Penn State 28, Michigan 10: Graham Zugg caught a 20-yard touchdown pass as Penn State took advantage of a short field after Michigan was forced to punt from the end zone. A four-play, 37-yard drive.
Penn State 21, Michigan 10: Matt McGloin scored on a 1-yard quarterback sneak as Penn State extended its lead. The Nittany Lions drove 74 yards on 11 plays and has 209 total yards against Michigan.
Penn State 14, Michigan 10: Seth Broekhuizen kicked a 37-yard field - just the second field goal this season for the Wolverines. Michigan's drive covered 55 yards in 15 plays.
First quarter Penn State 14, Michigan 7: All Evan Royster. He scored on a 1-yard run and had runs of 19 yards and 20 yards as he became the all-time leading rusher in Penn State history. At this point, he has 3,434 yards in his career.
Michigan 7, Penn State 0: Michigan quarterback Denard Robinson found a big hole up the middle and raced 32 yards for a touchdown. Michigan answered Penn State's touchdown with an eight-play, 80-yard drive. Robinson already has 62 yards rushing.
Penn State 7, Michigan 0: Evan Royster scored on a 5-yard run as Penn State drove 71 yards on 14 plays. Matt McGloin, in his first start, led the 14-play drive that included three third-down conversions.
Pregame A victory under the lights tonight at Penn State will launch talk of what bowl game bid the Michigan football team will receive later this year.
A victory also will end talk that Michigan is on its way to repeating last season's 5-7 record and 1-7 Big Ten record.
The Wolverines (5-2, 1-2) will play tonight in front of 100,000-plus fans in a Penn State "whiteout." They'll also face a Nittany Lions team (4-3, 1-2) that has struggled this season but beat Minnesota, 33-21, last week.
Join our in-game live chat: Michael Rothstein and Rich Rezler lead the conversation.
This week's mega-guide to our coverage: Our stories from the week and more
Michigan's injury report: Out - Mike Jones (leg), Martavious Odoms (foot), Fitzgerald Toussaint (shoulder), Jared Van Slyke (clavicle), Mike Williams (head), Troy Woolfolk (ankle).