Posted on
Sat, Oct 30, 2010 : 10:16 a.m.
The mega guide to Week 8: Michigan at Penn State
By Rich Rezler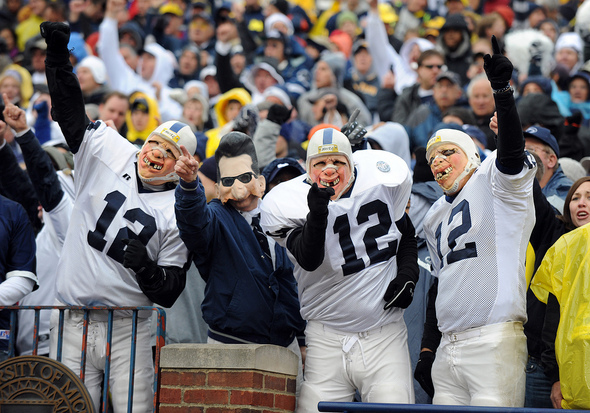 WHO: Michigan (5-2, 1-2 Big Ten) at Penn State (4-3, 1-2 Big Ten).
WHERE: Beaver Stadium, State College, Pa.
WHEN: 8 p.m. Saturday.
ODDS: Michigan is favored by 3 points according to sportsbook.com.
SERIES RECORD: Michigan leads, 10-5.
LAST MEETING: Penn State 35, Michigan 10 on Oct. 24, 2009. (AnnArbor.com coverage)
BROADCAST INFORMATION: TV: ESPN; Radio: Michigan Sports Network (local affiliates), Sirius Ch. 125, XM Ch. 102.
MICHIGAN: Team Stats | Team Rankings | Roster
PENN STATE: Team Stats | Team Rankings | Roster
RUNDOWN: On Halloween Eve, the Michigan football team will try to remove any possibility of reliving last year's nightmare.
INTERACT WITH ANNARBOR.COM
Interact with us leading up, during and after Saturday's Michigan vs. Penn State game:
The Wolverines were 5-2 when they met Penn State last year. A 35-10 Nittany Lion win in Ann Arbor was the first of five straight Michigan to end the season.
On Saturday, Michigan will once again bring a 5-2 record (1-2 Big Ten) into the Penn State game, but this time they'll play in Beaver Stadium. At night. In front of 100,000-plus Nittany Lions fans and one of Penn State's signature student-section "Whiteouts."
Penn State, on the other hand, isn't quite in the same dominant position it was in last season. The Nittany Lions, who lost just twice in each of the last two seasons, limp into the game with a 4-3 record.
Once a fearsome unit for opposing tailbacks, Linebacker U. is a mediocre eighth against the run in the Big Ten (135 yards per game). Now in jogs Michigan, the top rushing offense in the conference (281 yards per game) led by its dual-threat star Denard Robinson.
AnnArbor.com has been previewing the game all week. Here's a look back at what you can find on our site, and more:
TODAY • Michigan savors opportunity to face Penn State in prime-time atmosphere.
• Don't know what Kernkraft 400 is? You may be hearing it in your sleep tonight.
FRIDAY • AnnArbor.com reporters Pete Bigelow and Mike Rothstein preview Saturday's game in this video report. They disagree on the importance of the game and on its winner.
• David Jones of the Harrisburg Patriot-News is this week's participant in our regular Beat Writer Breakdown, giving us a look at the matchup from Penn State's perspective.
• Bigelow looks at the connection between Michigan's Denard Robinson, Auburn's Cam Newton and Florida's Tim Tebow.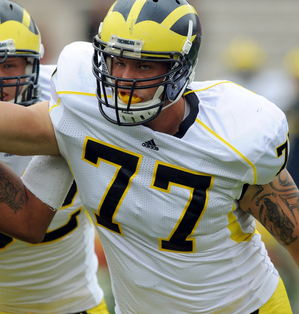 THURSDAY
• Funny, nasty, talkative, talented:
Meet Michigan left tackle Taylor Lewan
.
• How does a college football coach spend an open fall Saturday? Watching football, of course. At least that's what Rich Rodriguez did, according to this MGoBlue.com video, when he watched his son, Rhett, play.
(A little off topic, but make sure to check out Mike Rothstein's reporting from the Big Ten basketball media day in Chicago on Thursday.)
WEDNESDAY • Penn State quarterback Matt McGloin moves out of the shadows, into the spotlight for Nittany Lions.
• Rich Rodriguez's lone win against Penn State was one to remember.
TUESDAY • Michigan running back Vincent Smith says he's 100 percent recovered from ACL injury.
• Offensive lineman Stephen Schilling concentrates on second half of Michigan football season, puts aside NFL talk for now.
• Michigan receiver Kelvin Grady interviewed by ESPN about his Twitter use.
• Michigan shuffles linemen in hopes of solving dearth of depth.
• Notebook: Denard Robinson underwent MRI, Michigan football team's record after off weeks and more.
MONDAY • Denard Robinson says he's 100-percent healthy for the Penn State game.
• Rich Rodriguez and several players talk about playing at Penn State in this video report from the Wolverines' weekly press conference.
• Jeff Arnold provided live updates from the press conference.
• Notebook: Kick returners are solid, Devin Gardner update, Michigan football team injury news and more.
AROUND THE BIG TEN Michigan State at Iowa is the Big Ten's biggest game of the week. The Spartans, 8-0 for the first time since 1966, have a legitimate shot at a national championship game appearance if they win Saturday (3:30 p.m., ABC).
Check out complete MSU coverage by our friends at MLive.com.
The remainder of the Big Ten games, listed below, are previewed on the conference's website:
• Northwestern (5-2, 1-2) at Indiana (4-3, 0-3), noon. • Purdue (4-3, 2-1) at Illinois (4-3, 2-2), noon. • Michigan State (8-0, 4-0), at Iowa (5-2, 2-1), 3:30 p.m. • Ohio State (7-1, 3-1) at Minnesota (1-7, 0-4), 8 p.m.
AROUND THE COUNTRY • Check out previews of all games involving top 25 teams.
The Associated Press contributed to the introduction of this report.