Posted on
Wed, Aug 15, 2012 : 5:59 a.m.
Michigan's bearded buds Joey Burzynski and Elliott Mealer still scrapping for starting OL spot
By Nick Baumgardner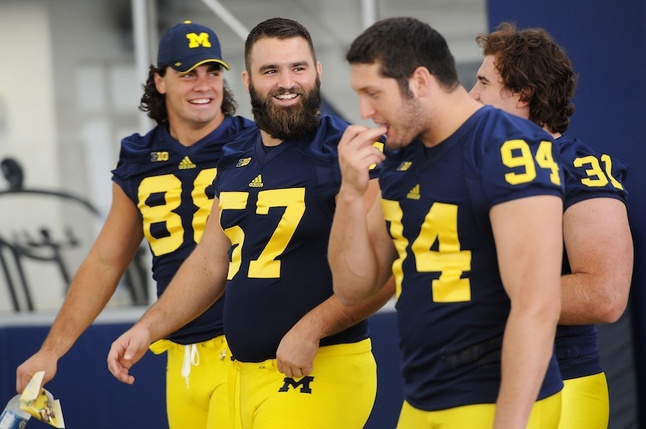 Melanie Maxwell | AnnArbor.com
Joey Burzynski
has this theory.
When it comes to beards, everything is cyclical.
"Facial hair goes in 150-year cycles," he says. "This was popular in the Civil War, and it should be coming back right about now I think."
The 6-foot-1, 295-pound Michigan football offensive lineman recently began crafting his own unique throwback-style sideburn pattern after spending far too much time watching offensive line mate Elliott Mealer cultivate the current king of all college football beards.
Mealer's facial hair -- which he's been growing since April -- goes far beyond stubble at this point, and looks more like a massive bird's nest than it does five o'clock shadow.
"Elliott's beard?" Burzynski asks. "That's just timeless."
Burzynski and Mealer's beard-growing competition is all in good fun. On the field, though, the duo is firmly entrenched in a very serious battle at left guard that started in the spring and has raged through the early stages of fall camp.
A sophomore walk-on, Burzynski bolted up the Wolverines' depth chart in April and earned a spring game start at left guard over the more seasoned Mealer.
The move came as a surprise to many. But not necessarily Mealer.
"Joey's great," Mealer said. "He pushes me to get better and I hope I push him to get better.
"That's competition. It's great, it makes the team better and it puts the best guys on the field. Joey's a great guy, I love him."
Perhaps the fiercest in-camp position battle at this point, Mealer and Burzynski are currently competing with freshman Kyle Kalis for the starting left guard spot -- a battle that offensive line coach Darrell Funk believes will take care of itself sooner rather than later.
Michigan offensive coordinator Al Borges agreed, adding that this week's first full week of hitting should go a long way in determining who comes out on top as Michigan's fifth offensive line starter.
"It's highly competitive," Borges said. "Those three guys are in a battle, and we've been rotating them through with the first group so everyone gets a chance to work with those guys.
"But this week is critical for those guys. Every single play. Because there will be a decision, I think, made in a reasonable amount of time."
Borges said it's possible that he could enter the season with a rotation at left guard if no one separates from the pack. But it's not preferred.
Though he hasn't offered any hint as to which player is leading the left guard battle, Borges did name Burzynski as one player he expects to hear much more from this season than he did in 2011.
"The competition has been fantastic," Burzynski said. "Elliott's an excellent guy, we're competing and at the same time, we're trying to help each other out. We're competing, trying to get better and then the coaches will make their decision.
"Whatever it is, we'll be Ok with it."
Someone is going to start at left guard on Sept. 1 against Alabama.
Who, exactly is still a mystery.
But odds are, he'll be sporting an impressive beard.
Nick Baumgardner covers Michigan sports for AnnArbor.com. He can be reached at 734-623-2514, by email at nickbaumgardner@annarbor.com and followed on Twitter @nickbaumgardner.