Posted on
Mon, Apr 23, 2012 : 5:59 a.m.
Michigan's David Molk trying to buck trend of small centers slipping in NFL Draft
By Kyle Meinke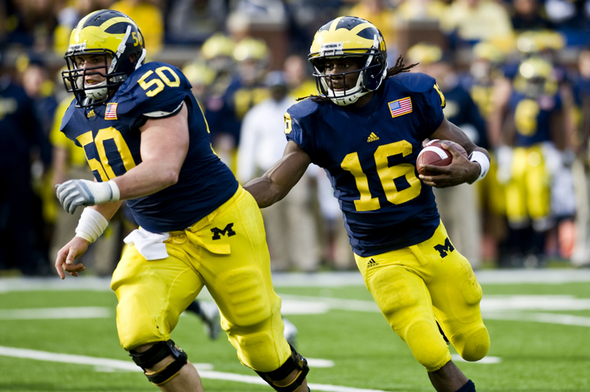 Joseph Tobianski | AnnArbor.com
David Molk was a four-year starter for the Michigan football team, and became a consensus All-American as a senior. He won the Rimington Trophy as the nation's best center.
Yet, he's projected as a mid- to late-round pick in this week's NFL Draft, which begins Thursday.
Why?
"It's because of one reason, and one reason only," Molk said during a recent interview. "I'm short."
Although Molk's weight is up to 298 pounds thanks to a rigorous offseason training program, he stands 6-foot-1. Only six of the NFL's 61 centers were that short last season.
DAVID MOLK AT A GLANCE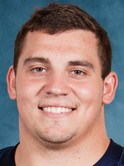 Height:
6-foot-1
Weight:
298 pounds
Hometown:
Lemont, Ill.
High school:
Lemont High School
Position:
Center
Notable:
Team captain as a senior. ... Rimington Award winner as nation's best center as a senior. ... Named first-team All-American as a senior by Associated Press, Football Writers Association of America All-America, The Sporting News and the Walter Camp Foundation. ... Big Ten Offensive Lineman of the Year as a senior. ... Named All-Big Ten (first team by coaches and second team by media) as a senior. ... Named All-Big Ten (first team by coaches and second team by media) as a junior.
Projections
ESPN's Mel Kiper Jr.: Fifth round
ESPN's Todd McShay: Fourth round
NFL.com: Fourth to seventh round
CBS Sports: Fifth to sixth round

Rankings
ESPN: No. 3 center
CBS Sports: No. 5 center

Combine results
Bench press: 41 repetitions, first among offensive lineman

What they're saying
"Molk is very intelligent. Lot of football intelligence there. He'd fit, obviously, a zone-blocking scheme, a smart kid. To me, he's a guy with the pads on, like Jeff Saturday. Jeff Saturday went undrafted out of North Carolina, and he's had a heck of a career, so these centers tend to get overlooked a bit and pushed down. If Molk's in the fifth-round area, I think he's a heck of a choice." -- Kiper
Recent stories
Molk says he believes he is the draft's top center
Terrific bench press helps Molk generate buzz at combine, despite being injured
Molk addresses size, injury issues
Molk opens up about playing through torn tendon in the Sugar Bowl, rehab and proving his doubters wrong
Trials help turn undersized Molk into legitimate NFL prospect
But Molk says he's not worried about it.
"Let me put it this way: I've never had an issue with the length of my arms playing a football game," he said. "There hasn't been a single person I've played against where I've reached to grab him, and he has kept me away because his arms are so long and mine are so short."
Molk long has been considered undersized, dating to when he entered Lemont (Ill.) High School as a 5-6, 185-pound freshman. But he's adapted at every level, including at Michigan, where he became one of the finest centers ever to wear a winged helmet.
However, recent history indicates Molk's odds of creeping into the early rounds -- where he hopes to go -- are steep regardless of his production.
Of the 64 centers taken in the past 10 drafts, only four were shorter than 6-foot-2 -- and none were selected earlier than the sixth round.
Three of the four were the final centers taken in their respective drafts.
The last center shorter than 6-2 to be drafted before the sixth round was Nebraska's Dominic Raiola, who was selected by the Detroit Lions in the second round of the 2001 draft.
Raiola, as it happens, also was a consensus All-American and Rimington Award winner (like Molk). He went on to start all but four games for the Lions since the 2002 season, despite his slight stature.
He's not alone, either.
In fact, although only six centers were 6-1 or shorter in the NFL last year, half of them were starters: Doug Legursky for the Pittsburgh Steelers, Todd McClure for the Atlanta Falcons and Raiola for the Lions.
Additionally, there were 11 centers in the league who were 6-2, only an inch taller than Molk. Six are starters.
That means nine of the 32 NFL teams -- almost a third -- start a center 6-2 or shorter.
Molk has drawn comparisons to one of them: Jeff Saturday, who, at 6-2, was a five-time Pro Bowler with the Indianapolis Colts. He signed with the Green Bay Packers in the offseason.
"You talk about defining what an overachiever is -- David Molk does," ESPN draft guru Mel Kiper Jr. said during a recent teleconference. "He is strong in the upper body. Short arms, though. I think that's the thing.
"The centers can overcome that at times. We've seen it. I remember Jeff Saturday came out of North Carolina after a heck of a career and didn't get drafted, had an outstanding career with the Indianapolis Colts."
That appears to be the dichotomy facing Molk: There is a place in the NFL for short centers, but they are punished in the draft because of their size.
Legursky (undrafted) and McClure (seventh round) suffered a similar fate, even though they were good enough to become starters.
"Molk is very intelligent," Kiper said. "But these (short) centers tend to get overlooked a bit and pushed down.
Molk also is hindered by a foot injury he sustained before the Sugar Bowl that required surgery. He hasn't been able to run at full speed, but did do positional drills for a small group of scouts last week. It went well, he said.
Buoying his stock is his reputation for playing with nearly flawless technique, quick smarts, exceptional speed and a powerful body. He posted 41 repetitions in the bench press at the combine in February, the most of any offensive lineman.
For comparison, Wisconsin's Peter Konz, the consensus top center in the draft, did 18 reps.
"I think he's instinctive, smart enough and has all the mental part of the game to be a center in the NFL," ESPN's Todd McShay said. "There are physical limitations there, but I think when you start to look at the center position … you would argue he's probably the second-best center in this class (with Georgia's Ben Jones)."
Molk has spoken to nearly every NFL team, including the 11 who have told his agent, Rick Smith of Priority Sports, they are searching for a center. That includes clubs such as the Falcons, Lions and Colts, each of whom started centers 6-2 or shorter last year.
Molk said he was expecting to have to address size issues when interviewing with teams, but it hasn't come up much.
"I was actually really surprised, because I thought it would be more of a topic," Molk said. "But frankly, most of them don't care. There's always stories about centers who were 6-foot, or 6-1, who were just fantastic. I think that eases their minds about where my height is."
Kiper, who once ranked Molk as high as No. 2 among centers, has dropped him to No. 3 behind Konz and Jones. McShay pegs him in the same range and projects him as a fourth-round pick.
Although that's lower than Molk hopes to go, it would buck the trend of short centers dropping to at least the sixth round.
"I'm short, but there are a lot of short guys who had long careers at center," Molk said. "If you can play, it's not a big deal. And frankly, I think i can play with anyone."
Kyle Meinke covers Michigan football for AnnArbor.com. He can be reached at 734-623-2588, by email at kylemeinke@annarbor.com and followed on Twitter @kmeinke.