Posted on
Thu, Nov 24, 2011 : 5:59 a.m.
Michigan's Denard Robinson seeking rematch with Ohio State, but as a different quarterback
By Kyle Meinke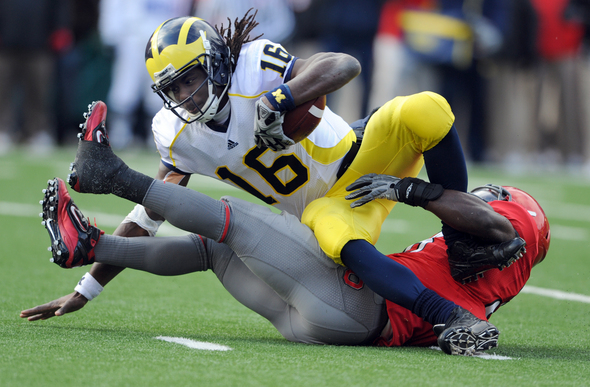 File photo
Denard Robinson
says he's watched the Michigan-Ohio State game for years.
Not long enough, however, to have seen the Michigan football team win it. Ever.
The junior quarterback, who was a seventh-grader at Deerfield Beach Middle School the last time the Wolverines beat the Buckeyes, does remember walking off the field last year after falling 37-7 in Columbus.
"Everybody hates that taste in their mouth," Robinson said this week. "We still got that taste in our mouth. We want to change that."
He'll have his chance this weekend when the 17th-ranked Wolverines (9-2, 5-2) host Ohio State at noon Saturday on ABC. Only, he'll do it as a different quarterback than he was the last time he faced the Buckeyes.
Robinson has switched from the spread-option offense of Rich Rodriguez to the "spread-West Coast" hybrid of offensive coordinator Al Borges. Now, he's continuing to evolve as he gets a handle on the nuances of the new scheme.
The most recent development, oddly enough, has been the scramble.
One of the uncertainties coming out of camp was whether Robinson, a gifted runner, would be too impatient to work through progressions in the new passing game. The opposite, however, has been true.
Robinson has been reticent to scramble for much of the year, forgoing the run when even traditional pocket quarterbacks would take off and instead forcing balls into coverage.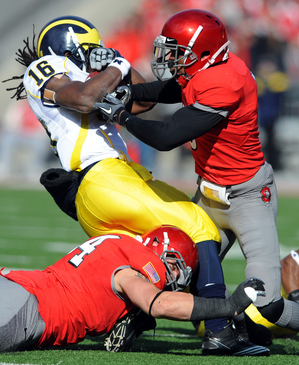 File photo
Borges said he thinks Robinson, like some other quarterbacks he's had, was trying too hard to prove himself as a passer. But, as Robinson has become more comfortable this year, he's finding a better balance between passing and running.
"We talked about it before," Borges said. "I said, 'You have to use your skills more. You have great skills. Let's make these guys pay for some of this stuff.'"
Robinson said he heard the same thing from his father, who called him a couple of weeks ago to tell him to just relax and play his game. Which, of course, includes running.
"He was just like, 'If nothing's there, then just make a play. Make a play. You got the ability to do it, so just do it," Robinson said.
Make a play, Robinson did, last week against Nebraska.
He was 11-of-18 passing for two touchdowns and one pick in the win against the Cornhuskers, and he rushed 23 times for 83 yards and another two scores. Good numbers, but not great — at least by Robinson's standards.
But it was his ability to take what Nebraska gave him that made him so dangerous. And, when nothing was there in the passing game, he didn't force anything.
Robinson scrambled at least five times, each for positive yardage, including a 16-yard gain that set up a field goal in the first quarter and a 9-yarder that set up his first touchdown run in the second quarter.
"He took (the criticism) to heart," Borges said. "In this game, we were a little more quarterback-is-going-to-be-the-check-down oriented. And we're like that anyway."
Those decisions also helped him hang onto the football, which had become an issue the previous three weeks. His only turnover was a pick on which a defensive lineman tipped the ball to himself. Borges called it a "fluke" play.
Borges knows Robinson has not been perfect this season — he specified his quarterback's 14 picks as a primary concern — but has been pleased with his overall growth.
Ohio State, though, thinks it has a counter-punch to Robinson's running in freshman linebacker Ryan Shazier, a speedster who could track down Robinson.
"You know, he's got the ability to get to (Robinson)," Buckeyes defensive coordinator Jim Heacock said. "He's got the ability to make a play in space against him, which some players don't.
"And if you know Denard's going to run, you feel like he's got a chance to at least get in his face and slow him down."
Robinson has struggled against Ohio State. He has never run or thrown for a touchdown against the Buckeyes and is 10-for-22 passing for 90 yards in two games against them. He's rushed for 136 yards on 28 carries.
Perhaps the biggest thing that slowed down Robinson in last year's Ohio State game was his health. He missed almost a half due to a hand injury.
This year, he's healthy and ready to try to end the Wolverines' longest-ever losing streak to their bitter rival at seven games.
Robinson said he is "starving" for a win in The Game — so much so, he's begun celebrating scores by motioning with his hands in front of his face as though he were eating.
"This program's been starving for a while," Robinson said. "It's time for us to make something happen.
"We've been starving. It's time for us to eat."
Kyle Meinke covers Michigan football for AnnArbor.com. He can be reached at 734-623-2588, by email at kylemeinke@annarbor.com and followed on Twitter @kmeinke.