Posted on
Sat, Nov 27, 2010 : 8:04 p.m.
Ohio State 37, Michigan 7: A comprehensive guide to Saturday's coverage
By Rich Rezler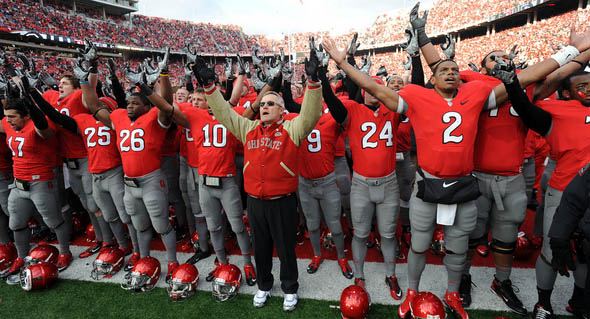 Lon Horwedel | AnnArbor.com
Ohio State's dominance of The Game has reached historic proportions.
The Buckeyes' 37-7 win over the Michigan football team on Saturday was its seventh straight, unprecedented in the 107-year history of the rivalry, and the second-most lopsided Ohio State victory since 1968.
The most lopsided? A 42-7 loss in 2008, the last time the Wolverines traveled to Columbus. Michigan coach Rich Rodriguez is now 0-3 against the Buckeyes and his teams have been outscored 100-24 in those games.
As the Associated Press reported, it was enough to make even Ohio State coach Jim Tressel offer some consolation.
"You know, we all have our ups and downs," he said after improving to 9-1 against Michigan. "But Michigan will be back. You don't have to worry about that."
AnnArbor.com staff members were in Columbus to bring you pre-game to post-game coverage. Here's a compilation of what you can find on our site:
Post-Game Coverage • Scoring summary and boxscore.
• Big Ten standings.
• Pete Bigelow writes that Ohio State has the type of football program that athletic director Dave Brandon wants to build at Michigan.
• Rich Rodriguez says 'worst is behind us.'
• In his game story, Bigelow says the Ohio State fans' apathy showed just how lopsided the rivalry has become.
• Jeff Arnold compiled a notebook that includes short items on Denard Robinson's injury, Michigan's special team issues and much more.
• Arnold's report from the home team's locker room: Ohio State coach Jim Tressel, Buckeyes continue dominance over Michigan with seventh straight win.
• A 'ticked' Rich Rodriguez discusses the loss in this video from the post-game press conference.
• Our 'Game Balls' go to Ohio State's Terrelle Pryor and Dan Herron, and Michigan safety Jordan Kovacs.
• And more post-game video clips from Michigan players Mike Martin, Jordan Kovacs and Ryan Van Bergen.
• Breaking down the streak: A quick look at each of Ohio State's past seven wins over Michigan.
In-Game Updates • AnnArbor.com photographer Lon Horwedel came away from a day in Columbus with this slideshow full of images:
• AnnArbor.com staffers spread across the country -- Jeff Arnold in Columbus, Michael Rothstein in Atlantic City and Rich Rezler in AnnArbor -- hosted a live chat during the game. That transcript can be found here.
• Jim Knight provided live updates. Check them out here.
And a pre-game story to boot: Michigan punter Will Hagerup suspended for violating team rules.
Other coverage • Cleveland Plain Dealer: The worst fate for Michigan is Buckeyes' pity and ex-Wolverines' anger.
• Cleveland Plain Dealer: Rich Rodriguez admits 'frustration,' but says the worst is behind the Wolverines.
• ESPN.com: Status quo for Buckeyes and Wolverines.
• CBSSports.com: Buckeyes could regret latest humiliation of Michigan.
Around the Big Ten (click on score for complete game recap)
Michigan State 28, Penn State 22: Kirk Cousins threw two touchdown passes and the Spartans locked up a share of the Big Ten title at Beaver Stadium. Cousins was highly efficient, completing 17 of 22 passes for 152 yards without an interception for the Spartans (11-1, 7-1), who had gone 20 years without ending the regular season atop the conference standings. Matthew McGloin recorded 312 passing yards and two touchdowns for Penn State (7-5, 4-4), which ensured its worst season since going 4-7 in 2004.
(Find plenty more MSU coverage from our colleagues at MLive.com.)
Wisconsin 70, Northwestern 23: Montee Ball ran for four touchdowns and Scott Tolzien threw four touchdown passes for No. 5 Wisconsin, which claimed a share of the Big Ten title. Wisconsin (11-1, 7-1) has a good chance at advancing to the Rose Bowl as the Big Ten representative due to their high standing in the BCS rankings entering this week.
Minnesota 27, Iowa 24: Duane Bennett scored from six yards out with 4:31 left in the fourth quarter to lift the Golden Gophers over the 24th-ranked Hawkeyes. Bennett carried the ball 11 times for 63 yards for the Minnesota (3-9, 2-6), who won back-to-back games to finish the season. DeLeon Eskridge rushed for 95 yards on 21 carries and also scored once. Ricky Stanzi connected on 10 of 22 passes for 128 yards and two touchdowns for the Hawkeyes (7-5, 4-4), who lost three straight to end the year.
Indiana 34, Purdue 31 (OT):: Mitch Ewald connected on a 31-yard field goal to lift the Hoosiers to their first Big Ten win in overtime at Ross-Ade Stadium. Ben Chappell completed 31 of 50 passes for 330 yards with three touchdowns for the Hoosiers (5-7, 1-7) and Terrance Turner hauled in 10 passes for 100 yards in the win. Rob Henry threw for 252 yards with three touchdowns for Purdue (4-8, 2-6).