Posted on
Tue, Oct 18, 2011 : 9:38 a.m.
Another advantage: Michigan State anticipated Michigan's snaps
By Kyle Meinke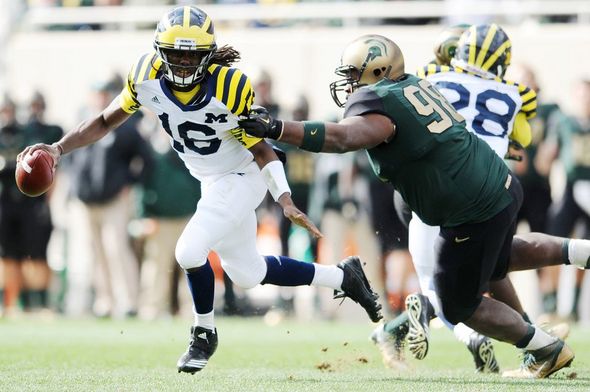 Melanie Maxwell | AnnArbor.com
There's no question the
Michigan football
team was outplayed and out-toughed by
Michigan State
, especially in the trenches.
But the Wolverines also were at a tactical disadvantage up front in their 28-14 loss Saturday.
Center David Molk confirmed on Monday reports that the Spartans anticipated Michigan's snaps and were getting a head start at the line of scrimmage.
"They did jump our snap count," Molk said. "They knew us, they knew how we played and how our plays were going to start."
Michigan State's Trenton Robinson originally told The Wolverine on Saturday his team could anticipate Molk's snaps because he bobbed his head down, then back up before he hiked the ball.
IT'S MAILBAG TIME!
Something on your mind after Michigan's first loss of the year? Email your question or comment to football beat writer Kyle Meinke at kylemeinke@annarborcom for Thursday's column.
Also, join Meinke in a live chat at noon Thursday to talk more Michigan football.
Molk said Michigan recognized this during the game, but could not adjust because of the crowd at
Spartan Stadium
.
"Making an adjustment came down to our ability to communicate, and with the crowd noise, it sort of covered that," he said. "It puts us into a tough situation, and something we have to react to, and we weren't ready to react. They got us, no doubt."
Michigan State held the Wolverines to a season-low 82 rushing yards, and quarterback Denard Robinson had the worst start of his career, passing or throwing.
The Spartans also recorded seven sacks. Michigan had allowed only two all season.
Michigan coach Brady Hoke said he did not believe the Spartans had an extra advantage due to anticipating the snap count.
"I think everyone has an idea of snap counts from guns, because there's a mechanic that every team has," he said. "We have a silent count, and we have a double-silent count. I don't think that's all the way correct."
Michigan players thought otherwise.
"(Spartans defensive tackle) Jerel Worthy had a couple offsides penalties, and I think that's a testament to his quickness off the football, and him anticipating the snap count," senior tight end Kevin Koger said.
"It definitely is hard to block them when you have those guys jumping the snap. We have to switch it up a little bit, and that's on us to get to the line of scrimmage quickly enough so we can do that."
Other notes from Michigan's Monday news conference:
Hoke said his staff will be out recruiting during the off week, but he'll stay in Ann Arbor. The Wolverines will practice Tuesday and Thursday. Hoke declined to say what he will do Saturday.

Sophomore left tackle Taylor Lewan left the game during the first series for several plays, and later came up limping. He also was punched in the throat by Michigan State defensive lineman William Gholston. However, Hoke said he should be fine when the Wolverines play Purdue after the off week. "He'll be all right," Hoke said. "He's a tough sucker."

Hoke said sophomore safety Marvin Robinson did not travel to East Lansing because he "still has some lingering (physical) issues." Robinson, who also did not play against Northwestern the previous week, had been expected to dress against MSU.

Hoke said senior linebacker Brandon Herron did not dress against Michigan State because he "still isn't where we want him to be."

Sophomore linebacker Cam Gordon (back) played for the first time this year against Michigan State, and recorded a special-teams tackle in his debut. However, he did not appear on defense, where redshirt freshman Jake Ryan continues to get the bulk of the snaps at weak-side linebacker. Hoke said Gordon "is much better than he was," but did not offer a timetable for his return to linebacker.

Hoke, on where he went when he left the field between the first and second quarters: "Well, that is really a personal question. I had to use the men's room, and I've had to do it before. I drink a lot of coffee and a lot of water."
Kyle Meinke covers Michigan football for AnnArbor.com. He can be reached at 734-623-2588, by email at kylemeinke@annarbor.com and followed on Twitter @kmeinke.