Posted on
Sun, Jun 13, 2010 : 2:46 p.m.
Michigan's apology a rarity in college sports these days
By Pete Bigelow
When the University of Michigan released its response to the NCAA's inquiry of its football team in late May, athletic director Dave Brandon stood in the spotlight.
Asked who should be blamed for the major rules violations to Wolverines admitted to breaking, Brandon said, "I am. The reality is we had failures across the athletic department and I take full responsibility."
His answer was both silly and sincere.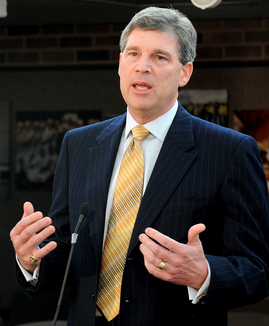 AnnArbor.com file photo
Silly, because if anyone at Michigan should be immune from responsibility, it's Brandon. He was busy running Domino's Pizza at the time the violations occurred.
Sincere, because despite the fact he wasn't on the job, Brandon remains a loyal former Wolverines football player intent on cleaning up the mess.
"We have violated certain rules with the NCAA and we're standing up and taking responsibility for them," Brandon said, echoing the crux of his comments on that dark day for Michigan.
Whether he shrewdly calculated his comments to maximize Michigan's contrition in the eyes of the NCAA, meant them sincerely or both, the important thing was that Brandon made them.
Michigan expressed shame. Michigan vowed to fix mistakes. Those sound like simple first steps in damage control, steps that would be obvious ones for anyone in a position like Brandon's.
That's apparently not the case.
There's no other way to explain the reaction of USC athletic director Mike Garrett to sanctions handed down by the NCAA to the renegade Trojans athletic department this week.
After a four-year investigation, the NCAA banned USC from the next two college football postseasons, mandated the team vacate victories from the 2004 season and stripped 30 scholarships from the football team over three seasons because of major rules violations involving payments and gifts to athletes.
Far from contrite, Garrett told a group of Southern Cal alumni in San Francisco "as I read the decision by the NCAA … I read between the lines and there was nothing but a lot of envy. They wish they were all Trojans," according to the Los Angeles Times.
He added: "Today I got a purpose for really wanting to dominate for another 10 years."
To recap: Garrett's department has been hit with the most serious sanctions since the NCAA killed the Southern Methodist football program 23 years ago, and his response is defiance.
Maybe Garrett - not inaccurately - concluded the NCAA might not be around long enough to reprimand him for his arrogance.
Whatever his thinking, if he didn't get fired for presiding over a department that completely lost institutional control - scandals surrounding Reggie Bush and O.J. Mayo would make Ed Martin blush - he should lose his position for his outrageous reaction.

He's not the only one.
Kansas athletic director Lew Perkins might have been next in line to lose his job had he not beat the NCAA to the punch and announced his resignation this week.
When hired, Perkins vowed to "put the swagger" back in Kansas athletics. Instead, he merely oversaw a department putting swag into boosters' pockets.
Several weeks ago, the Jayhawks athletic department was netted in a multi-million dollar ticket-scalping scandal. Also in recent weeks, Perkins has said he was blackmailed by a former employee who threatened to expose his use of athletic equipment from a company that did business with the university.
With the demise of the Big 12 this week and the Kansas athletic department facing the very real possibility it will wind up in a lesser conference, there's a tremendous thirst for leadership.
Perkins picked this week to cut and run, making his announcement Thursday. He'll stay just long enough to collect a $600,000 bonus.
At a time when Garrett revels in the seedy side of college sports and Perkins smugly exits the stage instead of doing his job, at least their counterpart in Ann Arbor has struck the right chords.
Amid the first sanctions ever to be leveled against its storied football program, it's hard for Michigan to stand proud. But compared to others, Brandon is holding his program accountable for its actions, and that's a reason for the Wolverines to at least hold their heads a little higher.