Posted on
Fri, Aug 17, 2012 : 11:35 a.m.
Michigan's Vincent Smith modestly continues his role as the team's toughest player
By Nick Baumgardner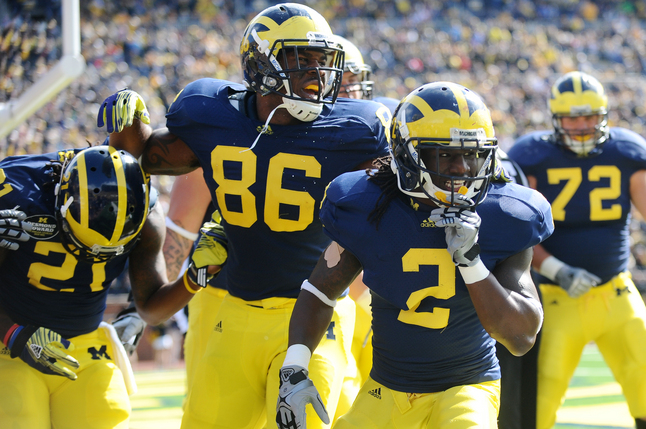 Melanie Maxwell | AnnArbor.com
Vincent Smith
doesn't really like to talk about it specifically.
More of a modest guy, the Michigan football senior running back still prefers to do his talking on the field.
Teammates, however? Well, they don't mind discussing how the 5-foot-6, 176-pound Smith is -- pound for pound -- the toughest player in the Wolverine locker room.
"Have I ever been hit by Vince Smith? Yes, I have," Michigan cornerback J.T. Floyd says with a smile on his face. "He's solid as a rock.
"He's 5-6, 5-7, I don't care I'll give him 5-8 and pump him up. But he's solid as a rock, a tough guy and one of the toughest guys on the team."
Technically the shortest player on the Michigan roster, perhaps no running back packs a punch quite like Smith.
The team's most trusted pass-blocking running back, Smith is applauded constantly by teammates and coaches for his ferocity and ability to take on players twice his size, and not yield an inch.
It's a reputation he doesn't like to boast about, but one he certainly takes pride in.
"That just means I can't ever slack up," Smith says. "I have to keep giving 110 percent like I always do.
"I just have to keep playing for my teammates and for Michigan."
Throughout the spring and into fall camp, the coaching staff has maintained that Fitz Toussaint would be the team's every-down running back this season. And when Toussaint was suspended following an offseason drunk driving arrest, sophomore Thomas Rawls was pinpointed as the player most likely to take over the bulk of his carry load, should the suspension continue into the season.
Smith ran for 305 yards and two touchdowns a year ago, and according to Michigan offensive coordinator Al Borges, will likely serve in a third-down back capacity this season.
But it won't be due to a lack of toughness.
"He might be smaller, but he's put together," Michigan coach Brady Hoke said last season. "He's a rock. … His mentality is that of a tough guy."
As a third-down back, Smith will not only be responsible for catching passes (he grabbed 11 for 149 yards and two touchdowns in 2011), but he'll also be counted on to help protect Denard Robinson.
When asked how he improved his pass protection in the fall, Toussaint said it was simple.
He watched Smith do it.
Pass blocking isn't something running backs dream about doing, but it's something Smith takes seriously.
"You take a lot of pride in that," Smith said. "Third down is a crucial part of the offense, you have to keep the sticks moving."
Though Smith might not be in the conversation for Michigan's No. 1 running back spot -- at least not now -- he is one of the leaders at his position group on and off the field.
More of a "lead by example" player in the past, Smith said he spent the summer making more of a conscious effort to lead with his voice this season -- something that no doubt paid off during the first week of camp when Toussaint missed time.
He's not the lead back. He's not even the firm No. 2 at this point.
But few players are more important to the Wolverine offense than Smith.
He's 5-foot-6, but he packs a punch. And whether he likes to talk about it or not, he has complete respect from everyone inside Schembechler Hall.
"Everyone's coming out to compete every day," Smith says. "We're all brothers in the backfield and we hold each other accountable. The expectation is for the position.
"We're going to keep sticking behind one another 110 percent and keep helping everyone as one."
Nick Baumgardner covers Michigan sports for AnnArbor.com. He can be reached at 734-623-2514, by email at nickbaumgardner@annarbor.com and followed on Twitter @nickbaumgardner.