Posted on
Tue, Apr 20, 2010 : 2:48 p.m.
Michigan's Zoltan Mesko, Greg Mathews hoping for NFL draft calls
By Dave Birkett
Leisa Thompson | The Ann Arbor News
Zoltan Mesko has big plans for the NFL draft this weekend - study.
With two exams and a paper due before he gets his master's degree in sports management next week, Mesko figures that's a better use of his time than spending eight hours in front of the TV Saturday waiting to hear his name called.
"I think my parents are going to come up," Mesko said. "We'll go out to dinner or something."
Mesko is one of a handful of Wolverines with a legitimate shot of being selected when the three-day NFL draft begins Thursday.
Defensive end Brandon Graham is a probable first-round pick, and cornerback Donovan Warren is projected to go in the middle rounds. Mesko and running back Brandon Minor are possible late-round selections.
"Hopefully I'll go somewhere," Mesko said. "If the draft doesn't happen and free agency is the route to go, then I hope to land in a good situation where I don't have to save the veteran's leg in camp. A lot of guys have to do that and then bounce around, be a journeyman, until they stick around."
Mesko is rated the draft's top punter by ESPN analyst Mel Kiper Jr. and the website NFLDraftScout.com, but that's no guarantee he'll get selected. Just two punters were drafted last year, SMU's Thomas Morstead and Cincinnati's Kevin Huber, both in the fifth round.
A four-year starter at Michigan and finalist for the Ray Guy Award last year, Mesko has had a busy few months since taking part in the Senior Bowl.
He went to the NFL combine in February, visited privately with the Colts, Jets, Chiefs, Falcons and Eagles, and worked out for the Patriots on Michigan's campus last week.
"It was pretty intense process," Mesko said. "I kind of want to get (it) over with and find out where I'll be."
Exactly where that is, Mesko has no idea.
"Everyone's playing their cards close to the vest so you can't really tell," he said. "I was just talking to someone, it's kind of like buying a house. They come see it and they're like, 'Uh, yeah, we like it,' even though inside they might be going crazy."
Mathews has no regrets

Like Mesko, receiver Greg Mathews doesn't have a good feel for where or if he'll be drafted.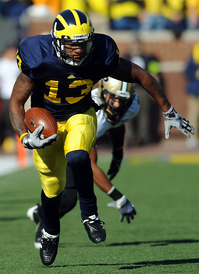 Melanie Maxwell | AnnArbor.com
Likely a rookie free agent, Mathews said he's met with a handful of teams including the Giants, Bears, Falcons and Ravens, and ultimately just wants to get in an NFL camp.
"I'm confident in myself and my abilities, so wherever I go I know that I'm going to do good," Mathews said. "Just go in there, work hard. Whatever happens, happens. You can't control the draft, so I'm no really worried about it."
Mathews caught a career-high 39 passes for 366 yards playing under Lloyd Carr as a sophomore, but saw his production wane the last two seasons in Rich Rodriguez's spread offense. Last year, he had 29 catches for 352 yards.
He declined comment when asked how the change in schemes affected his draft stock, but said he doesn't regret staying at Michigan no matter what happens this weekend.
"I definitely wish things would have worked out differently with Coach Carr and everything, but I don't have any regrets," he said. "I think Coach Rod and his staff came in and did a good job. They helped us become grown men. They taught us a lot about mental toughness with everything going on and stuff, and we still persevered and stayed through and finished off strong.
"The scouts know what I can do. I'm not really like a spread-type receiver, more of a pro-style receiver, but they know. There's nothing I can do about it but just show that I can play."
Dave Birkett covers University of Michigan football for AnnArbor.com. He can be reached by phone at 734-623-2552 or by e-mail at davidbirkett@annarbor.com. Follow him on Twitter @davebirkett.