Posted on
Wed, Jun 20, 2012 : 5:59 a.m.
Michigan football moments to remember: The touchdown that wasn't, a 205-17 quarter and a tearful admission
By Nick Baumgardner
This is the first of a three-part series: Day 2
Brady Hoke's first season at the helm of the Michigan football program was one to remember.
The 2011 Wolverines suffered their fair share of triumph, redemption and even a bit of heartbreak.
AnnArbor.com has selected its season-defining moments -- the good and the bad -- that should help define the legacy of Michigan's 132nd football team.
Our first three moments are listed below. Check back Thursday and Friday for the remainder of the list.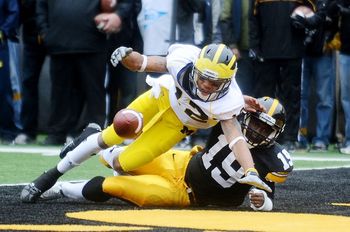 Melanie Maxwell | AnnArbor.com
In or out?
When: Nov 5. 2011

Where: North end zone of Kinnick Stadium; Iowa City, Iowa

What: Brady Hoke claimed his view wasn't great and Iowa defensive back Micah Hyde appeared to have no idea what was going on.
As for Junior Hemingway? His message was pretty clear.
"I caught that 1 no If ands or buts about it!!!!" he tweeted moments after the conclusion of the game.
Hemingway's apparent last-second, 3-yard touchdown catch in the back of the end zone would have given Michigan a shot at capping a 15-point, fourth-quarter comeback. More importantly, it would have kept the Wolverines' Big Ten title hopes alive.
But Hemingway's one-handed grab was ruled incomplete, something video replay would later show was the wrong call. Two plays later, Roy Roundtree -- who may or may not have been the victim of pass interference -- couldn't hang onto a pass in the end zone, and the Wolverines went home with a 24-16 loss.
One might argue Michigan learned more from a defeat at Iowa than it would have from a victory. The Wolverines didn't suffer from the same physical meltdowns that put them in a hole against Iowa during the last four games of the year.
That might have been true. But if Hemingway's catch is ruled good, and Michigan moves to 8-1 ... the Big Ten Championship and a shot at Pasadena may have been Hoke's ultimate rookie season fate.
Notable: Talk about wild finishes?
Hemingway and Roundtree's near misses weren't the only heart-stopping moments during the final two minutes of the Iowa loss.
Shortly before the final sequence, Michigan running back Vincent Smith darted through a hole untouched for an apparent 82-yard touchdown scamper.
The run was called back because Smith's knee appeared to be down 7 yards from the line of scrimmage. The wrong end of two replay decisions and one judgment call in the final 135 seconds? Not an ideal situation, to say the least.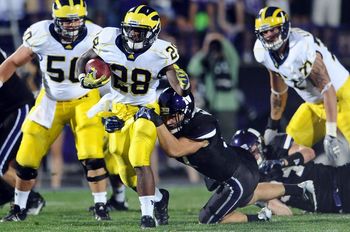 Melanie Maxwell | AnnArbor.com
A third quarter to remember
When: Oct 8, 2011

Where: Welsh-Ryan Stadium, Evanston, Ill.

What: The first 30 minutes of Hoke's inaugural Michigan road test had all the makings of a nightmare.
Denard Robinson threw it to the wrong team three times and the Wolverines' revamped defense couldn't stop a mobile quarterback.
Then, the third quarter happened. More specifically, 205-17 happened.
It was a quarter that, looking back, could have been a microcosm of Michigan's entire season.
Robinson burst through holes and hit a jump-ball bomb to Roundtree. Michigan's defense found itself in the right place at the right time on an interception. And Devin Gardner successfully stemmed off disaster when Robinson had to leave the game momentarily with an injury.
The Wolverines outgained the Wildcats 205-17 in the third quarter, and eventually outscored Northwestern 28-0 after halftime to prove to many that Brady Hoke's Wolverines were a tad bit different than Rich Rodriguez's version.
Heads didn't dip, frustration never set in and, no matter how ugly things got, Michigan very much remained in the game.
The Wolverines went on to claim a 42-24 comeback win, became bowl eligible and earned Team 132's first road victory.
More importantly, they aced the first serious Big Ten test of the Hoke era.
Notable: The Northwestern game marked the second straight week that Robinson fought through a "boo-boo."
One week earlier against Minnesota, Robinson played with a heavy wrap around his right elbow, covering what he and Hoke described as a "boo-boo."
After the season, it was revealed that Robinson spent time in the hospital with a staph infection. He never confirmed the date, but it's believed the "boo-boo" he was protecting against the Golden Gophers was related to the staph injury.
In total last season, Robinson was subbed out of four Big Ten games (at Northwestern, at Michigan State, at Iowa, at Illinois) due to an apparent injury.
Melanie Maxwell | AnnArbor.com
'A Michigan defense'
When: Nov. 12, 2011

Where: A tunnel below Illinois' Memorial Stadium; Champaign, Ill.

What: Perhaps it was due to logistics, or perhaps it was on purpose.
Moments after his defense put together its most dominant effort to date, Michigan defensive coordinator Greg Mattison found himself with more than a dozen reporters circled around him outside the visitors' locker room in Champaign, Ill.
With tears in his eyes, Mattison offered the official coronation for a group that had been tattered, battered and embarrassed for the better part of their college careers.
"That was, without a doubt, a Michigan defense," Mattison said of his group's effort in a 31-14 win at Illinois. "Because they played as hard as they could, they did whatever they had to do.
"Without a doubt, that was a Michigan defense."
A year prior against Illinois, Michigan needed multiple overtimes to grab an almost embarrassing 67-65 victory. On this November evening, Mattison's defense didn't allow 65 yards until the closing moments of the third quarter.
Two years earlier against the Illini in Champaign, Illinois quarterback Juice Williams engineered a 99-yard drive to cripple the Wolverines, sending them further into a season-closing five-game losing skid.
All Illinois quarterback Nathan Scheelhaase engineered against Michigan in 2011 was a drive to the cold tub, as the Wolverines harassed him all night, limiting the Illini to 37 rushing yards on 33 attempts.
Since before the season began, Mattison outlined his primary mission in 2011: To rebuild a true "Michigan defense," by any means necessary.
Michigan took small steps toward Mattison's aspiration throughout the first nine games of the year. And during the final road game of the season, he finally found what he was looking for.
"We hadn't come to that final point where you win a game on defense," Mattison said. "We said, 'This is your last away trip to do it,' and I couldn't be more proud that they did it."
Notable: Fitz Toussaint's true breakout game may have been a 170-yard performance two weeks prior against Purdue.
But against Illinois, Toussaint proved why the Michigan staff rode him as its lead running back, and why most experts expect All-Big Ten-level things from him in 2012.
Toussaint finished the Illinois game with a career-high 192 yards on 27 carries, proving that the Wolverines had another bona fide star in their backfield -- one that ties his shoes and doesn't sport dreadlocks.
In Michigan's final five regular-season games, Toussaint ran for 678 yards, more than half of his season-ending 1,041.

Hints for Thursday's installment: Fourth-and-forever, November foreshadowing and 'what just happened?'
Nick Baumgardner covers Michigan sports for AnnArbor.com. He can be reached at 734-623-2514, by email at nickbaumgardner@annarbor.com and followed on Twitter @nickbaumgardner.