Posted on
Thu, May 17, 2012 : 5:59 a.m.
More alternate uniforms on horizon for Michigan football team, AD says
By Kyle Meinke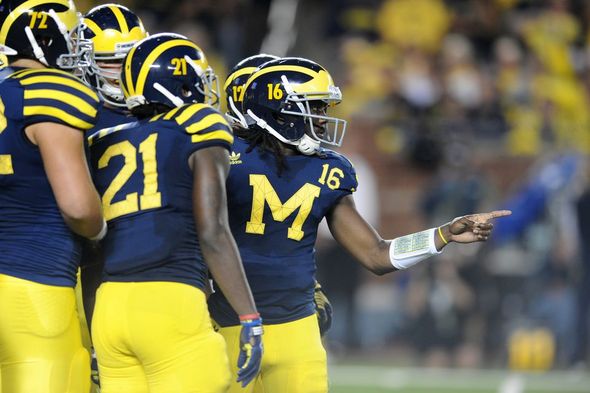 Melanie Maxwell | AnnArbor.com
CHICAGO -- More alternate jerseys could be on the way for the Michigan football team.
Athletic director Dave Brandon said he continues to support varying the team's look, and hopes to add more wrinkles in coming years.
"For football last year, we probably did a little bit more than we'll do going forward in terms of variety, but we're going to from time to time do some special things," he said Wednesday after the third and final day of the Big Ten spring meetings.
"The coaches like it and the student-athletes like it and the recruits are enamored by it. So why wouldn't we?"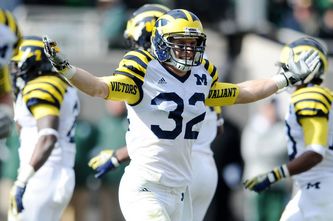 Melanie Maxwell | AnnArbor.com
Michigan wore nontraditional uniforms three times last year, including the "legacy" jersey against
Notre Dame
. The look included numbers on the helmets, a feature that later was added to the regular uniform.
The helmet numbers also were adorned during the spring game this year, and have appeared on materials sent to recruits.
The Wolverines also sported alternate uniforms against Michigan State -- changing into the new digs after wearing their regular attire for warmups. The jersey, which Michigan billed as a road version of the legacy look, was not as popular as its predecessor.
Michigan closed the season in the Sugar Bowl by sporting a toned-down version of the jersey worn against Michigan State, and it was better received.
Brandon said there won't be any pregame surprises next year. Instead, Michigan is finalizing its uniform plan for the season this summer, and will release it to the public "so that we end (these) rumors, and some of the Twitter fodder, on what's going to happen and what's not going to happen.
"I think what we're going to do is lay it out and say, game by game, 'Here's what we're going to do. If we're going to make any changes, here's what they are,' and it will kind of end all the speculation. We're in the midst of all of that."
Football isn't the only team that's getting the makeover treatment. Michigan recently announced the hockey team will have five jerseys for next season.
Adding alternate jerseys breaks from tradition at a school known for it, but Brandon said his coaches are on board.
"I rely a lot on the coaches to make those decisions," Brandon said. "Frankly, the coaches would tell you a lot of this has to do with recruiting, too. Recruits today, they like variety. They emulate these programs that from time to time wield out these special jerseys.
"I really defer to the coaches, and all I ask is that Adidas, as our partner, does a great job of coming up with concepts that the kids like, that the coaches like, and I don't want to get too carried away."
Kyle Meinke covers Michigan football for AnnArbor.com. He can be reached at 734-623-2588, by email at kylemeinke@annarbor.com and followed on Twitter @kmeinke.