Posted on
Fri, Jul 8, 2011 : 3:34 p.m.
NCAA says Rich Rodriguez failed to monitor staff at West Virginia
By Jim Knight
The NCAA says former Michigan football coach Rich Rodriguez's failure to monitor his graduate assistants and non-coaching staff members at West Virginia led to violations.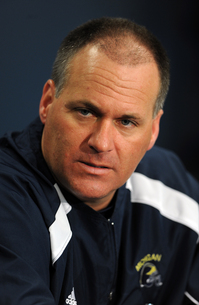 Rodriguez — and former West Virginia coach Bill Stewart — were both charged with a failure to monitor by the NCAA. "Both former head coaches acknowledged they failed to adequately monitor the duties and activities of the coaching staff and noncoaching sport-specific staff members," the NCAA said in a statement released Friday.
CBSSports.com reported that the NCAA sent a letter to Rodriguez that stated, "Although the committee did not impose sanctions upon you, your involvement in these violations will be available for review by any member institution."
Rodriguez, who was fired from Michigan on Jan. 5 after three seasons that included an NCAA investigation for similar violations, coached at West Virginia from 2001-2007. Stewart replaced Rodriguez when he left to replace Lloyd Carr at Michigan.
The NCAA's final report into West Virginia's football program accepted the university's self-imposed sanctions of a two-year probation and a reduction of three scholarships.
"I am pleased that the Committee accepted the self-imposed penalties the University proposed, without imposing any additional ones," West Virginia University director of athletics Oliver Luck said in a statement. "The University has already taken corrective action and put new systems in place to address all the issues raised."
Rodriguez will work as a college football game and studio analyst this season for CBS Sports.