Posted on
Sun, Mar 7, 2010 : 6:59 a.m.
New Michigan AD Dave Brandon won't judge football coach Rich Rodriguez only on wins, losses
By Dave Birkett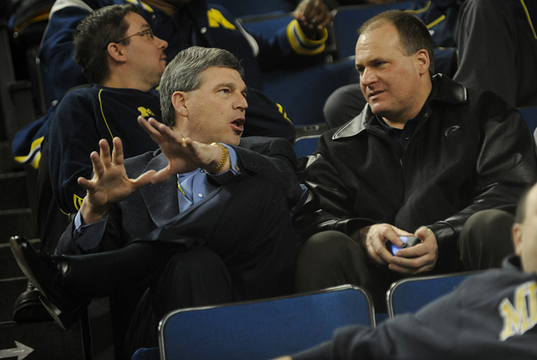 Incoming Michigan athletic director
Dave Brandon
said he's seen improvements in the football program under
Rich Rodriguez
and won't mandate a number of wins Rodriguez needs to keep his job.
So how will Brandon evaluate Rodriguez's performance after the season?
"Much like your boss, there's a lot of different things you look at," he told AnnArbor.com last month. "Certainly you need to see progress and some of that's measured by wins and losses, but it's also measured a lot of other ways. And when I'm in a position where I can evaluate as closely as I need to and I want to, all those metrics and all those measures will be clear between the coach and me."
Michigan is 8-16 in two seasons under Rodriguez and coming off a year in which it tied for last place in the Big Ten.
The Wolverines also have an August date with the NCAA Committee on Infractions after being accused of five major violations. In one count, the NCAA alleges that Rodriguez failed to promote an atmosphere of compliance in the program and failed to adequately monitor his staff.
Brandon wouldn't speculate on what would happen to Rodriguez if he was found guilty of major violations before the findings were released. At a press conference to announce the allegations, he said Rodriguez would return for 2010.
"There's nothing that I see … that leads me to believe there should be any change in the status of our football coach," Brandon said
As for Rodriguez's tenure so far, Brandon said it "was very clear to see the improvement" during last year's 5-7 season.
"The guy's had a young, inexperienced team and he's gone out there and played against some pretty tough competition, and at times played at a pretty high level," Brandon said. "I clearly saw some improvement Year 2 versus Year 1, and I think everybody who follows Michigan football would say the same thing. We obviously need to see continued improvement."
Since he was introduced as athletic director Jan. 5, Brandon said he's talked to Rodriguez a handful of times. The two sat next to each other at a Michigan basketball game, visited at an athletic-department reception, and spent "a couple hours" together one Saturday "just chatting."
Brandon said he wasn't consulted on the recruitment of Florida cornerback Demar Dorsey, who was arrested three times in high school, but expects to be involved in similar decisions in the future.
On giving some recruits multiple chances, he said, "there's some judgment involved. It can't just be a cast-in-stone, hard line approach. I don't think that's prudent."
Dave Birkett covers University of Michigan football for AnnArbor.com. He can be reached by phone at 734-623-2552 or by e-mail at davidbirkett@annarbor.com. Follow him on Twitter @davebirkett.