Posted on
Thu, Feb 23, 2012 : 5:59 a.m.
NFL Combine gets under way today, with David Molk among the first-day arrivals
By Kyle Meinke
Mike Martin, David Molk and Junior Hemingway endured some dark years with the Michigan football program.
Now, they're two months from the NFL, the pinnacle of their sport. Martin said he thinks every day about what it will be like to have his name called from that stage in New York City. To get his new jersey. His new locker. New life.
For Martin, it's not a matter of if he'll be drafted, but when. And this week is the last big platform he has to boost that standing.
For Molk, he was named the country's top center after his senior season, but is facing size and injury questions — questions he'll address this week as he tries to fight into the early rounds.
For Hemingway, he's on the outside looking in on most draft boards, but is a big receiver at a time when big receivers are in vogue. If he tests well this week, he could leap into the draft picture.
This week, of course, is the NFL Scouting Combine, and Michigan's contingent has a lot at stake.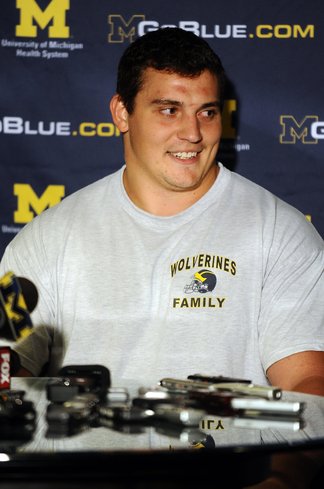 Melanie Maxwell | AnnArbor.com
Headed to the NFL Combine
The combine, which kicks into full swing Thursday and runs through Monday, is the last time these guys will have this much exposure to every NFL team. Not to mention the national media.
In 2010, the NFL Network's week-long combine coverage reached 5.8 million homes. That outdrew any regular-season week of Major League Baseball on ESPN, despite the NFL Network being in 43 million fewer homes than ESPN.
This year, the NFL Network is sending more than 20 on-air announcers to Indianapolis. There also will be several hundred credentialed media.
Michigan will host a pro day March 15, acting as a second chance for these guys and an only chance for other NFL hopefuls such as Mark Huyge or Steve Watson. But, the event's reach and visibility pales in relation to this.
The 318 combine-bound players will be poked, prodded and closely scrutinized. Clubs bring due diligence to a whole new level for the draft — some going as far as to hire private investigators to research top draft picks — and the combine is no different.
The public sees players ripping through 40-yard dashes or bench pressing 225 pounds at rapid-fire clips, but that's just the top of the iceberg.
The evaluation process begins on Day 1 with measurements, medical examinations, psychological testing and private interviews. On Day 2, there's an NFLPA Meeting as well as more psychological testing and private interviews. Players finally get to the running and lifting stations on Day 3, and undergo a final round of team interviews.
Participants are herded into 11 groups, mostly by position. Molk's group arrived Wednesday in Indianapolis, and gets under way with testing Thursday.
Hemingway arrived Thursday and begins testing Friday, and Martin arrives Friday before getting started Saturday.
Let the games begin.
Junior Hemingway
Position: Receiver
Size: 6-foot-1, 228 pounds
ESPN/CBS position ranks: 34th, 49th
Projection: Late-round pick to undrafted free agent
What they're saying: "He's not very sudden, not very explosive, not going to provide many home runs, and he's going to struggle to separate on intermediate routes. But, there's something about him, the way he plays, the way he attacks the football. I think he has a chance to catch on and hang around the league for a while." — ESPN's Todd McShay
****
Mike Martin
Position: Defensive tackle
Size: 6-foot-2, 307 pounds
ESPN/CBS position ranks: 13th, 10th
Projection: Early- to mid-round selection
What they're saying: "I think what the combine will show, I'm guessing, his strength on the field will translate to the weight room, and we're going to see a really strong kid that also moves well athletically. When you combine those two things ... I think the 3-4 teams will think he's strong enough to anchor on the nose, and I think the 4-3 teams will see that he's quick enough to play defensive tackle for them." — NFL Network's Mike Mayock
****
David Molk
Position: Center
Size: 6-foot-2, 287 pounds
ESPN/CBS position rank: Fifth/sixth
Projection: Mid-round pick
What they're saying: "He's a little bit of a grabber instead of a puncher and very much a finesse guy. ... I think what you're going to see is one of those zone teams, they like that kind of player." — Mayock