Posted on
Thu, Apr 28, 2011 : 9:55 a.m.
NFL teams still see Big Ten as fertile ground for smash-mouth football players
By Pete Bigelow
On Sunday, I wrote about the Big Ten's recent struggles in placing its talent among the elite picks in the NFL Draft and the SEC's comparative rise in the race to hone college football's best players.
It's a grim picture.
Among the more dire statistics: No Big Ten players have been selected in the past 24 top-10 picks, a figure that's expected to grow to 34 tonight when the NFL Draft begins today at 8 p.m.
Since the conference's last top-10 pick - Ohio State's Vernon Gholston at No. 6 in 2008 - pro teams have picked eight SEC players, seven Big 12 players and five from the ACC among top-10 selections.

But all is not lost for the Big Ten. If the overall numbers have fallen over the past decade, NFL teams still value the conference for its ability to produce power football players.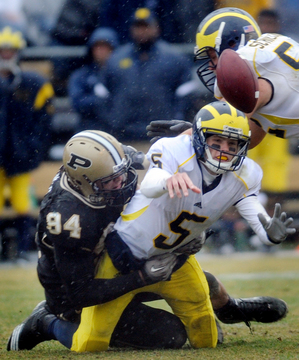 Melanie Maxwell | AnnArbor.com
Six Big Ten defensive linemen have been selected in the draft's first round over the past six years - a group that includes Michigan's
Brandon Graham
and three Penn State players.
That number is expected to grow dramatically tonight when as many as five linemen from the conference could be selected in the first round. Iowa's
Adrian Clayborn
, Ohio State's
Cam Heyward
, Wisconsin's
J.J. Watt
, Purdue's
Ryan Kerrigan
and Illinois'
Corey Liuget
are all projected first-round picks.
On the offensive side, Wisconsin offensive tackle
Gabe Carimi
is expected to be a mid-first round selection, continuing the conference's run of producing first-round tackles.
Assuming Carimi's first-round status comes to fruition, the Big Ten will have produced five first-round offensive tackles in the previous five years, a group that includes Michigan's
Jake Long
and Wisconsin's
Joe Thomas
, who were both top-three overall picks.
Despite some overall struggles, the Big Ten can still develop and deliver top-tier linemen on both sides of the football, and the conference's reputation for smashmouth football is alive and well.

That's good news for the Big Ten in general and, possibly, Michigan in particular, as the football program rediscovers its roots in a pro-style offense and 4-3 defensive systems.
Draft drought
The last time the Michigan football team didn't have a single player picked in the NFL Draft was 1961. The last time the Wolverines had only one player selected was 1985, when defensive end Kevin Brooks was the team's lone representative.

There's a chance the Wolverines equal that dubious distinction this year, although there seems to be enough buzz around guard Stephen Schilling's chances as a mid-round prospect that the 50-year streak is unlikely to be broken.

Still, it's a possibility. Pro Football Weekly calls Schilling a "very passive, finesse, effort blocker with few redeeming qualities to warrant consideration." Ouch.

Linebacker Jonas Mouton and tight end Martell Webb are Michigan's other draft prospects, but are drawing considerably less pre-draft chatter.

But that's the thing about the NFL Draft - you never really know beforehand. Last year, cornerback Donovan Warren was touted as a second or third-round pick, and didn't get drafted.
For the mid-to-lower-round hopefuls like Schilling, Mouton and Webb, they only need to convince one team to take a chance.

What if?
Two other names to consider in the NFL Draft's next few days are Arkansas QB Ryan Mallett and Ohio State guard Justin Boren, both of whom started their careers with the Wolverines.

Mallett may be the wildcard of the draft - he's been projected to go anywhere between the late first and early third rounds. Boren's in a similar position to Schilling, his former linemate, as a mid-to-late-round draft pick.

Pete Bigelow covers Michigan football for AnnArbor.com. He can be reached at (734) 623-2556, via email at petebigelow@annarbor.com and followed on Twitter @PeterCBigelow.