Posted on
Tue, Dec 20, 2011 : 2:50 p.m.
Offensive coordinator Al Borges, on whether he'll leave: 'No. This is Michigan, for God sakes'
By Kyle Meinke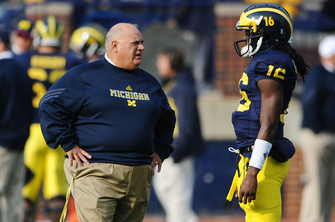 Melanie Maxwell | AnnArbor.com
Al Borges is a well-traveled, well-respected offensive coordinator who had great success this season with players that weren't his own.
So, naturally, his name has popped up for several coaching vacancies, including for the New Mexico head coaching job and the Florida offensive coordinator post vacated by Charlie Weis.
Borges, though, dispelled any notion he'll be leaving Ann Arbor during his news conference Tuesday.
"No. 'This is Michigan, for God sakes,' in the noble words of someone we all know and love," Borges said, conjuring coach Brady Hoke's memorable words from January.
"Next question."
Borges inherited a team built to run the spread-option offense of former coach Rich Rodriguez, and actually increased the unit's output while transitioning it to a "spread-West Coast" hybrid. Michigan averaged 34.2 points per game this year, an uptick from 32.8 last year.
He also has been credited for modifying his preferred West Coast offense to accommodate quarterback Denard Robinson's skill set.
Borges said he bent his coaching style more this year than ever before in his 25-year, nine-stop career.
"Initially, change can be met with resistance," Borges said. "The best thing to do, I've learned, is to close your mouth and open your mind. If you can do that, you can develop yourself as a football coach, (and) hence, develop your football team."
Borges on young standouts
Borges, like Hoke before him, first listed true freshman offensive lineman Chris Bryant as a young player who has stood out in early bowl practices.
Bryant hasn't played this year, but could step into a role next year as a redshirt freshman. Michigan has just eight scholarship offensive lineman this year, about half what Hoke desires, and will lose starters David Molk and Mark Huyge to graduation.
Other standouts include freshmen offensive lineman (and possible center candidate) Jack Miller, receiver Jerald Robinson and quarterback Russell Bellomy.
"We gave Russ a few chances to show what he can do," Borges said. "There have been others too, but those guys stood out — not just in those practices, but on scout teams, too."
Bowl challenges
Borges said the most difficult thing about preparing an offense for a bowl game is maintaining timing in the passing game. How will he try to combat the rust?
"Throw and catch every day," he said. "When there's that much time between games, you lose your timing, that's huge."
Kyle Meinke covers Michigan football for AnnArbor.com. He can be reached at 734-623-2588, by email at kylemeinke@annarbor.com and followed on Twitter @kmeinke.