Posted on
Thu, Dec 15, 2011 : 5:59 a.m.
Loss of David Molk will hurt, but Michigan football team has options at center next year
By Kyle Meinke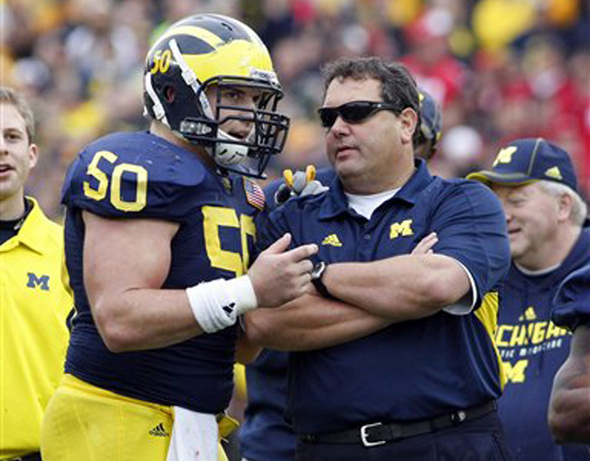 David Molk still remembers pulling into a local gas station early in his Michigan football career, long before he had become the nation's top college center.
He was an unproven underclassmen, where every player has to start. The expectations for him were high, and the pressure great.
A news team was there, and asked him what he did.
"Oh, well, I play football here," Molk said. "I play center."
"Oh, great tradition of centers here -- I hope you can uphold it," the reporter responded.
"Yeah, me too!" Molk said, acknowledging what lay before him.
WHO'S NEXT?
Possible replacements for
David Molk
, Michigan's four-year starting center: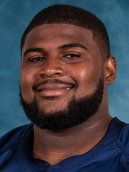 RICKY BARNUM
Redshirt junior
6-3, 292
Lakeland, Fla.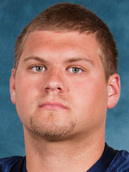 ROCKO KHOURY
Redshirt junior
6-4, 287
Traverse City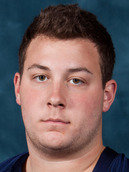 JACK MILLER
Freshman
6-4, 263
Perrysburg, Ohio

After being named the Big Ten's Offensive Lineman of the Year, winning the Rimington Trophy and being selected an Associated Press first-team All-American, all in the past couple weeks, it's clear he has.
But there was a learning curve.
Now, that'll be someone else's burden.
Molk, a fifth-year senior captain, will lead No. 13 Michigan (10-2) onto the field one last time in a matchup against No. 11 Virginia Tech (11-2) in next month's Sugar Bowl (8:30 p.m. Jan. 3, ESPN).
But after that, the future at center becomes uncertain. Molk's backup on the depth chart is redshirt junior Rocko Khoury, although Molk never left the field with a game in question this year.
Freshman Jack Miller also has been mentioned as a candidate at center and is someone Molk said he took under his wing this year and groomed to be a center (when he wasn't head-butting him).
"Those guys will have a great opportunity," Molk said.
It's also possible that junior Ricky Barnum could slide to center. He technically was the starting left guard this season, although he didn't play in the opener due to a violation of team rules and didn't start in Big Ten play because of ankle injuries.
But Barnum is a talented player, when healthy, and sophomore Michael Schofield was strong in nine starts at left guard. That means sliding Barnum to center and keeping Schofield at left guard could be one way to get the best five linemen in the same lineup.
Molk, though, said that kind of transition can be difficult.
"When you go guard to tackle, they're similar," Molk said. "But when you go guard or tackle to center, it's an entirely different position.
"It's a different footwork, a different stance, there's a ball between your legs, you have to make calls. There's an entire mental aspect that isn't entailed at guard or tackle."
For as talented as Molk is as a player -- NFL scouts say he'll have a role at the next level -- Michigan also will miss his leadership. He's a four-year starter (although he lost most of 2009 to injury) and is an extremely intelligent football player.
He directs the offensive line, a position group that relies on consistency and cohesion more than most.
Molk also has been the only center with whom Denard Robinson has worked since he became the starting quarterback last year. There's a rhythm the two have established that will take time to replicate.
"We're in the thousands and thousands of reps," Molk said. "That's hard to make up for in a (short) period of time."
Michigan coach Brady Hoke said during a recent interview in Indianapolis that it would be "unfair" for him to name center candidates until spring ball. But, he did say criteria for the position will be based solely on performance, and "not how young you are, not how inexperienced you are."
"But, I think the plus side of the whole deal is whoever that's going to be has been in a system, they've had Dave as an example of how to play the position and how to mentally prepare, and that's all you can ask for," Hoke said.
Kyle Meinke covers Michigan football for AnnArbor.com. He can be reached at 734-623-2588, by email at kylemeinke@annarbor.com and followed on Twitter @kmeinke.