Posted on
Fri, Jul 8, 2011 : 12:40 p.m.
Ohio State vacates 2010 football season, including 37-7 win over Michigan
By AnnArbor.com Staff
Remember that 37-7 Ohio State football win over Michigan last season? The one that extended the Buckeyes' win streak in The Game to seven?
Never happened.
The Columbus Dispatch is reporting that Ohio State will wipe the 2010 season off its record books as a self-imposed punishment for allowing ineligible players to compete by not reporting NCAA violations.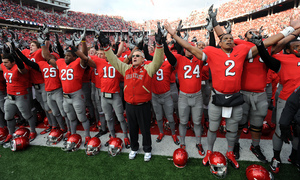 AnnArbor.com file photo
Wiping out the wins, which includes a Big Ten championship and Sugar Bowl victory, is part of the university's response to an NCAA Notice of Allegations submitted on Friday.
In it, Ohio State is admitting major violations but does not suggest losing scholarships or receiving a postseason ban because no other school official other than former coach Jim Tressel was aware of the transgressions.
"The responsibility is upon Tressel. No other institutional personnel were aware," says the response, which was obtained by The Dispatch. "The institution is embarrassed by the actions of Tressel."
Along with vacating the 2010 season, Ohio State has placed its football program on probation for two years.
Vacating wins from its 12-1 season does not equate to Ohio State opponents claiming victories in those games. That would occur only if the Buckeyes forfeited those wins, which they have not done.
In the official annals of the Michigan-Ohio State rivalry, the 107th playing simply didn't occur. Ohio State's win streak goes back to six and Michigan's series lead grows slightly, back to 57-43-6.
A copy of Ohio State's response to the NCAA Notice of Allegations and other related documents are available on the school's website.