Posted on
Fri, Aug 10, 2012 : 6:32 a.m.
Craig Roh's olive oil milkshakes and peace of mind have him ready for the 2012 Michigan football season
By Nick Baumgardner
Of all the tasking sacrifices Craig Roh made this summer, altering his diet was perhaps the biggest undertaking.
Roh, a senior Michigan football defensive end, took the traditional steps of eating more vegetables and focusing on protein, but in order to get into supreme shape he had to go one step further.
One giant, borderline disgusting, step further.
Melanie Maxwell | AnnArbor.com
Olive oil milkshakes, anyone?
"Almond milk and olive oil, nine tablespoons of olive oil in a milkshake," Roh said. "It doesn't taste that great, but you can get it down.
"It burns your throat a little bit, though."
After defensive coordinator Greg Mattison switched Roh from weakside end to the strong side in the spring, Roh's biggest goal this spring was bulk.
No longer responsible for pass-coverage drops or uber-athletic plays on the weakside, Roh was asked to put on roughly 20 pounds of muscle in a big hurry.
Along with the olive oil shakes, Roh partook in a "blood type diet" that focused on anti-inflamatory foods that allowed for faster recovery, and also helped him stay in the weight room longer.
The mission was successful, as Roh reported to camp at 281 pounds -- one pound more than Brady Hoke hoped he'd be at by the start of the 2012 season.
"I still (ate a lot of) Chipotle, Chipotle's always been on the menu," Roh said. "And it was also a lot of meat and vegetables. A lot of steaks.
"I can stand to eat those."
At 6-foot-5, 281 pounds, Roh is just slightly lighter than the player he's replacing -- departed senior Ryan Van Bergen (6-foot-6, 288 pounds), who excelled as Mattison's strong-side end last season.
Roh said he's had little trouble adjusting to his new spot, and actually feels like it's a better fit overall -- something he hopes will help him avoid the slow start that plagued him a year ago.
What should also help Roh, though, is his peace of mind.
WIN UM vs. ALABAMA TICKETS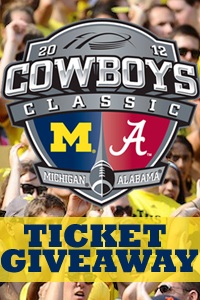 Want to check out Michigan take on defending national champion Alabama?
Click here to visit the AnnArbor.com Michigan Football News and Views Facebook page
and vote for who will be the Wolverines' most important player, besides Denard Robinson, in the 2012 season. That vote will earn you a chance to win three free tickets.
This fall, Mattison is still all over Roh -- but he said he understands his coach's expectations for the position. Meaning he isn't spending all his free time stewing over every negative word thrown his way.
"It was immaturity," Roh admits. "I didn't understand exactly what he was doing, and it was so hard. I was always like 'why does he hate me as a person?'
"But really, he grew me as a man, not just a football player. And that's something I'll always thank him for."
Roh said he's more comfortable, and teammates are starting to sense it. Offensive lineman Patrick Omameh said he can't get inside Roh's head enough to understand just how easy-going things are, but he has noticed the senior defensive lineman's willingness to do whatever the coaching staff asks.
No matter what.
"He's the kind of guy that wherever the coaching staff asks him to play, that's where he'll play," Omameh said.
Mattison and Hoke's decision to bulk up Roh and Jibreel Black for more physical positions was something they never flinched at. Both players have made their target weights, and the coaching staff is sticking by its stance that in the end, it'll all be for the best.
"Those are pretty quick-twich guys that is going to help them, and they're both athletic guys," Hoke said. "Both of them are doing real well."
Roh, like most players, has had his ups and downs at Michigan since arriving in 2009. But if he can match his tackle-for-loss numbers from a year ago (eight), he'll finish his career in the top-10 overall at Michigan in that category.
His body's right, his diet is in order and he's no longer in need of an epiphany.
In other words: Craig Roh's finally ready to go.
"They know I know the expectation now," Roh said. "That's somewhat freeing. ... They don't have to punish me (anymore).
"I know the mentality now, I come in every day and I have to work my hardest. ... That's something (that's been) instilled in me now."
Nick Baumgardner covers Michigan sports for AnnArbor.com. He can be reached at 734-623-2514, by email at nickbaumgardner@annarbor.com and followed on Twitter @nickbaumgardner.