Posted on
Wed, Jan 4, 2012 : 3:38 a.m.
One good leg is enough for Michigan center David Molk and more Sugar Bowl notes
By Rich Rezler
NEW ORLEANS — The Michigan football team's offense never got untracked during its 23-20 Sugar Bowl win against Virginia Tech Tuesday night.
And it could have been worse if senior captain David Molk wasn't able to shake off a pre-game injury.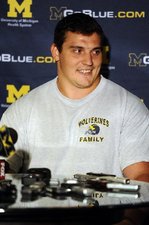 File photo
The Rimington Award winner as the nation's best center, Molk missed the Wolverines' first offensive possession of the game with what a Michigan spokesperson said was a foot injury suffered in pre-game warmups.
During that first drive — a Michigan three-and-out — Molk was seen in full pads on the sideline jumping in place and practicing coming out of his stance.
Molk, who was replaced by Rocko Khoury, returned to the game for the next possession and played the rest of the game.
"I was waiting for feeling, and once I got that, it's humanly impossible for me to sit and watch football when I'm dressed up," he said. "So I figured I'll tape it up and (play)."
Molk said the foot was painful during the game, but nothing he couldn't overcome.
"I don't know if I was fighting for my life. I still had one leg," he said in the Michigan locker room after the game. "C'mon, I can squat a ton. One leg's good enough."

Good hands Glanda
The old saying goes that if you don't know the long snappers name, he's doing his job well.
Michigan fans, meet Jareth Glanda.
But the redshirt sophomore from Rochester Hills made a Sugar Bowl splash not with a bad snap, but with a fortuitous reception.
Holder Drew Dileo was sprinting right on a fake field goal attempt late in the second quarter when he realized that half of his offensive line had not heard the audible to the fake play.
With primary target Kevin Koger engaged in a block instead of running a route — and with Virginia Tech lineman charging at him — Dileo lofted a pass in the general direction of back-up tight end Steve Watson.
The ball bounced off a Virginia Tech defender and into Glanda's hands. He stumbled forward for an 11-yard gain and a first down at the Virginia Tech 8-yard-line.
The play still led to a field goal three plays later when the Wolverines failed to convert a touchdown. Brendan Gibbons' 24-yarder put Michigan ahead 10-6 at halftime.

Special teams advantage
For years, Virginia Tech has been known for its exceptional special teams play. They call it Beamer Ball, because head coach Frank Beamer personally handles that aspect of the game.
On Tuesday, it was Michigan that had a special teams advantage.
It wasn't so much that the Wolverines excelled in the area -- although Gibbons was 3-for-3 on field goal attempts, including the game-winner in overtime -- but that the Hokies struggled.
The glaring mistake was Justin Myer's missed field goal on Virginia Tech's overtime possession.
But Beamer faced post-game questions about his decision to fake a punt in Hokies territory with 7:21 left in the game and the score tied 17-17. Punter Danny Coale — also Virginia Tech's leading receiver in the game — was stopped short and Michigan took possession at the Virginia Tech 45-yard-line.
That set up a Gibbons field goal that put Michigan up 20-17 with 4:00 left.
"We've been working on it for the last three weeks," Beamer said of the play, which he called a run or punt option.
Following Michigan's first touchdown of the game, Virginia Tech kick returner Tony Gregory fumbled the ensuing return and Michigan freshman Delonte Hollowell recovered. That set up a short drive for Gibbons' first field goal that gave the Wolverines a halftime lead.

Wile wins in-game punting competition
During bowl preparations, Michigan coach Brady Hoke said the punting competition between sophomore Will Hagerup and freshman Matt Wile was open.
Hagerup apparently won, but not for long.
Hagerup handled the first two punts of the night for Michigan, good for 26 and 24 yards, respectively.
On the Wolverines' next punting situation, Wile took the field. He got off his own wobbly kick, but was hit on the play and drew a personal foul penalty for roughing the punter.
Michigan maintained possession and scored its first touchdown, a 45-yard pass from Denard Robinson to Junior Hemingway.
Wile averaged 43.7 yards on his next three punts, including a long of 58.

First time's a charm for Hoke
Hoke is just the third coach to win a BCS bowl in his first season with a team. Miami's Larry Coker won the 2001 Rose Bowl and Boise State's Chris Peterson won the 2006 Fiesta Bowl.
West Virginia's Dana Holgorsen could join the group with a victory against Clemson in the Orange Bowl on Wednesday.

Carr in pre-game ceremonies
Former Michigan coach Lloyd Carr was on the Superdome field before kickoff, honored for his recent induction into the College Football Hall of Fame.
Hall of fame classmate Gene Washington was announced just before Carr and received a smattering of boos from the Michigan faithful. Carr received an extended round of applause.
Carr, who retired after the 2007 season, was also part of the pre-game coin toss. He was joined by former Virginia Tech player Antonio Freeman.

Big Easy is quite busy
The Sugar Bowl was just the start of a wild six-day string of major football games played in the Superdome. The New Orleans Saints will play a wild-card playoff game against the Detroit Lions on Saturday night, followed by Monday's BCS national championship game between LSU and Alabama.
"It's unprecedented. I don't ever recall a time at the Dome when we had so many big events back to back," Doug Thornton, president of stadiums for SMG, the company that runs the Superdome and New Orleans Arena, told the New Orleans Times-Picayune. There's no doubt sports have been a catalyst for New Orleans and its recovery (from Hurricane Katrina)."
More major events are on the horizon. The NCAA men's Final Four will be played at the Superdome this March and the Super Bowl returns to New Orleans for the first time in more than a decade in February 2013.

This and that
This was the first overtime session in the 78-year history of the Sugar Bowl. ... Michigan now has at least one win in each of the current-day BCS bowls (Rose, Orange, Fiesta and Sugar). ... Michigan's last BCS bowl win came in the 2000 Orange Bowl, a 35-34 win against Alabama that saw the Crimson Tide miss an extra point in overtime. ... The only previous extra session contest was a 35-34 victory against Alabama in the 2000 Orange Bowl in which the Wolverines also benefited from a missed kick by the opposition in overtime.. ... Michigan linebacker Jake Ryan tied a Sugar Bowl record with four tackles-for-loss. ... Virginia Tech running back David Wilson, who gained 82 yards on 24 carries, became the Hokies single-season rushing leader with 1,709 yards.
Rich Rezler is a sports producer for AnnArbor.com. Contact him at richrezler@annarbor.com or 734-623-2553.