Posted on
Tue, Nov 8, 2011 : 1:23 p.m.
How Drake Johnson's commitment affects Michigan football team's recruiting, courtship of Bri'onte Dunn
By Kyle Meinke
Angela J. Cesere | AnnArbor.com
Related story: Playing for Michigan a dream come true for Ann Arbor native Drake Johnson

Two questions started to percolate following the verbal commitment of Pioneer High School tailback Drake Johnson to the Michigan football program:
First, why are the Wolverines offering a scholarship to a two-star running back whose only other offer was from Eastern Michigan? Also, does the commitment spoil their courtship of five-star running back Bri'onte Dunn?
According to one expert, there's no reason to worry on either account.
Johnson is a 6-foot-1, 215-pound back who stars at nearby Pioneer High School. He's racked up 2,757 yards rushing this year -- which is closing in on the state's single-season rushing record -- and scored 38 touchdowns (one of which was a reception).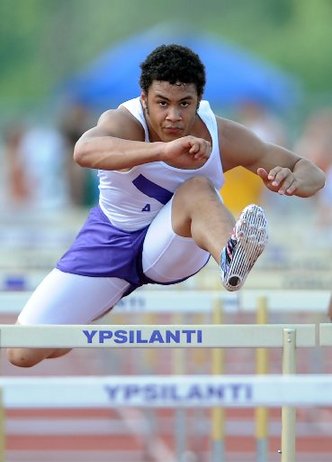 AnnArbor.com file photo
Impressive numbers, but all Division I prospects post them. The best way to gauge a recruit, then, is by his offer sheet. And Johnson, who boasted only Eastern Michigan until Michigan offered this morning, is suspect there.
But it's not due to his performance, according to Scout national recruiting analyst Allen Trieu, whose expertise is in the Midwest.
Trieu said Johnson got a late start in the recruiting process. He did not go to a single recruiting camp -- where many kids garner interest and scholarships -- last year, and only one this year. Basically, he did not play the game recruits do these days to get noticed, participating in elite track competitions instead.
"I don't think he grabbed the bull by the horns, as far as helping himself get recruited," Trieu said. "All the other stuff the kids do these days to pick up offers, he didn't do it.
"He's one of those kids who just sort of just started to figure out the recruiting process (this year) and just decided he wanted to take this thing seriously. Had he done all that last season, he'd probably have a handful more offers."
Trieu said Johnson was beginning to pick up interest from other schools. He took a visit last week to Toledo, and there was heavy interest at Iowa and Syracuse.
Part of that is because of Johnson's dedication in the weight room, where he transformed himself into more than just a speedster (he's the two-time defending Division 1 state champion in the 110-meter hurdles).
Also, Johnson underwent a change in offenses at Pioneer, going from the spread last year to more of a pro-style look this year that depended heavily upon his legs. He rushed more than 30 times in seven of Pioneer's 11 games this season.
That helps to explain the timing of the Michigan offer, as it is making the same transformation.
"I think it's just a case of a kid (Johnson) across the street that is putting up outstanding numbers, has world-class ability on the track, and it's kind of hard to pass up a kid like that when he's 300 yards from you," Trieu said.
Now, how does it affect the rest of Michigan's celebrated recruiting class? And, more specifically, the courtship of Dunn, a five-star recruit who has taken multiple visits to Ann Arbor despite being verbally committed to Ohio State?
The Wolverines now have 24 commitments for a 2012 haul that ranks among the top five according to every major recruiting service. There are expected to be about four spots remaining in the class after a series of departures this fall.
Johnson is the first running back to verbally commit for 2012, so there still is room for another. Additionally, Johnson is a shiftier runner who excels in space and is terrific in the passing game. He could be used at slot receiver or in the kick return game, Trieu said.
Dunn, on the other hand, is more of a bruising type.
"Dunn is your classic pounder," Trieu said. "I think they'll be used differently, so there's room for both in the class. I don't think they will butt heads in that regard, because they're both very different."
So, because there isn't much overlap in running styles, Trieu said Dunn "won't be affected at all" by Johnson's commitment, and that he's still showing strong interest in the Wolverines.
Trieu said the biggest effect Johnson's commitment has on this class is Michigan likely no longer has room for another offensive tackle. The Wolverines have verbals from five offensive line recruits, but their current lack of depth up front was thought to require another commitment.
However, another pledge, Ohio tight end A.J. Williams, could be converted to tackle, Trieu said. Williams, a three-star recruit according to Scout, is 6-foot-6, 260 pounds.
Michigan has another tight end already committed in Farmington Hills Harrison standout Devin Funchess.
Kyle Meinke covers Michigan football for AnnArbor.com. He can be reached at 734-623-2588, by email at kylemeinke@annarbor.com and followed on Twitter @kmeinke.