Posted on
Thu, May 26, 2011 : 7:12 p.m.
Police called, former Michigan QB Tate Forcier hospitalized after hanging from third-story window
By Rich Rezler
An unidentified woman called Grand Rapids police when former Michigan quarterback Tate Forcier locked himself in a bedroom and was hanging from a third-story window last month.
WOOD-TV in Grand Rapids acquired a police officer report from the incident today, but several details were redacted and officers wouldn't further discuss the case because of medical privacy laws.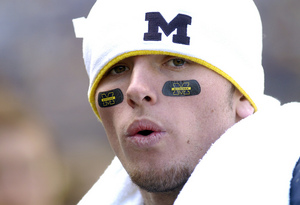 AnnArbor.com file photo
According to details available in the report, Forcier locked himself in a bedroom of a third-floor apartment complex in Grand Rapids on April 22 and was hanging out the window when a woman, concerned that he would jump, called police. Forcier has a girlfriend that lives in the complex, the station reported.
The report says officers convinced Forcier to open the bedroom door. He was not arrested, but was transported to a hospital.
After starting all 12 games as a freshman at Michigan in 2009, Forcier was a backup to Denard Robinson in 2010. He was ruled academically ineligible before the 2011 Gator Bowl.
By the time new coach Brady Hoke was hired on Jan. 12, it was announced that Forcier was no longer with the Wolverines' program.
In February, he announced he would transfer to Miami (Fla.), but changed his mind earlier this month.
On Tuesday, he told ESPN college football writer Joe Schad that he was considering Auburn, Kansas State, Montana, USC, San Diego State and San Diego.