Posted on
Fri, Aug 12, 2011 : 1:21 p.m.
Position battles at tailback, cornerback, receiver will intensify with start of Michigan's padded practices
By Kyle Meinke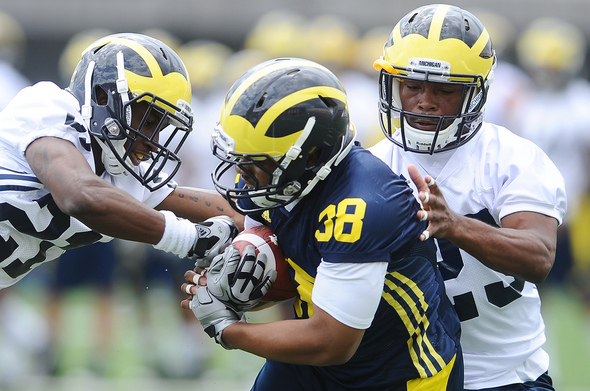 Melanie Maxwell I AnnArbor.com
The Michigan football coaching staff has stressed throughout the first week of fall camp that position battles would not begin to sort themselves out while the team was practicing without pads.
At 4 p.m. today, the Wolverines add the pads — and the hitting.
The most prominent position battle is at running back, where head coach Brady Hoke and offensive coordinator Al Borges are searching for a player who will rush at least 20 times per game.
The leading candidates for the position seem to be senior Mike Shaw, sophomore Stephen Hopkins and junior Vincent Smith. True freshman Thomas Rawls also is expected to be given a chance to win the job. Junior Mike Cox and freshman Justice Hayes are long shots, but haven't yet been ruled out.
Borges said he hopes to wean the field to a couple finalists early on, then make a decision within two weeks.
Hoke said he plans to start preparing for games in about eight days, and would ideally have made a decision by then.
The criteria being used for the competition includes the ability to win battles in the open field, break tackles, make defenders miss, pass protect and catch the ball.
While Michigan's padless practices have been physical, there has been no tackling, which makes it difficult for tailbacks to distinguish themselves from the pack. The competition will intensify today with the opener of padded practices, and Saturday with the first two-a-day of camp.
There will be no media availability at either of those practices, the athletic department announced earlier this week.
"It's hard to judge, to some degree, until we really start putting them down and seeing them protect, with a big linebacker coming, and how they'll hold up there," Hoke said.
Michigan has used a tailback-by-committee approach the past three years in former coach Rich Rodriguez's spread-option attack, and quarterback Denard Robinson received the bulk of the carries last year.
In fact, the Wolverines haven't had a 1,000-yard rusher at tailback since Mike Hart ran for 1,361 in 2007.
That all changes this year, with the move to the pro-style offense and more of a power-running game. Hoke and Borges want a featured back to carry the rushing load.
"I don't like rotating guys," Borges said. "I don't. But that being said, if two guys are on an even plane, then we may do it. Never say never. But, it's never been my preference."
What do the running backs think of the coaching staff preferring one guy getting the bulk of the carries, even if several players are capable?
"That's what Michigan football is," Shaw said. "It's one guy. There's a pride factor where every single running back wants to be the man. It comes with the territory.
"The competition just makes us all work harder."
Shaw and Hopkins have good size and some experience, which could give them an edge in the competition. Smith is a smaller, shiftier back and could be a change-of-pace runner.
Rawls will get his shot, but Borges said the freshmen's heads "are spinning" because they weren't around for spring camp, and haven't even run through all the fall drills because of summer classes. Still, if Rawls proves himself to be a capable back, Borges might find a role for him, even if he isn't the featured back.
"You've got to understand something about running back: You can play a young guy and not ask him to do everything" Borges said. "If he has a skill you need in there, then you use him as you see fit — and not abuse him, because if he gets in there and can't pick up a blitz, then your quarterback is getting killed.
"So, we can bring them around kinda slow and still get them in games, if they prove they deserve to be in games."
Hoke said the team will have its first of three fall scrimmages mid-next week, which should provide another proving grounds for the backs.
Another position with an open competition appears to be a cornerback. Senior Troy Woolfolk and junior J.T. Floyd were expected to be the Wolverines' top two cornerbacks last year before going down with injuries.
Hoke said sophomore Courtney Avery and freshman Greg Brown have practiced well, and he's not yet ready to guarantee Woolfolk and Floyd's jobs' back.
There also could be a competition for determining who fills out Michigan's receiving corps. Junior Roy Roundtree and senior Junior Hemingway are the Wolverines' clear top two wideouts, but Hoke had trouble answering who could see time after them.
"Good question," he said. "There is some talent there, but ... I don't know who else."
Seniors Martavious Odoms and Kelvin Grady are small receivers who have played in the slot, and should get playing time. Hoke also has mentioned redshirt freshman Jerald Robinson as a player who could contribute.
Robinson is 6-foot-1 and 206 pounds, which could make him a candidate to help fill in on the outside for Darryl Stonum, who is redshirting this season.
It seems, though, none have impressed Hoke in the first four days of practice.
More should become known Friday and Saturday, as fall camp takes on a whole new look — a padded one.
Kyle Meinke covers Michigan football for AnnArbor.com. He can be reached at 734-623-2588, by email at kylemeinke@annarbor.com and followed on Twitter @kmeinke.