Posted on
Sat, Sep 17, 2011 : 5:40 p.m.
Preparation paying off for Michigan safety Thomas Gordon
By Nick Baumgardner
AP Photo
Michigan sophomore free safety Thomas Gordon was prepared.
Eastern Michigan had just snuck in backup quarterback Tyler Benz as a wide receiver, but Gordon wasn't fooled. He knew something strange was up and he was ready to react on it.
"We kind of had that keyed (during practice), and we knew something tricky was up," said Gordon following the Wolverines' 31-3 win over EMU on Saturday. "I got a release, ran with him and just made a good play."
The "good play" Gordon referred to was a diving, over-the-shoulder, one-handed, second-quarter interception on an EMU trick double-pass that finally put a stop to the Eagles' surprising Michigan Stadium-threat, and seemed to spark an otherwise listless group of Wolverines.
Immediately following the interception, Michigan quarterback Denard Robinson ripped off a 52-yard run. Six plays later, the Wolverines found the end zone for the first time and didn't look back.
Gordon, who also recovered a fumble during the first quarter, finished the day with six tackles to go along with the interception and fumble recovery. He now has 23 tackles on the young season, and has firmly planted himself next to Jordan Kovacs in the team's safety duo.
And, according to Michigan coach Brady Hoke, it's all due to Gordon's preparation.
"Thomas has had a really good summer, and it starts there," he said. "With how he reported to camp, and his attitude about Michigan football being important to him and his teammates being important.
"I'm really proud of him for doing those things, and it's paying off for him and paying off for us."
Little rest for Robinson

With the team up 28-3 early in the fourth quarter, Hoke decided to send out Robinson for Michigan's 10th drive of the game rather than turn the keys over to sophomore backup Devin Gardner.
Robinson added three more carries to his total in a drive that finished with a field goal.
Gardner did enter the game prior the Wolverines' final possession, but did not attempt a pass during the three-snap series that lasted just 1:17.
Asked if he considered resting Robinson earlier and giving Gardner more playing time, Hoke said he didn't.
"Not really, I've been around this game a long time and I never feel real comfortable until (the clock reads zero)," he said. "We wanted to go down and put the ball in the endzone, and unfortunately we didn't."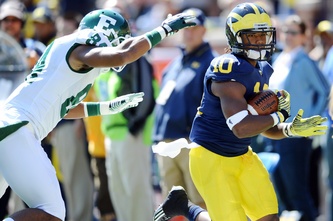 Melanie Maxwell I AnnArbor.com
Gallon earning respect
A week after making a key 64-yard reception in the final minute to help Michigan knock off Notre Dame, sophomore receiver Jeremy Gallon continued to show he's a much improved player this season.
Gallon grabbed a team-high three passes for 43 yards, and turned in an electric punt return that went roughly 80 yards before eventually being negated due to a Michigan penalty.
Through three games, Gallon now has seven catches for 135 yards and a touchdown and has established himself as the team's top punt returner.
"Jeremy's another one of those guys that you could sense some things in his demeanor changing in the spring," Hoke said. "He had a very good summer, a good fall camp and he's earning respect because of how he's coming to work and how he's playing."
Wasted first quarter for EMU

Eastern Michigan moved the ball with ease against the Michigan defense in the first quarter, operating mostly out of a single back offense and rushing for 122 yards.
The Eagles tripled their manpower around the goal line, adding not only a fullback, but inserting starting left guard Corey Watman as a lead blocker on 2nd-and-goal from the Michigan 3-yard line.
The strategy didn't yield positive results. On three straight running plays up the middle, Eastern gained just two yards and turned the ball over on downs on the 1-yard line.
The big first quarter yielded no points for EMU, and over the next three quarters, the Eagles rushed for just 85 yards.
First-time field goal

Sophomore kicker Brendan Gibbons finally attempted his first field goal of the season, a 21-yard make with 6:14 to play in the game.
It wasn't the most pressure-packed kick, but it was action nonetheless for Gibbons — who finished 1 for 5 on field goal tries last season.
Earlier in the week, Hoke downplayed the need to see Gibbons actually attempt a kick during a game situation. On Saturday, his opinion stayed the same.
"It might be a better question for him, but I don't think (it's that important)," Hoke said. "The way he's kicked during camp, either (in the stadium) or down at the practice field, he's been pretty consistent."
Cam Gordon, Brandon Herron dress, but don't play
Injured outside linebackers Cam Gordon (back) and Brandon Herron (leg) were in uniform Saturday, but did not see any game action.
Gordon has yet to play a down this season, but still keeps the No. 1 spot at strong-side linebacker on the Michigan depth chart. Herron, who had a breakout performance during a season-opening win over Western Michigan, has now missed two straight weeks due to injury.
Hoke said following the game Saturday, though, that both players are getting close to full health.
"Cam is real close, and so is Herron," he said. "I would think they'll both be ready next week (against San Diego State)."
Robinson and the record book

Robinson continues to climb the ladder on several pages of the Michigan record book.
On Saturday, he passed former quarterback Tate Forcier on the all-time completions list, moving to No. 10 with 223.
Robinson's 9-yard touchdown pass to Kevin Koger in the second quarter was the 21st of his career, moving him into 12th place behind Drew Henson (24) on the all-time list.
With an 11-yard scoring run in the second quarter, Robinson moved past Brandon Minor on the career rushing touchdowns list. With 21 career scores, Robinson now trails Tim Biakabutuka (24) and Lawrence Ricks for 15th place.
Robinson also moved into 11th place on the career 100-yard rushing game list. His 198-yard performance marked the 11th time in his career that he's eclipsed the century mark on the ground.
The junior quarterback is now 9 yards shy of passing former quarterback Todd Collins on the Michigan all-time total yards list. For his career, Robinson now has 5,694 total yards.
Odds and ends

Michigan has failed to score a first-quarter point through three games this season. … Eastern Michigan held Michigan to consecutive three-and-outs in the first and second quarters. The Eagles had zero three-and-outs against the Wolverines in their last meeting in 2009, a 45-17 Michigan win. … Through three games, the Michigan offensive line has allowed just one sack. ... The average number of plays on Michigan's three second-half scoring drives was 12.3. Against Notre Dame last week, the Wolverines did not have a drive longer than five plays. … Michigan converted 9 of 14 third down situations Saturday and scored on all five trips into the red zone (four touchdowns, one field goal). On the season, the Wolverines are a perfect 10-for-10 in the red zone, with nine touchdowns and one field goal. … Freshman running back Thomas Rawls made his first appearance as a Wolverine, finishing with four yards on two carries.
Nick Baumgardner covers Michigan sports for AnnArbor.com. He can be reached at 734-623-2514, by email at nickbaumgardner@annarbor.com and followed on Twitter @nickbaumgardner.