Posted on
Sat, Sep 3, 2011 : 11:22 p.m.
Michigan 34, Western Michigan 10: Your comprehensive guide to Saturday's coverage
By Rich Rezler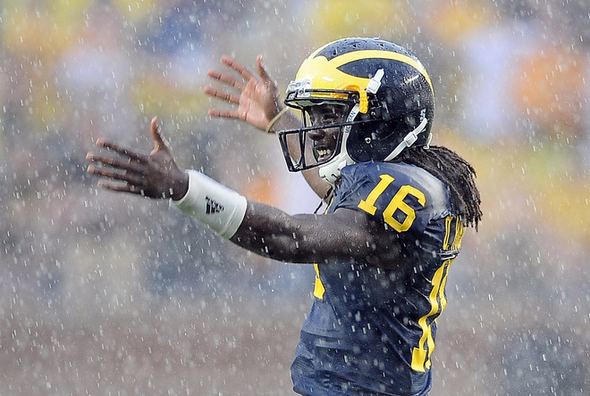 Melanie Maxwell | AnnArbor.com
Extreme heat. A deluge. Lightning. Two weather delays. Michigan Stadium evacuated.
Oh, and Brady Hoke coached his first Michigan football game ... a 34-10, weather-shortened win over Western Michigan.
It was a strange and memorable Saturday, indeed.
AnnArbor.com had the whole thing covered -- from its steamy beginning through its somewhat baffling conclusion. Below is a comprehensive guide to everything you'll find on our site, published pre-game and in-game and post-game.
We'll start with a photo gallery from staff photographers Melanie Maxwell and Angela J. Cesere, who covered the entire day visually:

Post-Game Coverage
• Kyle Meinke's main game story discusses Michigan's shaky defense, and the backup linebacker (Brandon Herron) that saved the day.
• Nick Baumgardner got players' reaction to the weather delays. "When coach Hoke told us we won the game, everybody got quiet and were like 'seriously?,' Denard Robinson said. "Everybody wanted to play, still."
• Our game notebook leads with Fitzgerald Toussaint capitalizing on his new role as the team's No. 1 running back, plus more on Troy Woolfolk, the kick coverage team and more.
• Video: Hoke's first post-game press conference
• Jim Knight handed out game balls, giving top honors to Herron and Mother Nature.
• Pete Cunningham caught up with fans after the forced evacuation. Some were upset, others understood.
• More from the fans: They're 'cautiously optimistic' about beginning of the Hoke era.
• An update from the police: High temperatures, early end to game led to fewer incidents at Michigan Stadium
• Boxscore.

In-Game Coverage
• Our in-game updates highlight every score -- per usual -- and every weather delay. And more.
• What did fans do during the first weather delay? Some sought cover, others cooled off.
• Before the rain, extreme heat took its toll and Huron Valley Ambulance called for backup..
• We had a rollicking good time in our first live chat of the season. Check out the transcript here.
• We were also tracking our staff's Twitter feeds.

Pre-Game Coverage
In the end, the weather turned ugly. But in the hours before kickoff, the atmosphere was festive. AnnArbor.com photographer Joe Tobianski was there to capture these images:

• We learned before the game that two starters (LB Cam Gordon and OL Ricky Barnum) and two reserves (RB Stephen Hopkins and LB Marell Evans) did not dress for the game. Gordon was injured, the others because of "team issues."
• The tailgating compromises at Ann Arbor Golf and Outing Club received mostly positive reviews.
• Fans said the pre-game traffic was no big deal despite a reduced traffic control plan between the city of Ann Arbor and the University of Michigan.

More Coverage
• Kalamazoo Gazette: Rain gives WMU the blues as Michigan collects win in washed-out football opener
• Kalamazoo Gazette: Broncos proved they're good enough to beat Michigan, then blew it
• Kalamazoo Gazette: WMU's Dervon Wallace has 'special' day with 188 return yards against Michigan
• Grand Rapids Press: Brady Hoke's Wolverines debut filled with lightning in skies, some sparks on defense

Saturday Big Ten Roundup
USC 19, Minnesota 17: Matt Barkley (34-of-45, 304 yards) threw three touchdowns to Robert Woods (17 receptions) as the Trojans won their 14th straight season opener. Max Shortell threw for a touchdown but was intercepted on the final drive for the Golden Gophers, who failed to win in the debut of new head coach Jerry Kill. (Story)
Northwestern 24, Boston College 17: Playing without starting quarterback Dan Persa, Northwestern racked up 227 rushing yards in the non-conference win. Persa tried to warm up before Saturday's game before being ruled out. Kain Colter filled in admirably, throwing for 197 yards and rushing for 71 yards and one score. (Story)
Ohio State 42, Akron 0: Joe Bauserman threw three touchdown passes -- all to Jake Stoneburner -- and added a score on the ground for the Buckeyes, who haven't lost a home opener since 1978. Carlos Hyde ran for 93 yards on 19 carries to lead Ohio State, which outgained the Zips 517-90. (Story)
Nebraska 40, Chattanooga 7: Taylor Martinez threw for 116 yards, but it was his 135 yards and three touchdowns on the ground that led the Cornhuskers to their nation-best 26th straight season-opening win. Rex Burkhead carried the ball 11 times for 75 yards and a score and Brett Maher connected on all four of his field goal attempts for Nebraska. (Story)

Illinois 33, Arkansas State 15: Sophomore quarterback Nathan Scheelhaasse threw for 267 yards and two touchdowns and the Fighting Illini defense forced three turnovers. (Story)
Purdue 27, Middle Tennessee 24: Purdue's Ricardo Allen blocked a field goal in the final seconds of regulation to save the win. The Boilermakers trailed for most of the contest but scored 10 straight fourth quarter points to take the lead. Ralph Bolden gained 120 yards on 17 carries. (Story)
Penn State 41, Indiana State 7: The Nittany Lions opened their season with a 95-yard kickoff return for a touchdown by Chaz Powell and led 28-0 by halftime. Silas Redd rushed for 104 yards and two scores. (Story)
Iowa 34, Tennessee Tech 7: James Vandenburg and Marvin McNutt hooked up for a pair of touchdown passes, including an 88-yarder midway through the second quarter that gave the Hawkeyes a 17-0 lead. (Story)
Ball State 27, Indiana 20: Keith Wenning threw for 173 yards and two touchdowns to lead the Cardinals to a non-conference win at Lucas Oil Stadium in Indianapolis. Jahwan Edwards ran for 84 yards on 16 carries for Ball State. Edward Wright-Baker was 20-of-32 passing for Indiana for 272 yards and a touchdown. (Story)