Posted on
Thu, Feb 25, 2010 : 6 a.m.
Quality-control coaches at the center of NCAA allegations against Michigan football
By Dave Birkett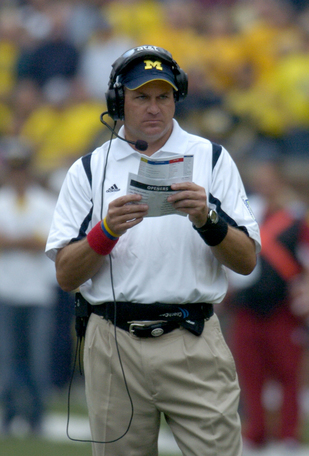 As best Jim Donnan can remember, quality-control coaches came upon the college football landscape a couple of decades ago when the NCAA enacted legislation limiting schools to nine full-time assistants.
"It used to be you had unlimited assistant coaches," said Donnan, the former Georgia coach and current ESPN analyst. "Back in the day, you had 14, 15 assistants. Now they're down to nine.
"But the staffs around the country, because of so many demands on the head coach - fund-raising, recruiting, what all they got to do - you really do need a lot (more help)."
That help is at the center of five infractions the NCAA said Michigan committed under football coach Rich Rodriguez over the last two years.
In a Notice of Allegations released Tuesday, Rodriguez was accused of failing "to adequately monitor the duties" of his staff.
Specifically, six quality-control assistants are alleged to have exceeded their responsibilities by directly coaching and working with players during off-season workouts; watching game and practice film with athletes; assisting with stretching and warm-up exercises during spring and fall practice; and attending meetings reserved for full-time coaches.
The other allegations entail exceeding limits on practice time, a graduate assistant coach lying to NCAA investigators, and the athletic department failing to monitor the football program to assure compliance.
Incoming athletic director David Brandon acknowledged that Michigan violated rules on coaching limits, saying, "We clearly made mistakes in these areas and we have already taken action to prevent any of those mistakes from being repeated."
Brandon did not detail what changes were made or what punishment, if any, the quality-control assistants face. But Michigan's web site was updated last season to reflect several small changes.
Quality-control assistants no longer exist on Michigan's football staff, but the Wolverines do have four "staff interns," including Bryan Wright and Josh Ison, offensive and special-teams quality-control assistants last year. Alex Herron, the offensive graduate assistant accused of lying to investigators, also is a staff intern, as is Cory Zirbel, a student-coach last year.
Eric Smith and Dan Hott, named along with Wright, Ison, Adam Braithwaite and Bob McClain as quality-control staff members who engaged in on- and off-field coaching activities, are now offensive and defensive graduate assistants. Braithwaite has been promoted to outside linebackers-safeties coach, and McClain is an assistant at Tulsa.
The distinction between graduate assistant and quality-control coach or staff intern is important because graduate assistants can take part in actual on-field coaching.
Quality-control coach is a much more loosely defined position - the NCAA doesn't even recognize the term in its 439-page Division I Manual - with responsibilities that typically include helping to break down game film, organize practice planning and assorted other administrative duties.
Most Big Ten schools employ quality-control assistants, though Michigan was the only school with more than two last year.
Donnan said having five quality-control staffers, as Michigan did, does not seem excessive.
"There's certainly ones with less, that's for sure, but there's probably some with more," he said. "It's a real fine line between what you can do and can't do as far as on the field and off the field. I think there (are) some people trying to get an advantage. I'm talking generically here, I'm not talking about Michigan or anybody else. But I don't really feel like the quality-control issue is one that, based on my going around and watching teams practice, I don't think anybody tries to take advantage of that."
Whether the NCAA decides Michigan was trying to gain an advantage or not might ultimately decide what sort of punishment the Wolverines face. Michigan is due before the NCAA Committee on Infractions Aug. 13-14 in Seattle.
In its Notice of Allegations, the NCAA said staff members in Michigan's compliance department became "concerned about the duties and activities" of quality-control assistants "shortly after" Rodriguez was hired.
The department failed to gather information that explained quality-control duties, and "athletic administrators with responsibilities in the football program failed to provide (the) appropriate information," according to the notice.
Rodriguez is not the first Michigan coach to employ quality-control assistants. Lloyd Carr had three on his staff in his final season, including Tom Burpee, now a full-time assistant at Eastern Michigan.
And Donnan said the concept of quality-control coaches, which dates back Tom Landry's days with the Dallas Cowboys, is important to the coaching profession and college football.
"The thing you got to look at is the people that are trying to get into coaching, there's only so many ways you can do it and you got to bite the bullet and then take one of these jobs and hope you can get from there," Donnan said. "That's how you move up."
• NCAA rules spell out how many and what types of coaches a program can employ.
Download: • Michigan football staff Intern job description.pdf
Dave Birkett covers University of Michigan football for AnnArbor.com. He can be reached by phone at 734-623-2552 or by e-mail at davidbirkett@annarbor.com. Follow him on Twitter @davebirkett.