Posted on
Sat, Nov 26, 2011 : 6:31 p.m.
Questioned all season, Michigan quarterback Denard Robinson saves his best for last
By Nick Baumgardner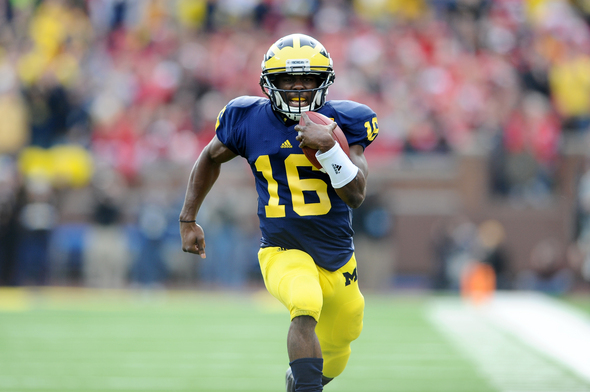 Melanie Maxwell | AnnArbor.com
For Denard Robinson, the questions never relented.
Could he run the pro-style offense? Could he become an efficient passer? Was he carrying the ball too much? Why was he throwing so many interceptions? Should Devin Gardner take over? Should Robinson change positions? Should he have transferred when Rich Rodriguez was fired?
The questions surrounding Robinson and the Michigan football team began before the season started, continued through the year and seemed in intensify week to week.
On Saturday, for at least a moment, the questions stopped.
"I wouldn't rather be (anywhere else), except for with these guys," Robinson said after Michigan's 40-34 win over Ohio State.
After a pause, unprompted, he added: "I'm glad I stayed."
Robinson wouldn't go into too much detail about his personal performance Saturday, but he didn't have to. The numbers did the talking.
The junior signal caller had his most efficient game as a passer when the stakes were the highest, going 14-for-17 for 167 yards and three touchdowns.
Zero interceptions.
On the ground, he was vintage Robinson — carrying the ball 26 times for 170 yards and two touchdowns. And when it was over, no one asked why he ran so many times.
Was it the most impressive performance of his career? Michigan coach Brady Hoke isn't sure. He just knows his quarterback was good in the team's biggest game of the season.
Very good.
"He played well," Hoke said. "He played with a lot of energy and he played with, in my eyes, toughness.
"He went after some of those runs, especially in the second half. It tells you a lot about him and how he feels about his teammates."
Robinson's regular-season numbers are nowhere near as eye-popping as they were a year ago in Rodriguez's spread-option attack. But they're still good.
Robinson finished the 12-game regular-season schedule with 1,163 rushing yards to go along with 16 touchdowns. Through the air, he had plenty of struggles. He completed just 56 percent of his throws for 2,056 yards, 18 touchdowns and 14 interceptions.
There certainly won't be any Heisman Trophy talk surrounding Robinson's junior season, but the team couldn't care less.
As a starting quarterback, he won 10 games and he beat Ohio State. That, they say, is all that matters.
"He's matured as a quarterback, he's matured as a player," Michigan senior center David Molk said. "That's the natural progression when you get more games and more plays in.
"He's playing great."
Asked if the performance served as a statement to those who doubted his ability, Hoke said he didn't think so, explaining how he and his coaching staff never wavered on their commitment to Robinson as a starter — and their opinion is the only one that matters.
Denard Robinson is Michigan's starting quarterback, and in case anyone was still curious, that won't change anytime soon.
"I don't know who he's making a statement to, because he's our quarterback and will be our quarterback at Michigan," Hoke said. "Denard went out there as the quarterback of Michigan and went out there to help his teammates and be accountable to his teammates.
"He couldn't do it by himself, and no one ever does. But I thought he played an aggressive, controlled football game."
Moving forward for Robinson, there's a chance the questions will never go away. He's not Jim Harbaugh or Elvis Grbac, nor is he Brian Griese, Tom Brady or Chad Henne.
He's unorthodox, he doesn't tie his shoes, and he'll always be known more for his feet than his arm.
But, in the end, he's Michigan's starting quarterback.
No question about it.
Nick Baumgardner covers Michigan sports for AnnArbor.com. He can be reached at 734-623-2514, by email at nickbaumgardner@annarbor.com and followed on Twitter @nickbaumgardner.