Posted on
Tue, Feb 23, 2010 : 8:43 p.m.
Concerns about Rich Rodriguez and Michigan's football program shouldn't be brushed aside
By Pete Bigelow
There came a moment Tuesday when incoming Michigan athletic director David Brandon stood before the assembled crowd in the Regents Room and expressed relief that he was not talking about recruiting violations, gambling or academic fraud.
"Those are scary things, and certainly we're thankful that that's not the kind of thing we're talking about today," he said.

That's the good news for Brandon.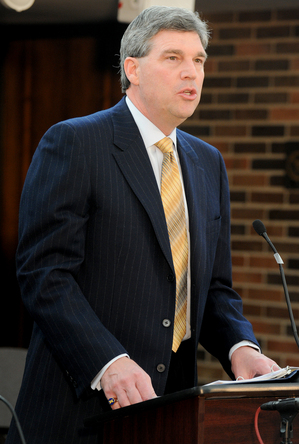 Which is a bit like saying he's thankful to hear a report that he only needs a few fillings and a crown instead of a full-blown root canal.
But the NCAA equivalent of the dentist chair is still an uncomfortable and unfamiliar place for the Michigan football program.
It had never sat in such a position of scrutiny during its storied history - a point of pride for those associated with the Wolverines - until Tuesday, when the pristine legacy was tarnished.
NCAA officials outlined five potential major rules violations in a notice of allegations delivered to university officials.
Among the charges: the football program exceeded allowable time limits in practices and coaches allowed quality-control personnel to supervise and conduct workouts.
Those charges were expected. But the NCAA investigation caught more than a mere net full of minnows.
Accusations revealed Tuesday were much more than the honest mistakes of 20 exceeded minutes here or a misplaced staffer there.
In its letter, the NCAA wrote the scope and nature of violations demonstrated that football coach Rich Rodriguez failed to promote an atmosphere of compliance within the program.
That the athletics department "failed to adequately monitor its football program to assure compliance."
That graduate assistant Alex Herron provided "false and misleading information to the institution and enforcement staff" when questioned.
Those are serious charges.
When news of possible allegations first broke in the days before the 2009 regular season began, Rodriguez adamantly defended his program and insisted he and his staff followed rules.
At the time, Rodriguez dismissed the allegations as "unnecessary drama."
Concerns can no longer be brushed aside. Not about the NCAA charges in particular nor the way Rodriguez conducts his program in general.
In too many instances, some large and some small, Rodriguez has written his own reality to the detriment of his program and the university.
He hired lawyers and attempted to wriggle out of the $4 million buyout he owed West Virginia upon his hiring in Ann Arbor, a sum he still owed in full after a drawn-out public-relations fiasco.
He angrily insisted that U-M linebacker Jonas Mouton never punched Notre Dame center Eric Olsen, so much so the Big Ten had no choice but to suspend Mouton when video evidence showed him punching Olsen.
After quarterback Justin Feagin was kicked off the football team last August for his role in a failed cocaine deal, Rodriguez said, "Trust me, no coach in America is going to want to take a guy that has baggage or that they think is a bad guy. We certainly won't."
Then he recruited Demar Dorsey.
In those cases it was easy enough for Rodriguez to dismiss those who questioned his judgment as agitated outsiders who were not "all in" and ignore the mess.
It won't be as easy for him now.
Six times, the NCAA document requests that Michigan explain whether Rodriguez knew or should have known about the problems festering on his watch.
The notice outlines a pattern of Rodriguez and those in his program ignoring requests from U-M's own compliance department, requests that began just two months into his tenure in Ann Arbor.
In the winter of 2008, shortly after Rodriguez's staff was hired, "compliance services office staff members became aware that the football program employed quality control staff members and were concerned about the duties and activities of those individuals," according to the NCAA notice.
The notice asks Michigan for copies of an Aug. 15, 2008 memo from assistant athletic director Ann Vollano that requests job descriptions of the quality control staff - and goes on to ask whether Rodriguez knew or should have known the compliance office had not received the descriptions.
It asks for more memos from Vollano dated Aug. 1, 2008 and Aug. 13, 2009 regarding missing Countable Athletically Related Activities (CARA) forms.
It asks for copies of memos from associate athletic director Judy Van Horn dated March 4, 2008 and March 5, 2009 asking whether the football staff knew conditioning activities could not be used as discipline.
The NCAA report states that in the summer of 2009, "strength and conditioning staff members failed to provide appropriate information to the compliance service office," according to the NCAA report.
Overall, the report paints a picture of U-M's own compliance department doing its job and asking a lot of questions and receiving nothing but silence from the football program in return.
Ignoring fans and media may be one thing, but ignoring questions from within his own department says a lot about the way Rodriguez operates his program.
For his part, Brandon said Tuesday there was nothing in the NCAA notice that led him to believe firing Rodriguez was necessary.
But the scope of the NCAA allegations and their status as the program's first-ever led the new athletic director to make one statement Tuesday he probably would have preferred to avoid during his first real remarks on the job:
"This is a tough day," he said.
Pete Bigelow covers sports for AnnArbor.com. He can be reached at petebigelow@annarbor.com or 734-623-2556.