Posted on
Thu, Aug 16, 2012 : 5:59 a.m.
Russell Bellomy's no 'Shoelace,' but his QB aptitude and confidence has Michigan excited
By Nick Baumgardner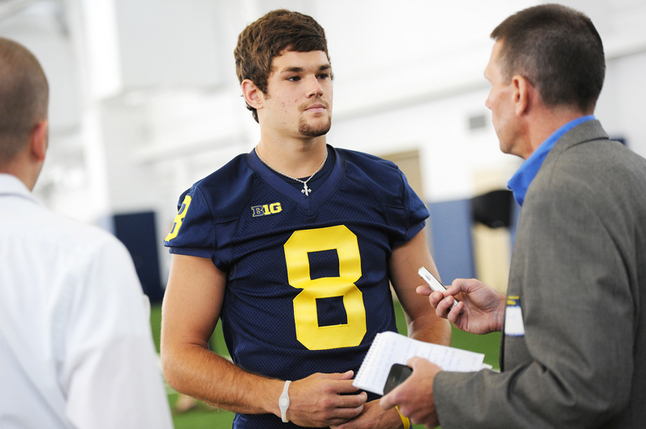 Melanie Maxwell | AnnArbor.com
In terms of star power,
Russell Bellomy
doesn't seem to fit in with his colleagues.
When reporters and photographers were ushered into Al Glick Field House on Sunday for the Michigan football team's annual media day, a small open door framed a portrait of who, exactly, people were there to see.
Standing outside in the bright sunshine for a photo shoot was senior quarterback Denard Robinson, sporting his trademark smile and long flowing dreadlocks, and junior signal-caller Devin Gardner, who accompanied his freshly cut mohawk with a slick pair of sunglasses.
Robinson and Gardner have done this before, they know the drill.
Some 50 feet inside the building, cautiously taking questions from a handful of reporters for the first time ever at Michigan was Bellomy.
There were no sunglasses. No mohawk. No ear-to-ear grin.
"We're all different quarterbacks with our own game," Bellomy says after being asked to compare himself to Robinson and Gardner. "We all have our own strengths and our own weaknesses.
"I can't really think of anything to compare us with."
Bellomy admits it. He's nothing like the two players who currently sit in front of him on the depth chart.
But as far as Michigan is concerned, that's just fine. No one inside Schembechler Hall is asking Bellomy to fall in line with his uber-athletic, uber-photogenic teammates.
They're just asking him to be himself. And so far, that seems plenty good enough.
"Russ is bright, and he's kind of a 'tell him once' guy," Michigan offensive coordinator Al Borges said. "You tell him once, he'll fix a mistake.
"I won't say that he's mastered every possibility in every pass play or run play, but he's marked some checks off that list. ... He's done a nice job."
The 6-foot-3, 202-pound Bellomy is currently the team's No. 3 quarterback. But asked whether or not he'd be comfortable placing him in a game right now, Borges quickly says he would.
Bellomy's extended spring-game audition seemed to serve two purposes for the Wolverines. The first was furthering the development of the redshirt freshman signal-caller.
The second? An informal tryout to see whether or not he could handle being Robinson's backup long enough for Gardner to split his reps at wide receiver.
"That's the way we worked it, that's how we did it," Borges said. "There was a domino effect that goes with Devin playing wide receiver, and one of those dominoes is making sure you have enough quarterbacks.
"So we had to focus on getting three of them ready."
After going 6-for-9 through the air in the spring game (an experience he calls "surreal"), and proving he had enough mobility to run the full compliment of Borges' pro-spread-hybrid offense, Bellomy's main focus this summer was improving his arm strength and tightening up his footwork.
He spent plenty of time with strength coach Aaron Wellman, and focused heavily on shoulder work to improve his overall velocity. He studied tape, focused on his feet and did anything else the staff asked him to do.
No matter what.
"I'll be whatever (Borges) wants me to be," Bellomy says bluntly. "I have the ability to run, but I can also drop back.
"I'll mold into whatever quarterback he wants me to be."
So far this preseason, Bellomy's progress has continued. He says the coaching staff's show of good faith in the spring has pushed his confidence to an all-time high, and day by day, he's becoming more and more comfortable with the idea of being a reliable college quarterback.
Something teammates have taken notice of.
"He's doing really well," Gardner said. "He's getting the ball out faster and things like that. He's reading defenses. And I've seen him scrambling a little bit too, and I like to see that."
Bellomy may never draw the type of crowd Robinson does, and he'll certainly never beat him in a sprint.
He's not likely going to run over people like Gardner, and there's a good chance his athleticism won't force the coaches to try him at different positions.
But that's fine by him.
Michigan might need a new backup quarterback this season. And just about everyone inside the football complex is confident Bellomy can answer that bell.
"I'm confident, but I have a lot of room to grow," Bellomy says humbly. "I got some experience in the spring game, but that was minute compared to a full season.
"I've got a lot to learn."
Nick Baumgardner covers Michigan sports for AnnArbor.com. He can be reached at 734-623-2514, by email at nickbaumgardner@annarbor.com and followed on Twitter @nickbaumgardner.