Posted on
Sun, Sep 26, 2010 : 3:08 p.m.
Second consecutive 4-0 start doesn't mean much for Michigan football team
By Pete Bigelow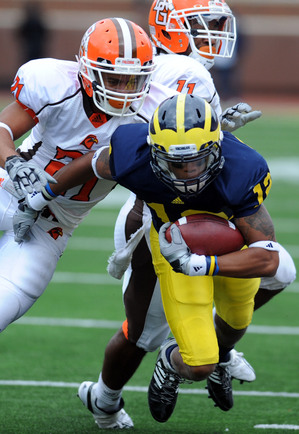 Melanie Maxwell | AnnArbor.com
The Wolverines remember.
As excited as they felt following Saturday's 65-21 win over Bowling Green, a lopsided game that set records and stretched the Michigan football team's record to 4-0 this season, it doesn't mean much.
It was only last year when the optimism of a 4-0 start was quickly crushed by a 1-7 mark over the season's final two months. This time, the Wolverines know better.
"We have to remind the team of that this year every week," team captain Stephen Schilling said. "Not to get too high on yourself, because we saw what happened last year."
If not for a last-minute victory over Indiana at home, the Wolverines would have finished winless in the Big Ten.
They'll start their 2010 conference schedule against those same Hoosiers (3-0) on Saturday (3:30 p.m., ESPNU) in Bloomington, Ind.
"Indiana's a good team, and I'm excited to go out there and play them again," said Tate Forcier, who directed last year's game-winning drive and, more recently, completed 12 of 12 passes against Bowling Green to set Michigan's single-game completion percentage record.
"They gave us a run for our money when they came in here last year. I love going to away stadiums. It's always fun having everyone against you."
Forcier's performance Saturday demonstrated that the Wolverines, who inched up one spot in this weeks' AP Top 25 poll to No. 20, have at least two - and probably three - dangerous quarterbacks.
That's the biggest difference between the Wolverines' 2009 perfect September and their current 4-0 record: options at quarterback.
"It's night and day," quarterbacks coach Rod Smith said. "I've got three guys I think can play. … I think we're a lot better now. Are we where we want to be? No. They're not close to being the players I know they can be. Which is a good thing."
One key difference between this year's team and last year's headed into the Indiana game is Denard Robinson, who is expected to play Saturday despite sustaining a minor knee injury against Bowling Green.
Last year, he completed two of three passes and rushed 11 times for 45 yards against the Hoosiers. This year, he's the nation's leading rusher through four games and directs the nation's second-best yardage offense.
Even though Robinson played just eight minutes against Bowling Green, he still amassed 129 rushing yards Saturday, and has 688 on the season along with six rushing touchdowns. After Arkansas quarterback Ryan Mallett threw three interceptions Saturday against Alabama, Robinson's position as a Heisman Trophy candidate certainly didn't get hurt.
But Smith cautions against looking too far ahead.
"We're way over-hyping him right now," he said of Robinson. "I know it's fun for everyone, but he's a four-game starter. Let him play some more."
Overall, the Wolverines looked flawless against Bowling Green. But only one week removed from a scare against UMass, they're hardly overconfident.
"You're just happy to get wins this early in the season, keep getting these young kids experience," secondary and special teams coach Tony Gibson said. "I'm happy with our progress to this point. … We need to get better. Obviously, you're never satisfied with where you're at."
Pete Bigelow can be reached at (734) 623-2556 or e-mailed at petebigelow@annarbor.com. Follow him on Twitter @PeterCBigelow.