Posted on
Tue, Jun 7, 2011 : 4:32 p.m.
Start times announced for Michigan football games against Western Michigan, Eastern Michigan
By Rich Rezler
Michigan football fans can now plan most of their September.
The Michigan athletic department released the kickoff times and broadcast information for home games against Western Michigan on Sept. 3 (3:30 p.m., ABC) and Eastern Michigan on Sept. 17 (noon, BTN).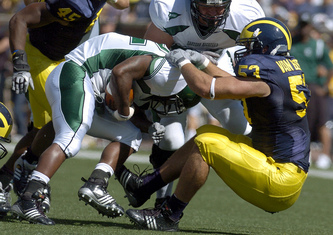 AnnArbor.com file photo
Those non-conference games are sandwiched around the Sept. 10 game against Notre Dame, which long ago was designated as the first night game at Michigan Stadium. That game, which kicks off at 8 p.m., will be televised by ESPN.
There are now five games with determined kickoff times on Michigan's 12-game schedule.
The Wolverines will play a Big Ten Network prime time game at Northwestern on Oct. 8. Michigan's homecoming game against Purdue will kick off at noon on Oct. 29.
The school said in a release Tuesday it does not expect any other times to be set prior to the standard 12-day or six-day advance notice system used as television networks select their broadcast schedule.
The game against Eastern Michigan is the first determined start time on the Eagles' 2011 schedule. The school said the remainder of its schedule will be released in the coming weeks by the Mid-American Conference office.

Michigan football schedule

Sept. 3: vs. Western Michigan (3:30 p.m., ABC)
Sept. 10: vs. Notre Dame (8 p.m., ESPN)
Sept. 17: vs. Eastern Michigan (noon, BTN)
Sept. 24: vs. San Diego State (TBA)
Oct. 1: vs. Minnesota (TBA)
Oct. 8: at Northwestern (7 p.m., BTN)
Oct. 15: at Michigan State (TBA)
Oct. 29: vs. Purdue (noon, TBA)
Nov. 5: at Iowa (TBA)
Nov. 12: at Illinois (TBA)
Nov. 19: vs. Nebraska (TBA)
Nov. 26: vs. Ohio State (TBA)


Eastern Michigan football schedule

Sept. 3: vs. Howard (TBA)
Sept. 10: vs. Alabama State (TBA)
Sept. 17: at Michigan (noon, BTN)
Sept 24: at Penn State (TBA)
Oct. 1: vs. Akron (TBA)
Oct. 8: at Toledo (TBA)
Oct. 15: at Central Michigan (TBA)
Oct. 22: vs. Western Michigan (TBA)
Nov. 5: vs. Ball State (TBA)
Nov. 12: vs. Buffalo (TBA)
Nov. 19: at Kent State (TBA)
Nov. 25: at Northern Illinois (TBA)