Posted on
Wed, Feb 1, 2012 : 4:30 p.m.
Michigan football recruiting class is strongest in the trenches, coaches say
By Kyle Meinke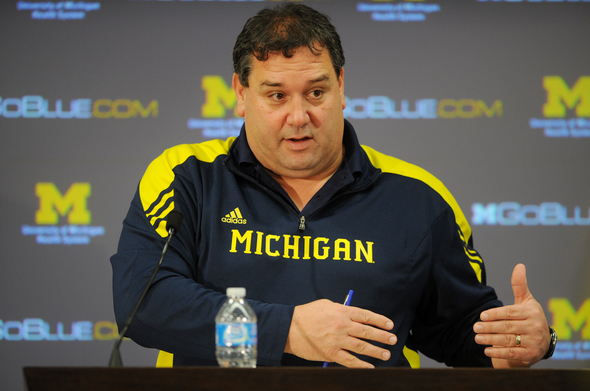 Melanie Maxwell | AnnArbor.com
The Michigan football team's 25-member recruiting class is official, with a couple of possibilities still on the horizon.
It's a strong class, ranked No. 4 according to Scout and No. 6 according to Rivals.
Where it's strongest, though, pleases Wolverines coach Brady Hoke.
Up front.
"Our numbers have been down there, for one reason or another, so we tried to address that, and, as you know, that is where the game is played," Hoke said. "We have a tremendous quarterback, but he can't do anything if those guys up front aren't blocking."
Hoke introduced his class for the first time Wednesday after each verbal commitment — including surprise early morning addition Dennis Norfleet, a four-star tailback from Detroit — faxed in his letter of intent.
Running back Drake Johnson, a Pioneer High School product, was the first to file his letter. Three others followed within the hour.
Defensive lineman Mario Ojemudia, of Farmington Hills Harrison, wrapped things up shortly after noon.
Little drama, just the way Hoke liked it.
"I know none of you will ask the question, 'Is this a good class?' because it is. We don't try to recruit bad classes," said Hoke, bags under his eyes after getting 4.5 hours sleep the previous night. "Hoping to save you some embarrassment."
Yet, with a class full of the country's finest high school players, Hoke focused on replenishing the talent in the trenches.
The class got its start with a fitting commitment from three-star Ben Braden, an offensive tackle from Rockford. He set the tone for three elite offensive line prospects to follow suit.
Five-star Kyle Kalis and four-stars Blake Bars and Erik Magnuson, along with Braden, combine for a formidable class rivaled in the Big Ten by only Ohio State.
"I didn't really feel like I needed to wait," Braden said. "Once I was sure, I was sure, and if I was 100 percent about this, why wait?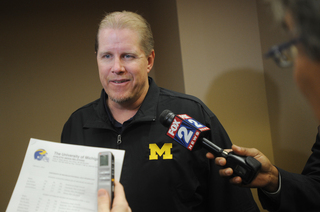 Melanie Maxwell | AnnArbor.com
"I definitely think it's going to take a huge step toward bringing back a lot of the tradition of Michigan (on the offensive line). We got a lot of talent already there, and we've got more coming, so it's going to be a lot of fun at Michigan for the next four or five years."
Michigan offensive line coach Darrell Funk said Braden, who stands 6-foot-6, 319 pounds, will factor in at either tackle. The plan right now is he won't redshirt, Braden said.
Funk said Kalis wants to play right tackle, and that's where he'll start when he gets to campus, although also can play guard. Magnuson is projected to be a candidate to earn the left tackle spot down the road.
Bars can play anywhere on the line besides center.
Funk said this class of offensive lineman is the best he's ever had — better than the one he had at Colorado State that produced four four-year starters who each played in the NFL.
"This class is more talented than that one," he said. "It's going to be a few years, but I'm telling you, the quality of this class is killer."
Three-star tight end pledge A.J. Williams, projected by several analysts to play offensive line in college — at 6-6, 275 pounds, he's bigger than Bars and as big as Magnuson — will stick to tight end, Funk said.
Michigan loses two starters from last year's offensive line in center David Molk and right tackle Mark Huyge. Although the Wolverines are most likely to address those departures with returners, they likely will lean on one or two for depth and insurance should a starter go down with injury.
Although it's rare for true freshmen to play large roles on the offensive line, Michigan has the luxury of having three players — Kalis, Magnuson and Braden — who could step in right away, if needed.
"If these four kids come in and tear it up (as true freshmen) and they're in the two-deep immediately, and they're pushing for playing time, I'll let it play out.
"If they're better than the other guys, then I'll let 'em go."
The Wolverines also remain in play for four-star offensive lineman Jordan Diamond. If they receive a commitment from the Chicago native, that would give them the nation's clear No. 1 haul at that position.
They trail only USC right now, according to Rivals. They hadn't cracked the top-15 offensive line classes since 2008, and didn't even finish in the top 50 in 2010.
They haven't finished as high as No. 2 since 2004, and have never had the top offensive line class.
This could be it.
And coaches couldn't be happier on signing day.