Posted on
Mon, Aug 20, 2012 : 5:59 a.m.
Struggling Michigan punter Will Hagerup attributes problems to 4-game suspension
By Kyle Meinke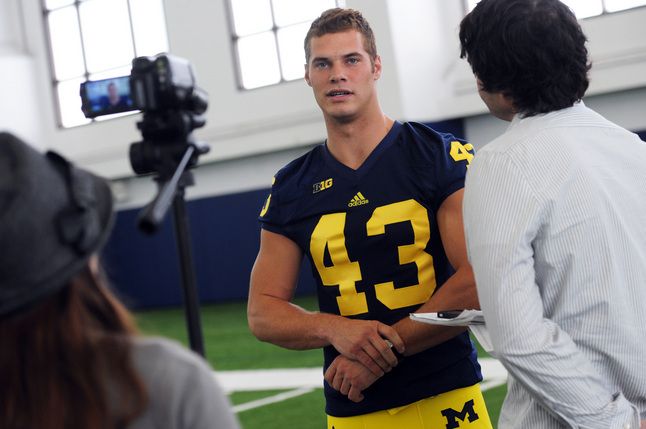 Melanie Maxwell | AnnArbor.com
As a true freshman,
Will Hagerup
wasn't just good -- he put together the second-best punting season in
Michigan football
history. Big things were thought to be on the horizon for the kid with the golden leg.
But as a sophomore last year, he was suspended four games, led Michigan to a last-place finish in net punting in the Big Ten and averaged a scant 25 yards per attempt in the Sugar Bowl.
Now, coach Brady Hoke has declared there is an open competition for the starting job between Hagerup and sophomore Matt Wile -- a battle that, as of last week, Hagerup appears to be losing.
So, what is driving the curious case of Will Hagerup?
Hagerup, asked that very question, says it starts with that four-game suspension to begin last season.
"Missing the first four games was very disappointing for me," said Hagerup, who also was suspended for one game as a freshman. "I never could really get that consistency going. Never had that one game where I really got back into things. And I think that's what's big in the nonconference games, is to get your step back a little bit.
"Missing that, for me, turned out to be a bigger deal than I thought it would be."
Hagerup declined to specify what precipitated his suspension, saying only that he "had some growing up to do." But he did say those four weeks were some of the toughest of his life.
On the field, his game fell apart.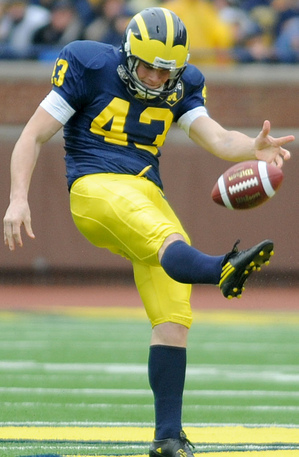 AnnArbor.com file photo
He returned in time for the start of the Big Ten season, but averaged just 36.0 yards per punt -- 7.6 yards off his freshman production. Just 3.4 percent of his punts traveled 50 yards, a season after 30.3 percent of them did.
Michigan averaged 36.6 yards per punt as a team, second worst in the Big Ten. Its 33.4 net yards per punt were last.
"I just never really got my step," Hagerup said. "I remember clearly my freshman year, I struggled a little in the nonconference. Then we had that Indiana game against my brother and I remember I hit three or four good punts and just felt comfortable with everything. Everything clicked for me after that.
"And I never really had that game last year."
Off the field, Hagerup was just as much a mess. He was embarrassed, feeling as though he let down not only his teammates, but his friends and family back home in Milwaukee.
"It took a lot to deal with that," he said. "I feel like I am kind of here to be a punter. Not here at Michigan, but I feel like that's what I'm supposed to do in life. And obviously being on the sidelines, while my team is doing great, I want to be out there helping them."
Being lifted from the Sugar Bowl, after punts of 24 and 26 yards, is among the most humbling moments of his career.
"That whole week I just didn't have my confidence up, sort of struggled in practice a lot and just didn't get it done in the game," Hagerup said.
Wile, meantime, averaged 41.6 yards per punt last year while filling in for Hagerup during the suspension and in the Sugar Bowl. He proved not only capable of doing the job, but better at it than Hagerup.
Hoke, who is the team's punt coach, said last week that Hagerup is behind Wile in the battle for that spot, although looking better than he did early in camp. The junior has tried to pull out of his dive this offseason, but a broken foot offset some of the gains he felt he made during spring camp.
Hagerup, though, feels as though he's getting close to regaining his form. That starts with getting his life in order off the field -- and he thinks the suspension, although it rocked his game, could serve as the impetus for change.
"It was a good thing for me, in that I realized what was more important," he said. "It really caused me to re-evaluate everything and get back on the field and off the field stuff and start doing it all right."
Hagerup got help, too. He sought the advice of Greg Harden, Michigan's longtime director of athletic counseling who has been credited with helping former greats such as Tom Brady and Desmond Howard during their college careers.
"He's one of the most powerful figures I've worked with," Hagerup said.
He also went a more unconventional route, going straight to the top and consulting with athletic director Dave Brandon. Hagerup said they email regularly, and that Brandon has helped him right his life.
"It's definitely a process, but I feel like I'm a different person than I was last year at this point," he said.
Hagerup knows he has lost his grip on the starter's spot he held for two years. He doesn't know yet whether it will be him or Wile who wins the job, but as his off-field life stabilizes, he's hopeful the big leg he once flashed will re-emerge.
Kyle Meinke covers Michigan football for AnnArbor.com. He can be reached at 734-623-2588, by email at kylemeinke@annarbor.com and followed on Twitter @kmeinke.