Posted on
Tue, Jan 3, 2012 : 1:29 p.m.
Sugar Bowl tidbits: Some things you may not know about Virginia Tech
By Rich Rezler
Some things you may not know about Virginia Tech, the Michigan football team's opponent in today's Sugar Bowl: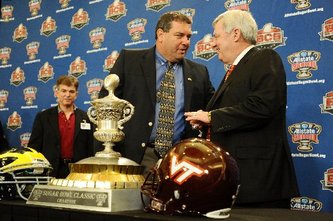 Melanie Maxwell | AnnArbor.com
Lots of wins: You know Michigan has the most wins in college football history, but did you know Virginia Tech has more wins than any other team since 1995? The Hokies are the only team in the country with 10 wins in each of the last eight seasons and also have gone a nation-best 14 straight years with eight or more wins. A win tonight would give the Hokies 12 wins for the first time in program history.
Not in the BCS: A 1995 Sugar Bowl win against Texas put Virginia Tech on the football map. But the Hokies are 1-4 in BCS games, losing to Stanford 40-12 in last year's Orange Bowl.
Beamer on top: When Joe Paterno was fired at Penn State, Virginia Tech coach Frank Beamer moved to the top of the wins (251) and bowl appearance (18) categories among active coaches. Beamer is in his 25th season in Blacksburg, Va., longer than any other coach in the nation has been at his current school.
Wow, that's embarrassing:
No. 15-ranked Virginia Tech became only the second nationally ranked FBS team to lose to a lower-division opponent when it fell 21-16 to James Madison on Sept. 11, 2010. The first, of course
(you may want to skip ahead to the next heading if you're trying to block this out),
was No. 5 Michigan's loss to Appalachian State in 2007.
What's a Hokie? Officially, a Hokie is a "loyal Virginia Tech fan," a term born from a college cheer in the late 1800s. The HokieBird mascot is a turkey. It's a long story.
What are those colors? The official university school colors are Chicago maroon and burnt orange, selected by a committee in 1896 because they made a "unique combination" not worn elsewhere at the time.
Different looks:
The Hokies have numerous uniform combinations -- including both maroon and orange home jerseys -- to choose from and have worn five different helmets this season (shown above, courtesy of
The Helmet Project
). The team will wear its maroon jerseys and standard maroon helmet (far left) in the Sugar Bowl.
More B1G games to come: Virginia Tech has played just one Big Ten opponent in its history, a 45-20 win against Indiana in the 1993 Independence Bowl. They're also 2-1 against Nebraska, but before the Cornhuskers joined the Big Ten. There are more Big Ten matchups on the Virginia Tech horizon, however. It has home-and-home series scheduled with Ohio State (2014-15) and Wisconsin (2016-17).