With slideshow:

Tailgating traditions kick off for the season around the Big House

Posted on Sat, Sep 4, 2010 : 2:31 p.m.
The Big House is fresh off its high-end makeover, and Nebraska has joined the Big Ten.
But some things in Ann Arbor never change.
As fans prepared for today's opening game against UConn at 3:30 p.m., tailgates were in full swing - from small gatherings of friends to elaborate spreads that attracted a crowd.
The "mayor" of Pioneer's parking lot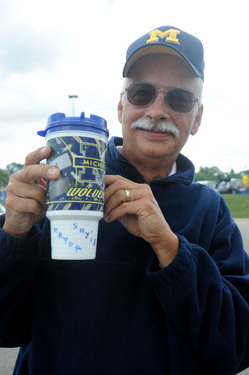 Angela J. Cesere | AnnArbor.com
It's written on his trusty mug: "Mayor."
"Elected" - possibly solely on his tailgating longevity - John Snyir said he's unofficially in charge of the happenings in the Pioneer High School parking lot, one of the most crowded tailgating spots in town. He's been a fixture there on football Saturdays since 1966.
"It's been difficult for the last two years," the Hamburg Township resident said of the last two seasons. "But we still enjoy the tailgate, win or lose."
With his "mayoral" power comes great responsibility.
Those with problems come to him. But things never get too serious. It is a tailgate after all.
Talk of the tailgate centered on the season ahead, following two seasons that left University of Michigan football fans frustrated and disappointed.
"What is Michigan going to put on the field? Nobody seems to know," Snyir said.
Whether that trend continues seems to be anyone's guess. But win or lose, the tailgates seem to get better and better.
Friends Snyir has met over the years took up parking spots 15 and 16 in the lot Saturday; their tailgate has become a finely-tuned operation. Two RV awnings faced each other for continuous shade. Meals are served up on schedule Friday through Sunday. And when it gets cold, Snyir winterizes the tailgate with plastic for total insulation.
Best party bus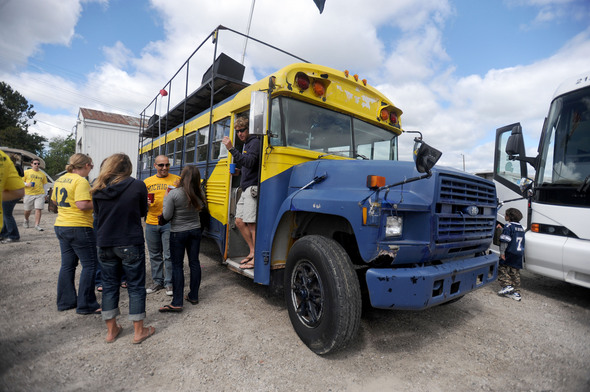 Angela J. Cesere | AnnArbor.com
A 1985 school bus painted maize and blue - affixed with a rooftop dance floor and speakers blaring top-40 songs - might just render the business school-hosted tailgate at Hill Street and Fifth Avenue the best party in town.
It doesn't hurt that the interior invokes "Animal House."
Brett Bailey, an MBA student at the Stephen M. Ross School of Business, is charged with making it happen. He makes sure business school students in a group, aptly named "The Bus," wake up bright and early each home football Saturday.
The bus picks members of "The Bus" up in the wee hours. Then they head to Angelo's for a team breakfast by 6 a.m. (the restaurant opens up early just for them).
Then they head to the parking lot across from Elbel Field, where the pre-game party ensues. It's open to everyone for a $5 charge, which keeps the party going. It's not a business venture. "We break even," Bailey said.
Business students purchased the bus about a decade ago. It gets four miles to the gallon.
The group typically goes through 25 kegs a game and has had as many as 1,200 people in attendance.
UConn's surrounded
About 200 UConn diehards caravanned up to Ann Arbor in two buses and three RVs.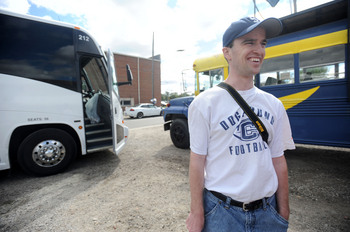 Angela Cesere | AnnArbor.com
The robust UConn tailgate, while parked adjacent to the U-M business school's party bus, might as well have been on another planet. No mixing of fans was observed mid-morning today. They circled the wagons and kept to themselves.
There might be a good reason for that.
Caravan-organizer and UConn alumnus Ryan Phalen admitted fans crawled up on the B-school party bus and unplugged the speakers as they blared "Hail to the Victors" in the morning.
Phalen said UConn fans have Rich Rod on the brain. UConn Coach Randy Edsall has never beaten Rich Rod. The last time they faced off, Rodriguez was the coach at West Virginia and UConn got whomped 66-21, a number that's burned into his memory, Phalen said.
Are UConn intimidated by Rich Rod and the Big House today?
"No," Phalen answered decidedly, bragging that UConn played and soundly beat Notre Dame on their home turf last November.
Best bus mural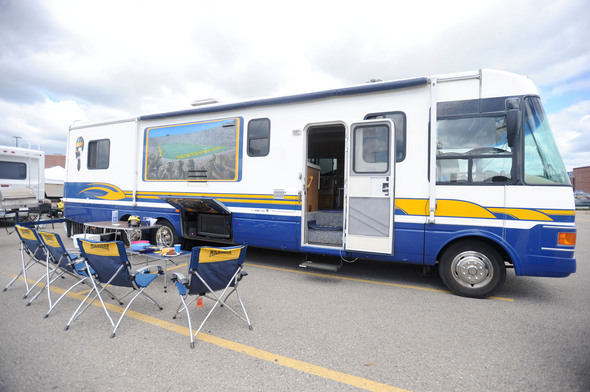 Angela J. Cesere | AnnArbor.com
Wolverines are extinct here - but not on the side of one bus.
A Big House full of wolverines - of the animal variety - is depicted in a homage to the maize and blue painted on the side of Mary and Conrad Bernys''s RV.
The painting was a Christmas gift from the couple's children.
"Every Christmas, the kids would add something," Mary Bernys said.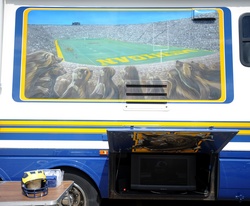 Angela J. Cesere | AnnArbor.com
Over the last five or six years, the RV has become increasingly maize and blue.
A wolverine bursting through the block M is depicted on the underside of the luggage compartment. But there are no bags within - just a flat screen for the game.
Conrad Bernys went to medical school at U-M. Now their children and grandchildren tailgate in the RV at Pioneer High School.
"Once a wolverine, always a wolverine," she said.
Mary Bernys said what she really wants is a win today.
"We definitely want a better year this year," she said.
The Michigan fan's tailgating fantasy bus
There's something magical about this fan fantasy on wheels.
Maybe it's the three flat screens. Or perhaps the kegerator in the luggage compartment that can be tapped from the side of the shiny bus. Or the fancy speakers. Or Lloyd Carr's signature over the doorway. Or the license plate that reads MAZBLU1.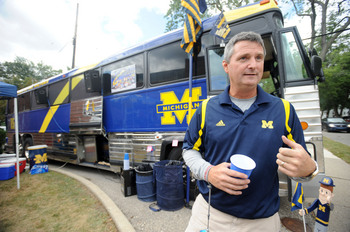 Angela Cesere | AnnArbor.com
"It was my fantasy to create this bus," said Tom Anderson, who graduated from the U-M dental school in '89. He and his wife, Jackie, also a U-M dental school grad, bought the former Greyhound on eBay four years ago. The Andersons spent a year outfitting every last corner with fan amenities.
They love taking family and friends to Ann Arbor every football Saturday, and they make it to a few away games each year, too. Their daughter is a U-M junior, and their son is a soccer hopeful.
What would make the Andersons' fan-dom even sweeter?
"We need to get a win today," Tom Anderson said. "Or it's going to be a long season."