Posted on
Thu, Sep 8, 2011 : 5:55 a.m.
Talking with Walter Camp national defensive player of the week Brandon Herron
By Pete Cunningham
Brandon Herron's record setting, two-touchdown performance in a 34-10 win over Western Michigan last Saturday earned him Walter Camp defensive player of the week honors, and even had his name trending nationally on Twitter.
AnnArbor.com talked to the fifth-year senior about how little the depth chart means, faith and playing under the lights against Notre Dame on Saturday (8 p.m., ESPN).
Q: You're still listed as the No. 2 weak-side linebacker on the depth chart. Does that even matter to you guys with how much you rotate and what do you have to do to move up?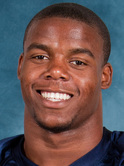 Brandon Herron:
"I really don't know how to answer that. I guess I can say I started the game. Coaches believed in me, they thought I could do it. Me, just because it says I'm second on the depth chart, doesn't mean I'm second on the depth chart.
"Obviously, you watch the game. We rotate a lot. Coach says we want to go into the fourth quarter like we go into the first. We want all of our guys to be fresh, so we can play defense relentlessly."
Q: What are you looking forward to with the first night game at the Big House, and what do you anticipate it will be like?
BH: "I think it's great. It's the first night game in history. About two weeks ago, we went down to the stadium around 9:30 (p.m.). We kind of do this as a tradition. We get our time to sit around the stadium and just like think about the plays that we're going to make on the field."
Q: Was that to get a feel for what the Big House looked like at night?
BH: "Got a feel for it, it looked like heaven if you ask me. All the lights and all the maize. I was proud to say that I play football at the University of Michigan."
Q: What do you expect Saturday night to be like?

BH: "I expect it to be over the top. Crazy. Ecstatic. Overwhelming. Like I said, this is the first night game in history at Michigan Stadium, so you can only imagine what it's going to be like."
THURSDAY LIVE CHAT
Come back to AnnArbor.com at noon Thursday to join Kyle Meinke for a live chat. He'll discuss the latest Wolverines' news and preview the game against Notre Dame.
Follow updates from the AnnArbor.com staff during the Saturday game on Twitter by using the hashtag #umnd.
Take a Twitpic on Saturday and send it to us @annarborcom or email to community@annarbor.com.
Q: Do you have any pregame superstitions or traditions, and did this game you had start any because of the way you played?
BH: "A lot of my teammates like to think it's my bald head, but I was trying. I grew my hair out for a month, and I wanted a mohawk because that was a trend on the team, everybody to get a Mohawk. I went to one of my good friends who knows how to cut hair, but doesn't know how to cut a mohawk, and I trusted him, and, obviously, I trusted him too well.
"But I just kind of got up that morning, and went to breakfast, came back, kind of put on some church music, just kind of read the Bible and asked God to show me favor."
Q: How bad did the mohawk look?
BH: "Oh, it was bad. I'd rather have a bald head than to walk up in the football building with a stripe. A patch of hair going down the front of my head."
Q: How long did you have the mohawk?
BH: "I went to him around Thursday, it probably took about 40 minutes and it was off within five minutes."
Q: Will you shave your head before the next game?
BH: "You know a lot of people think, like I said, a lot of my teammates think it's because of my bald head, but I don't want to think that way. I told them 'it's not my bald head, I think it's just God, just showing me favor.'"
Q: You seem very strong in your faith and tie it in with how you play the game. Has that always been he case?
BH: "Yeah. I kind of grew up in the church. My dad is a minister, with that being said, he took us to church a lot. And I just, church was all I knew growing up. So I kind of, you know, kind of thank God. Jesus Christ is my lord and savior."
Have you watched the plays from Saturday?
BH: "Not really…I've watched the plays with my coaches and the team, but for me to just sit down and watch a play, no I haven't because Saturday, that's great, it happened, but I'm moving on. Now we gotta focus on Notre Dame."
Q: You were named national defensive player of the week (Monday). Four weeks ago, you were asked to make the position switch. Did you ever have some self doubt as to whether you'd even be on the field?
BH: "Um, I didn't have any doubt because of my faith. I just knew that I had to work, and work hard. Because of Saturday, I had no idea that I was going to make plays like that, you know, but I knew in my heart, this is my last year, and I knew God was going to work some things out for me."
Q: In fall camp Denard Robinson said you thought you could catch him. Has it happened?
BH: "You might want to ask Denard, because I don't want to make Denard mad, but it's already happened."
Q: Denard said to ask you.
BH: "I've caught Denard. And a lot of my teammates can back me up on that one. I caught him last week. He was scrambling, and I was coming from behind and I placed my whole hand on his back just to let him know, 'I had you buddy.'"
Pete Cunningham covers sports for AnnArbor.com. He can be reached at 734-623-2561, by email at petercunningham@annarbor.com and followed on Twitter @petcunningham.