Posted on
Sun, Sep 12, 2010 : 2:32 p.m.
Top 5 observations on Michigan quarterback Denard Robinson, who won another national college football award Sunday
By Pete Bigelow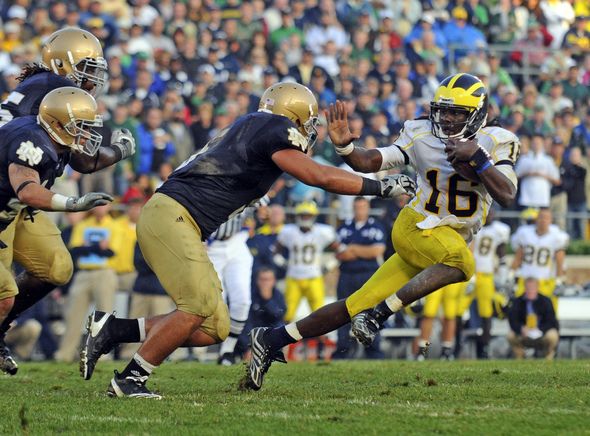 Sam Wolson | The Michigan Daily
Two weeks ago, Denard Robinson hadn't even been named the Michigan football team's starting quarterback. Now, he's a national sensation and an early Heisman Trophy candidate.
For the second straight week, he was named the Walter Camp National Offensive Player of the Week on Sunday.
No player has ever won it two weeks in a row. The last player to win it twice in a three-week span was Texas Tech quarterback Graham Harrell in 2008.
Through two games, Robinson has accounted for 885 yards of total offense, including 502 yards in Saturday's 28-24 win over Notre Dame. Here are five more observations about his fast start and outing Saturday:
1. Calvin Magee is managing him perfectly
Last year, part of Robinson's troubles were attributed to freshman inexperience and poor mechanics. But Michigan also placed him in the game him in obvious passing situations -- and defenders teed off on his deep throws.
This year, Michigan offensive coordinator Calvin Magee has developed game plans that highlight Robinson's strengths perfectly, a mix of short curl routes and mid-range throws that have higher percentages of success, and balancing that with an effective Robinson-led rushing attack.

2. Robinson's passing won Saturday's game
A lot of the focus has been on Robinson's speed and acceleration while running the football. But it was his passing that won Saturday's game for the Wolverines.
He was 5-of-6 passing for 55 yards on the all-important final Michigan drive, and spread the ball around to three different receivers -- Michael Shaw, Darryl Stonum and Roy Roundtree -- on that drive.
3. Heisman hopeful
"I'm not getting into the Heisman stuff," quarterbacks coach Rod Smith said after Saturday's game. "He's not ready."
It's a fair point. But really, there's no other player in the country who has generated as much excitement as Robinson the first two weeks of the college football season.
You could argue -- I would argue -- that Robinson's not only a contender at this point, but the early frontrunner. Preseason contender Jake Locker of Washington has put up some big numbers, but they're not as big as Robinson's and the Huskies lost to BYU.
Perhaps at this early juncture, Robinson's chief competitors are Ohio State's Terrelle Pryor and Arkansas' Ryan Mallett, either of whom are compelling counterparts.
4. Now it's time for rest
Perhaps the most jaw-dropping numbers Robinson has produced so far aren't his yardage totals, but his passing attempts and carries.
Rich Rodriguez conceded it was excessive when he carried 29 times against UConn and threw 21 passes -- for 51 total touches. Against Notre Dame, his running workload was cut to 28 carries, but he threw the football 40 times for 68 total touches.
"Shoelace got a lot of carries, but we needed him right there," Magee said.
No question he's right. But with UMass and Bowling Green up next, it's time for Robinson to rest up for the Big Ten portion of the schedule. If he's plays past halftime next week, it'd be a huge surprise.
5. No mistakes
This relates to No. 1, but Robinson has done what Michigan needed most entering the season. That's protect the football. No Big Ten team was worse than the Wolverines last year in turnover ratio, and it was a big emphasis entering training camp.
Robinson has not committed a turnover through two games.
He did fumble against the Fighting Irish, but Michigan recovered. But more importantly, he's thrown no interceptions, which is a big improvement after he threw four in 31 pass attempt as a freshman.

Pete Bigelow can be reached at (734) 623-2556, via email at petebigelow@annarbor.com and followed on Twitter @PeterCBigelow.