Posted on
Sun, Jan 16, 2011 : 6 a.m.
Top 5 thoughts on Brady Hoke's first week as Michigan football coach
By Pete Bigelow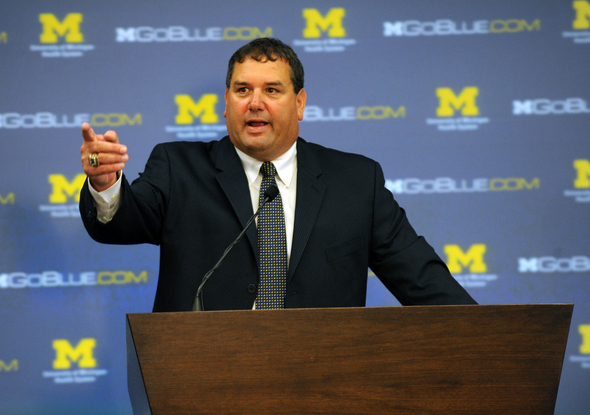 Lon Horwedel | AnnArbor.com
The question was chum in the water for Brady Hoke.
Something about a faded football program hiring a second-tier coach, and what did he think about that combination?
"Who said that," Michigan's new football coach shot back. "And I'm being serious."
"ESPN," came a meek reply.
Hoke laughed and then answered the question, playing to an audience full of former Michigan football players and coaches starving for a chance to thump their chests.
"God bless 'em," Hoke said. "They have a job to do and they have an opinion they might have. But this is an elite job and will continue to be an elite job. This is Michigan, for God's sakes."
It was the line of the day on a busy Wednesday. Here's a look at other leftovers in my notebook from a busy week overall from Michigan football:
1. Recruiting to-do list In convincing Denard Robinson to stay at Michigan, Hoke crossed off the first item on his to-do list with remarkable ease. Could his second-most important recruiting salvage involve a kicker?
In normal years, that might sound ridiculous. But in a season in which the Wolverines are coming off a 4-for-14 season on field-goal attempts, the team needs a kicker who can make an immediate impact.
Chaminade Prep's Matt Goudis had verbally committed to Michigan, but will visit Miami following the coaching change. Maybe Michigan doesn't need to retain Goudis. But it needs a kicker in this class.
2. Point to ponder Speaking of special teams, it will be interesting to see whether Hoke employs a full-time special teams coach on his staff. For at least two years, the Wolverines have seemed to cry out for such a position coach.
Rich Rodriguez did not have anyone who filled that role his first two seasons. In his final year, assistant coach Tony Gibson held the dual "defensive backs/special teams" titles, a move that backfired on both sides.
At San Diego State, Hoke employed Dan Ferrigno as a tight end/special teams coach, a division of duties that seems to make more sense.
Hoke hasn't said whether he'll have a special teams coach in Ann Arbor. Given his past use for one and Michigan's previous troubles, it sure seems like a good idea.
3. Big Ten coaching hires Here's a look at how the Big Ten hires its football coaches:
Five had been hired after head-coaching stints in previous positions: Ohio State's Jim Tressel (Youngstown State), Minnesota's Jerry Kill (Northern Illinois), Michigan State's Mark Dantonio (Cincinnati), Illinois' Ron Zook (Florida) and now Hoke.
Four of the conference's coaches were internal hires: Penn State's Joe Paterno, Purdue's Danny Hope, Wisconsin's Bret Bielema and Northwestern's Pat Fitzgerald.
Two arrived by other means: Indiana hired Oklahoma offensive coordinator Kevin Wilson and Iowa's Kirk Ferentz came from an NFL stop with the Baltimore Ravens. Just two had previous stops west of the Mississippi - Wilson and Hoke.
4. Turnover time The Wolverines have finished last in the Big Ten three years running in turnover margin. They were -10 in 2008, -12 in 2009 and -10 in 2010.
Winning the turnover battle hasn't been Hoke's strong suit the past two years either. Although his defense forced 16 turnovers this past year, the Aztecs gave it away 22 times for a -6 margin.
In 2009, San Diego State finished last in the Mountain West Conference, coughing the ball up 25 times while forcing just 15 for a -10 margin.
At least give Hoke credit for this: His team got better from his first year to second.
5. Foundation of toughness "This is Michigan, for God's sakes" might have been the sound bite of his introductory press conference. It made for a nice summation of what Hoke is all about, but he articulated that further with this quote:
"The character teams are the ones that play together, the ones who stay together, the ones who are accountable to each other, and we are going to be a program this is going to be accountable," he said.
"We are going to have a foundation of toughness, because I don't care what position you play, this is a tough man's game."
A foundation of toughness. Defensively speaking, it's what the Wolverines have been missing for a long time.
6. And finally ... When athletic director Dave Brandon announced the firing of Rodriguez, he was seeking some stability after three tumultuous years.
"I think that his three years can somewhat be defined by three years of turmoil," Brandon said. "It seems like it was one thing after another."
The hiring of Hoke seemed to stop that slide. As far as first impressions go, Hoke came across as a guy you inherently want to like.
That topsy-turvy momentum continues for Rodriguez. Here's a guy who donated more than 400 items of Michigan gear to the Salvation Army, which raised thousands of dollars by selling them Saturday.
Yet people have ripped him on message boards for ditching the gear this week. In his departure from Michigan, the guy raises a lot of money for charity and still can't catch a break.
Pete Bigelow covers the Michigan football team for AnnArbor.com. He can be reached at (734) 623-2551, via e-mail at petebigelow@annarbor.com and followed on Twitter @PeterCBigelow.