In-game updates:

Michigan football team hangs on to remain unbeaten

Posted on Sat, Sep 18, 2010 : 2:50 p.m.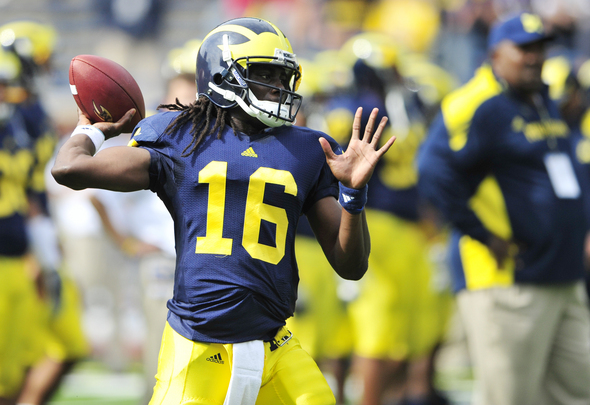 Melanie Maxwell | AnnArbor.com
Fourth quarter
Michigan 42, UMass 37: A blocked punt led to a 25-yard, 4-four play touchdown drive. Kyle Havens hit Andrew Krevis with a 7-yard touchdown pass as the Minutemen closed the gap. The following onside kick went out of bounds, giving Michigan the ball in UMass territory.
Michigan 42, UMass 30: Julian Talley scored on a 5-yard touchdown pass from UMass quarterback Kyle Havens. The two-point conversion attempt failed. Havens is 19-of-26 passing for 202 yards.
strong>Michigan 42, UMass 24: Michael Shaw dominated a drive, running 50 yards, 7 and finally 4-yards to stretch Michigan's lead again. He has a career-high three touchdowns, and a career-high 115 yards.
Michigan 35, UMass 24: Kyle Havens faked a pass and ran to the corner of the end zone as UMass scored for the first time since late in the first half. The Minutemen took 7 minutes, 30 seconds off the clock with a 70-yard, 15-play drive.
Third quarter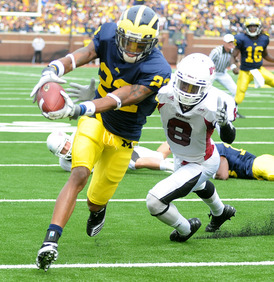 Angela J. Cesere | AnnArbor.com
Michigan 35, UMass 17: Denard Robinson fended off a couple of UMass tacklers to score on an 8-yard run. Key play of the 94-yard, eight-play drive: A 46-yard pass play to Darryl Stonum. Robinson is 10-of-14 passing for 241 yards and two touchdowns. He has run 16 times for 96 yards.
Today's attendance: It's 110,187
Michigan 28, UMass 17: Michael Shaw darted up the middle for a 34-yard touchdown run. Michigan opened the second half with a six-play, 69-yard drive.
Second quarter
Michigan 21, UMass 17: Darryl Stonum scored for the second time in less than a minute, reaching the end zone on a 9-yard pass from Denard Robinson. Key play of the 55-yard, five-play drive: A 36-yard pass from Robinson to Junior Hemmingway.
UMass 17, Michigan 14: After UMass scored, Darryl Stonum returned the kickoff 23 yards, then caught a 66-yard pass from Denard Robinson and ran down the sideline to score.
UMass 17, Michigan 7: Jonathan Hernadez ran up the middle 9 yards through a huge hole as the Minutemen continued a bid for an upset. Hernandez has 75 yards and two touchdowns.
Missed field goal: Michigan red-shirt freshman Seth Broekhuizen missed a 38-yard field goal with 4:45 left in the second quarter. Michigan kickers are 1-of-5 on field goals this season.
UMass 10, Michigan 7: Jonathan Hernandez scored on a 10-yard run as UMass continued to pile up yardage against Michigan. Hernandez has 32 yards on nine carries. UMass quarterback Kyle Havens is 7-of-8 passing for 78 yards.
First quarter Michigan 7, UMass 3: Michael Shaw scored on a 1-yard dive into the end zone, capping a penalty-filled, 93-yard, eight-play drive. The biggest play: a 43-yard pass from Denard Robinson to Kelvin Grady on a third-and-11 play.
UMass 3, Michigan 0: The Michigan football team (2-0) takes on visiting UMass (2-0) at noon today at Michigan Stadium. The Wolverines kicked off and opened the game on defense. UMass quickly picked up three first downs and took the lead on Caleb Violette's 29-yard field goal.
Pregame:
Michigan sophomore quarterback Denard Robinson is 45 yards rushing and 70 passing yards shy of reaching 500 in each category.
It's the first time UMass has faced Michigan and, by far, it will be the largest crowd to see the Minutemen play. UMass beat William & Mary and Holy Cross in its first two games.
More pregame notes:
• Join our live chat: Your host is Rich Rezler
• Remembering Ron Kramer: Former Michigan great Roy Kramer was honored today. Michigan players will wear the number 87 on the back of their helmets and a video tribute was played just prior to kickoff. Kramer lettered nine times while playing three sports -- football, basketball and track -- at Michigan 1954-56.
• The UMass marching band: There was a moment of silence at 11:39 to honor UMass marching band director George N. Parks, who died Thursday as the band was on its way to Ann Arbor. The band was introduced after the moment of silence to warm applause.
• Read AnnArbor.com's coverage leading into today's game: The mega guide
• TV: The game is televised on the Big Ten Network.