Posted on
Sat, Sep 18, 2010 : 10:12 a.m.
The mega guide to Week 3: Michigan vs. UMass
By Rich Rezler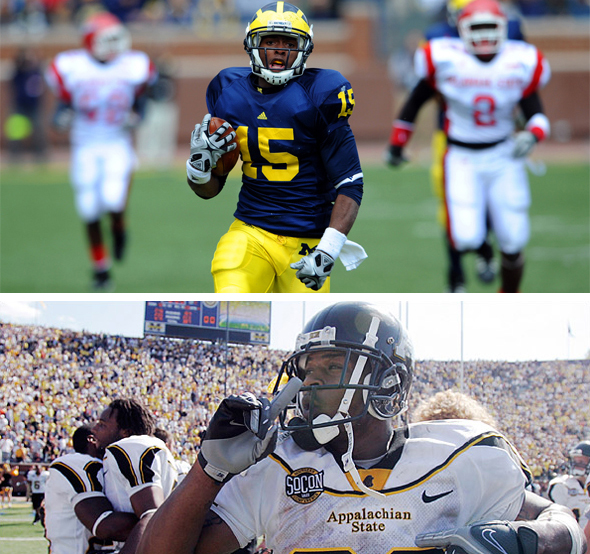 Cox: Melanie Maxwell | AnnArbor.com; Richardson: Duane Burleson | Associated Press
WHO: Massachusetts (2-0) at Michigan (2-0).
WHERE: Michigan Stadium.
WHEN: Noon today.
ODDS: Off the board.
SERIES RECORD: First meeting.
BROADCAST INFORMATION: TV: Big Ten Network; Radio: Michigan Sports Network (local affiliates), Sirius Ch. 125, XM Ch. 102.
RUNDOWN: Don't overlook UMass, and let's hope this is the week Denard Robinson gets a break.
INTERACT WITH ANNARBOR.COM
Interact with us leading up, during and after Saturday's Michigan vs. UMass game:
As contradictory as they seem, those have been the most-discussed topics, by media and fans alike, entering today's game between Michigan and the Football Championship Subdivision Minutemen.
After James Madison's win at Virginia Tech last week -- and with the words "Appalachian State" still making Michigan fans a little nauseous -- the days of overlooking an FCS opponent are probably over.
"The dirty little secret is the top six to eight teams at our level can play with anyone," James Madison coach Mickey Matthews told ESPN after his team beat the No. 13-ranked Hokies.
The good news for Michigan fans: UMass is ranked 15th in the latest FBS coaches poll, which falls outside of Matthews' "can play with anyone" theory. The bad news: James Madison was No. 11 when they packed their bags for Blacksburg.
Michigan's last two games against FCS opponents have had drastically different results. Everybody remembers 2007, when Appalachian State -- the FCS's preseason No. 1 and two-time defending champion -- stunned the No. 5-ranked Wolverines.
Considerably less memorable, possibly because it was so difficult to stay awake for, was last year's 63-6 win over unranked and overmatched Delaware State. Five different players scored their first career touchdowns that day and five different quarterbacks took the field for the Wolverines.
Expect something in between today.
As always, we've been recapping last Saturday's Michigan-Notre Dame game and previewing the UMass game all week. Here's a roundup of those stories for your Web surfing convenience, and keep reading for plenty more related information:

FRIDAY

• David is beating Goliath more often these days, Pete Bigelow writes. In fact, Indiana coach Bill Lynch says, "I'm not sure there are upsets in college football anymore."
• In our regular opponent beat writer feature, the Daily Hampshire Gazette's Matt Vatour breaks down today's matchup from the Minutemen's perspective.
• A somber note: UMass band director George N. Parks died Thursday as the band traveled to Ann Arbor for today's game.

• Notebook: Michigan's running backs are adapting to a supporting role, and the Wolverines will honor Ron Kramer with '87' stickers.



THURSDAY

• The comparisons started before Denard Robinson took his first snap at Michigan. Now, it looks like Robinson's path really is mirroring that of Pat White's career at West Virginia.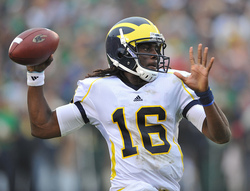 Lon Horwedel | AnnArbor.com
• In our weekly Q&A, defensive lineman
Greg Banks says he is only trying to play his position
, not replace Brandon Graham.
• The
transcript from our regular Thursday Michigan football lunchtime chat
with Pete Bigelow is available here. It covers such important topics as the Michigan quarterback scenario, the struggles of the kicking game and the always-intriguing Dr. Pepper vs. Mr. Pibb rivalry.
• And the Board of Regents proclaimed, "Let there be (permanent) lights."
At Michigan Stadium, that is
.

WEDNESDAY

• Denard Robinson has gotten most of Michigan's headlines, and justifiably so. Who have been the next five best players for the Wolverines this season? Pete Bigelow says it's Jonas Moutan, Mike Martin, Roy Roundtree, David Molk and J.T. Floyd.
• Inspired by fellow CAA member James Madison's win at Virginia Tech, UMass wants to be the next FCS team to upset a ranked FBS team.
• James Rogers contributed in any way possible during his first three seasons as a Wolverine. That patience and flexibility has paid off with a starting cornerback position this year.
• Michigan appears to be at full strength at running back for the first time this season with redshirt freshman Fitzgerald Toussaint available to play. Linebacker/safety Carvin Johnson and wide receiver Junior Hemingway, among others, are still hobbled.

TUESDAY

• Now that we've seen what a running quarterback can do in Rich Rodriguez's system, it's safe to assume he'd never recruit a classic drop-back passer. Right? Not true, he says in the lead item of our Tuesday Big Ten notebook.
• In our regular "Catching Up With ... " feature, Mike Rothstein chats with former U-M quarterback John Navarre.

MONDAY
• Yes, an exorbitant amount of the Michigan offense's production during the first two weeks of the season has come directly from Denard Robinson. And, yes, coach Rich Rodriguez is just fine with that.
• In a video report from the U-M Monday press conference, Rodriguez, Denard Robinson and some of his teammates discuss how the sophomore quarterback has handled his moments in the national spotlight.
• The linebacker position is hit hard by injuries, U-M reacts to being ranked in the top 25, and more in Monday's Michigan football notebook.
• After Brendon Gibbons' struggles against Notre Dame, Rich Rodriguez says the team's kicking job is still up for grabs.

SUNDAY
• For the second straight week, Denard Robinson was named the Walter Camp National Offensive Player of the Week on Sunday. No player had ever earned the honor in consecutive weeks. Pete Bigelow lists his top five observations on Robinson's fast start to the season.
• Fresh off its win over Notre Dame, Michigan debuted at No. 20 in the Associated Press top 25 poll.
MORE ON THE MATCHUP
If all the links above didn't satisfy your craving for information on today's game, here's the Associated Press's preview capsule: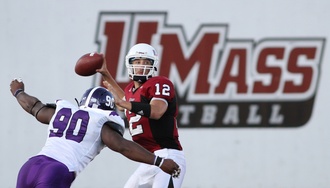 Associated Press


WHAT'S AT STAKE
Michigan has gained momentum with wins at Notre Dame and against Connecticut, but could stunt it by losing to an FCS school as it did to Appalachian State three years ago in Lloyd Carr's last season. The Wolverines also have to hope quarterback Denard Robinson doesn't get hurt after running for 455 yards and throwing for 430 in his first two games.


KEY MATCHUP
Robinson vs. UMass linebackers. The speedy QB has had his way so far, confusing defenders by faking handoffs and overwhelming them with his speed. The Minutemen's top three tacklers — linebackers Mike Mele, Tyler Holmes and Perry McIntyre — will have to have the game of their lives to slow down Robinson in the Minutemen's 4-3 scheme.

PLAYERS TO WATCH
UMass: Running backs John Griffin and Jonathan Hernandez are combining to average 177.5 yards rushing a game. Senior QB Kyle Havens has connected on 65 percent of his passes for 516 yards and three touchdowns without an interception.
Michigan: Devin Gardner and Tate Forcier might both get a chance to take snaps if Robinson helps the Wolverines build a big lead. Vincent Smith and Michael Shaw have averaged just 3 yards a carry, making the non-Robinson running game a possible concern. Brendan Gibbons has made only one of four field goals, giving Seth Broekhuizen a chance to take his job.

FACTS & FIGURES
Robinson had 502 yards of offense vs. Notre Dame, outgaining every team ranked in last week's Associated Press poll. ... UMass is playing an FBS school for the 11th time in 12 years and has lost by 10 or fewer points in four of the last five such matchups, losing to Kansas State by just four last year. ... Michigan LB Jonas Mouton has made a Big Ten-high 21 tackles. ... The Minutemen opened the season with wins over William & Mary and Holy Cross.
AROUND THE BIG TEN
Games involving Big Ten teams get considerably more interesting after the sun goes down tonight. Notre Dame travels to Michigan State for a game that kicks off at 8 p.m. Later in the night, Iowa heads to the dessert for a 10:30 p.m. game at Arizona.
Other Big Ten games include: Northern Illinois at Illinois, Indiana at Western Kentucky, USC at Minnesota, Northwestern at Rice, Ohio U. at Ohio State, Kent State at Penn State, Ball State at Purdue and Arizona State at Wisconsin.
All of those games -- including the Michigan-UMass game, if you STILL haven't read enough -- are previewed on BigTen.org.