Posted on
Sat, Nov 6, 2010 : 11:47 a.m.
Michigan hangs on, stops Illinois and wins in third overtime
By Jim Knight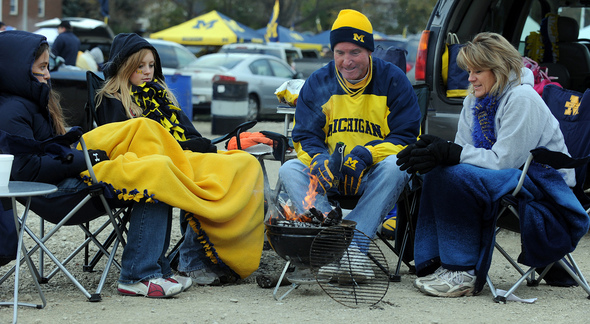 Lon Horwedel | AnnArbor.com
Third overtime Michigan 67, Illinois 65: Mikel Lashoure scored on a 3-yard run, but the two-point conversion failed and Michigan wins the highest-scoring game in Michigan history.
Michigan 67, Illinois 59: Michael Shaw scored on 1-yard run and Tate Forcier found Junior Hemingway for the two-point conversion.
Second overtime Michigan 59, Illinois 59: Junior Hemingway scored on a 9-yard touchdown play, grabbing the ball in the end zone after Tate Forcier's pass bounced off an Illini defender.
Illinois 59, Michigan 52: Mikel Lashoure was wide open in the end zone and scored on a 25-yard pass on the first play in the second overtime. This is the highest-scoring game in FBS play this season.
Overtime Michigan 52, Illinois 52: Mikel Lashoure scored on a 1-yard run as Illinois tied it up to conclude the first OT period.
Michigan 52, Illinois 45: Michael Shaw scored on a 5-yard run as Michigan opened overtime on offense.
Numbers: Michigan piled up 605 yards of total offense through four quarters and Illinois has 486 as the two teams head into overtime.
Fourth quarter Michigan 45, Illinois 45: Tate Forcier scrambled to his left and found Darryl Stonum in the end zone for a 9-yard touchdown pass. Michigan moved the ball 80 yards in 12 plays.
Illinois 45, Michigan 38: Mikel Leshoure scored on a 1-yard run as Illinois took advantage of Tate Forcier's fumble by driving 28 yards in six plays.
Key play? Tate Forcier, in relief of an injured Denard Robinson, fumbled his first snap, giving Illinois the ball at the Michigan 28-yard line.
Michigan 38, Illinois 38: On the first play of the fourth quarter, Mikel Leshoure caught a 27-yard pass from Nathan Scheelhaase.
Third quarter Michigan 38, Illinois 31: Michael Shaw fought up the middle for an 18-yard touchdown run. Roy Roundtree already has 209 yards receiving, a Michigan record.
Missed field goal: Illinois' Derek Dimke missed a 39-yard field goal with 10:10 to play in the third quarter.
Halfitme: Would you believe 706 yards of combined total offense in the first half? Some more numbers from the first half: Michigan and Illinois combined for 989 yards in punt and kick return yardage. Michigan quarterback Denard Robinson has 262 yards passing with three touchdowns and two interceptions.
Second quarter Michigan 31, Illinois 31: Derek Dimke kicked a 43-yard field goal in a 34-second drive by Illinois.
Michigan 31, Illinois 28: Seth Broekhuizen kicked a 35-yard field goal, his third of the season. Michigan started the drive on the Illini 26-yard line after a long kickoff return by Darryl Stonum.
Michigan 28, Illinois 28: Illinois tied the game with a 33-yard touchdown pass from Nathan Scheelhaase to Ryan Langford.
Michigan 28, Illinois 21: Junior Hemingway caught a pass along the sideline, danced around three tacklers and finished with a 45-yard touchdown reception. Denard Robinson has 262 yards passing.
Michigan 21, Illinois 21: Stephen Hopkins scored on a 5-yard run as Michigan scored on a three-play drive. The big play: A 75-yard catch by Roy Roundtree, who has 192 yards receiving.
Illinois 21, Michigan 14: Jason Ford scored on a 64-yard run, just 40 seconds after Michigan scored.
Michigan 14, Illinois 14: Denard Robinson hit Roy Roundtree with a 33-yard touchdown pass on a fourth-and-eight play. Michigan drove 78 yards on seven plays.
Illinois 14, Michigan 7: Illinois quarterback Nathan Scheelhaase scored on a keeper to open the second quarter. Scheelhaase then completed a pass to Ryan Lankford for a two-point conversion.
First quarter Michigan 7, Illinois 6: Derek Dimke kicked a 43-yard field goal. Illinois took control at the Michigan 33-yard line after Denard Robinson threw his second interception of the game.
Michigan 7, Illinois 3: Derek Dimke kicked a 44-yard field goal, capping Illinois' 40-yard, 12-play drive.
Michigan 7, Illinois 0: Roy Roundtree caught a 75-yard touchdown pass from sophomore quarterback Denard Robinson on Michigan's first offensive play of the day. Total time of the drive: 14 seconds.
Today's game: Illinois (5-3, 3-2 Big Ten) and Michigan (5-3, 1-3) both can become bowl eligible with a victory today. We'll update this file throughout today's game.
Follow our live chat: Rich Rezler and Michael Rothstein lead the conversation
Want more? Check out our guide to all of AnnArbor.com's preview coverage
A different voice: Bobb Vergiels, the voice you hear at Comerica Park, is filling in as the announcer in Michigan Stadium today.
Michigan injury report: Out - J.T. Floyd (ankle), Mike Jones (leg), Martavious Odoms (foot), Fitzgerald Toussaint (shoulder), Jared Van Slyke (clavicle) Mike Williams (head), Troy Woolfolk (ankle). Questionable - Perry Dorrenstein (knee), Je'Ron Stokes (knee). Probable - Mike Martin (ankle).